How Online Reviews Can Keep Restaurants from Going Out of Business
Reputation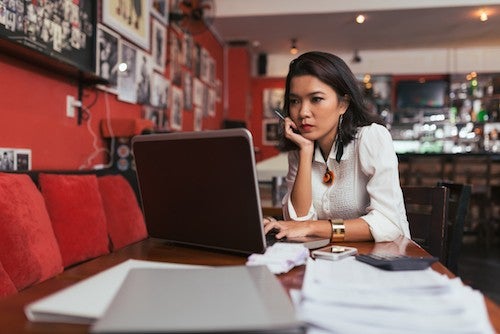 Hungry? It's not hard to find somewhere to eat. A quick "Near Me" search on a smartphone for a specific kind of food brings up a list.
But if your restaurant isn't on the first page of search results — or, worse yet, has bad online reviews — diners will scroll right past you.
And the restaurant industry is not for the faint of heart: As many as 80 percent fail within the first three years of operation. More than any other type of business, restaurants depend on a strong online reputation to keep tables full.
Online Reviews Can Make or Break You
Since the emergence of online reviews, customers have been sharing experiences with restaurants online. Dining and Hospitality were the first industries to experience the impact of online reviews, and the first to understand that a business can be bolstered or buried by its online reputation.
According to a recent survey by OpenTable, 60 percent of consumers read diners' reviews before going out for a meal, and reviews written by diners are even more important than recommendations from professional critics.
Now, restaurant owners are at the mercy of yet another trend: Local search. "Near Me" searches have doubled in the past year, and 82 percent of smartphone users say they use search to find a local business.
Because restaurants rely heavily on local business, showing up on local search results is critical to attracting foot traffic and turning a profit. But Google only highlights the top three results on the map — what's called the local 3-pack.
Complicating things further, the 3-pack doesn't always consist of the closest or most relevant results. Google weighs numerous ranking factors such as business listings accuracy and the volume and recency of your Google reviews. And that means getting into the Google local 3-pack can only be accomplished by applying effective Online Reputation Management (ORM) strategies.
Here are some important tactics to get you headed in the right direction:
Wow 'Em With Reviews
Diners provide a readily available and convenient source of feedback and reviews — all you need to do is make it easy for them to review you. Some restaurants have tablets at all the tables, so guests can enter feedback any time throughout the meal. Others include feedback forms with the check.
Some ORM platforms offer mobile apps for your frontline staff to use on their smartphones — you can have wait staff request reviews in person, before the diner leaves the restaurant, then follow up immediately with a text-based review request.
Since most reviews are positive, you're likely to raise your star ratings and rankings as you collect more fresh reviews. ORM platforms can ensure you're distributing reviews evenly across major websites such as Google and Facebook, as well as industry-specific review sites.
Respect and Respond to Your Critics
You're bound to get a few negative reviews. But it's not the end of the world. Responding to bad reviews promptly can mitigate the fallout. According to a Retail Consumer Report, 33 percent of customers who received a reply in response to a negative review proceeded to post a positive review, and 34 percent deleted their original negative review.
Be polite and respectful to your critics and let them know you're doing what you can to address the issue. Best practice is to respond to 100 percent of all negative feedback and at least 20 percent of all positive reviews. Serious ORM platforms make it easy to monitor all reviews across the web and even send alerts when a negative review surfaces, enabling you to take immediate action.
Beef Up Your Business Listings
Driving foot traffic from local search is essential to filling up tables. You can't do this without up-to-date, complete business listings for all your locations. Ensure the basics — name, address, phone number and hours — are correct, and add content such as photos and representative customer reviews to your listings to help diners choose you.
Remember to choose the right categories, as well. Moz found proper category association is Google's third most important ranking factor.
Build Community on Social Media
People want to feel welcome when they dine at a restaurant. Creating a community of past and regular patrons on social media can elevate your brand and help create a following of online advocates. That way, if you should receive a negative review, you'll have plenty of satisfied diners at the ready to defend your establishment and share their positive experiences  online.
An ORM platform can help you manage your social media to ensure you post and engage consistently, and monitor all social comments from a single platform.
Learn more ORM strategies by reading our Success Kit.