Google Suspends Local Review and Q&A Functionality
Reputation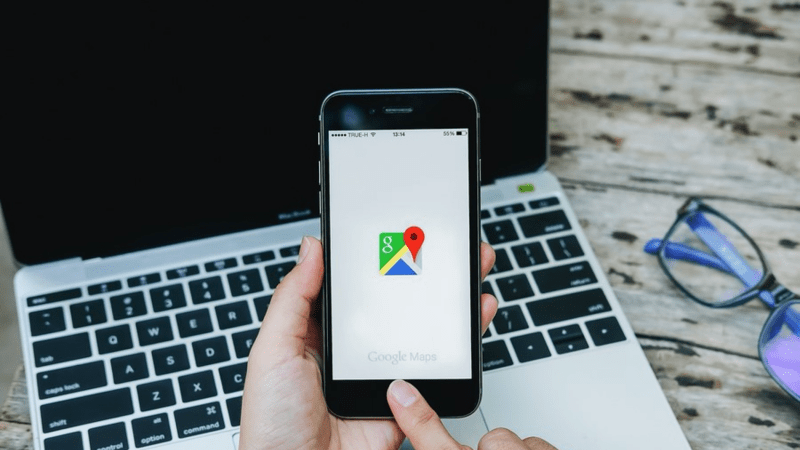 As
Google itself
is disrupted by the COVID-19 pandemic, the company says it is providing scaled-back service. According to its blog, Google's first priority is to protect the reliability of information on
Google Search
and Maps.
Google has disabled local review and Q&A functionality, among other changes that Google has shared. People who attempt to post reviews, and businesses that attempt to respond to reviews, receive the following message as noted Search Engine Land: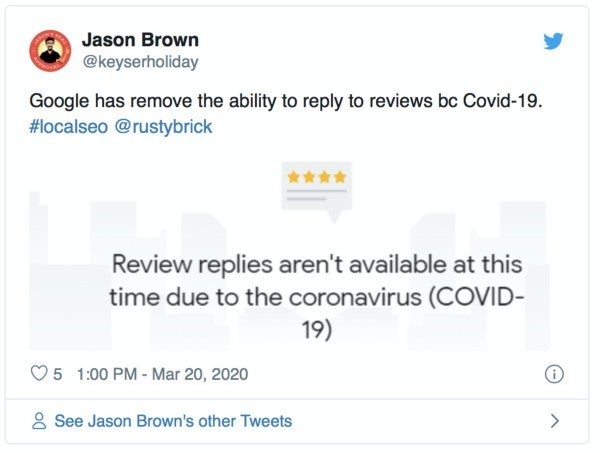 In addition, new Q&A content – questions that customers post about a business on a company's GMB listing – will be suspended.
Other Major Changes Google Has Announced
Here are other changes Google announced that will affect businesses that manage their identities on Google:
Business information edits: Google will prioritize its internal review of edits critical to health-related businesses. Per Google, "At this time, we will also prioritize reviews for open and closed states, special hours, temporary closures, business descriptions and business attributes edits for other verified businesses."
Newly created listings, claims and verifications: Google will manually review new listings, claims and verifications for critical health-related businesses. As Google noted, "While we prioritize these critical services, please expect a delay for publication of new listings, claims and verifications for other types of businesses to Google Search and Maps."
Guarding Against the Spread of Misinformation: In addition to managing the reality of scaling back support based on available resources, Google likely wants to protect its brand (and yours) from people spreading misinformation about COVID-19 on business listings and from unfairly maligning a business. Similarly, Yelp announced restrictions on reviews for its listings.
Indeed, it's easy to see how a business might be hit with ill-informed reviews, such as when a customer is angry at a business for closing its dine-in options when the business had no choice amid a mandated shut-down.
Related: How to Remove Google Reviews: Management of Bad Feedback
What You Should Do
We suggest that clients:
Put Google posts to work: The Google Posts feature – technically known as Posts with Google – makes it possible for organizations with GMB listings to share updates, announcements and other content by posting images, events, stories, GIFs and videos. The content appears in an organization's knowledge panel – the information about a business that appears in a box alongside a search result, both in Google and Google Maps. I provide more insight about Google Posts in this Search Engine Land column.
Be vigilant: Google is not the only place for consumers to leave reviews. The news underscores why you need to keep a close eye on customer reviews everywhere people evaluate your brand, including Facebook and your website. While feedback is being paused on sites such as Google and Yelp, people are still talking about your brand elsewhere. It is important to continue to monitor and respond to customer feedback wherever it is happening.
Be nimble: This is a rapidly unfolding situation. Be ready to change your game plan daily. For a short window of time, it made perfect sense to manage a business's Q&A page to address customers' questions about COVID-19, but that window has shut based on Google's announcement.
For More Information
As noted, this is a rapidly unfolding situation. For more information on revising your GMB listings during the COVID-19 pandemic, please refer to this support page maintained by Google. And of course, Reputation is here to provide ongoing support to our clients and answer any questions.
Keep Reading: What Businesses Should Do about Zero-Click Searches
"Please note that Google is managing demand and capacity during this dynamic situation by temporarily pausing some features. The current availability of the Managed GMB Communication features will be addressed during your conversation with our team."