Google Charts Your Reputation in Its Stars
Reputation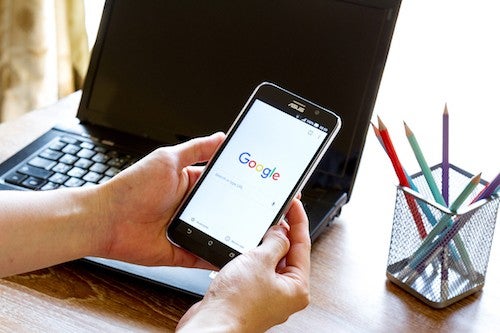 How much influence can a single online review have on your business? With Google's new star rating rules, the impact is significant.
Until recently, if you received only one online review, it wouldn't be registered by Google. In fact, Google required businesses to have five or more reviews before attaching a star rating to your business in search results.
Now, Google only requires one review for star ratings to show. This removes the urgency from building review volume solely for the purpose of having star ratings appear in a search.
However, it's still imperative to request online reviews from all of your customers — a single review has the power to shape your brand every time a potential customer finds you in search or on maps.
Star Ratings Influence Consumer Behavior
At a quick glance, a 5-star business looks like a winner — whether it reflects the opinion of just one customer or hundreds. On the other hand, having only a single 1-star rating can make prospects question the quality of your business.
Recent research illustrates why Online Review Management is so important. When consumers were surveyed about how online reviews and social media influenced their purchase decisions:
Ninety percent said positive online reviews influenced their buying decisions.

Eight-six percent said negative online reviews were a factor in their decision-making.

Sixty-nine percent of consumers seek out advice and opinions on goods and services before purchasing.
Online Reputation Management is Key to Your Success
Even if your location receives a 4-star rating or higher with just one review, it may not last long. Google bases its scoring system on a simple average, giving the same weight to every review.
For example, having one 5-star review and one 1-star review gives you three stars. When you grow your number of positive reviews, you have the power to keep your overall rating high.
Not having a large body of representative reviews is hazardous to your brand for two reasons. First, having only one or a handful fails to accurately capture the quality of the service you deliver. And second, a small volume of ratings penalizes your locations in search, making it hard for customers to find your business.
While you can't (and shouldn't) try to control what customers say, you can manage your presence online to make sure your ratings and reviews are accurate and representative.
Building your review volume and improving your reputation requires a system for requesting reviews from all of your customers. Make sure to monitor your reviews frequently so you can respond to complaints and correct issues.
If you want social proof of the quality of your business, you need to formalize the way you manage your online reputation. For more helpful guidance, read "5 Tips for Getting Great Online Reviews."