Q&A with George Affleck: The Power of Brand Storytelling
Reputation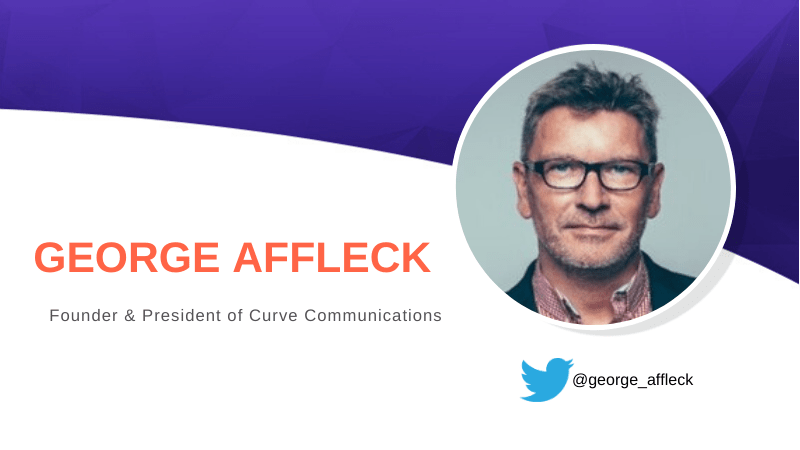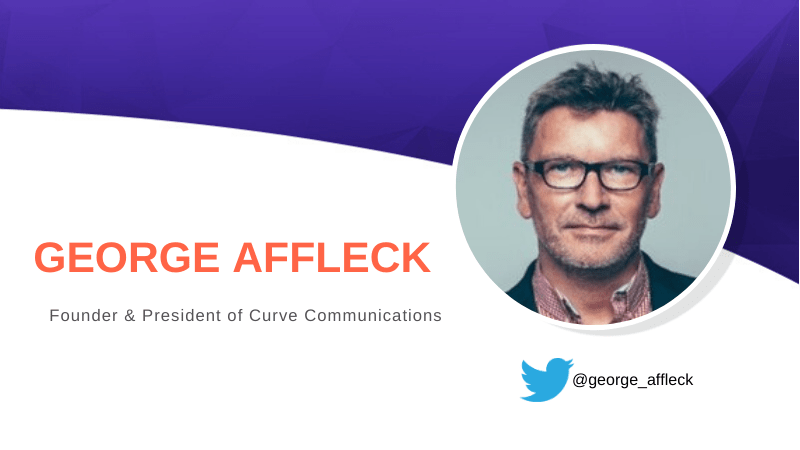 George Affleck is a well-known author and speaker who now runs Curve Communications, a full-service digital marketing agency in Canada. 
Why have you found storytelling to be such a powerful marketing technique?
When you look at any business, it is your story that makes people interested. When someone asks you what your unique selling proposition might be, it's really your story they want to hear. They want to know how that story can help them succeed as a client.
Storytelling is how we get our customers hooked. It feeds everything we do down to the design, the colors, and the whole look of the campaign or site online, on social media and in other content. We've actually been telling stories since before social media existed as a marketing tool. We launched in 2007, and social media quickly became about 30% of our business as people looked for new ways to tell their story using online channels.
What are the most important elements of effective storytelling from a business standpoint?
It's amazing how many companies haven't taken the time to sit down and figure out who they are, who their market is, and where they want to go in their marketing. Helping clients do that is very important to Curve.
At the beginning of our relationship with B2B clients, we do some deep discovery into the business to get everyone (the marketing manager, the sales manager, the C-suite, the sales team, etc.) aligned on the story that they want to tell.
Then we look at the KPIs to see if we are going in the right direction and seeing results in the areas we've identified. We put everything down on paper and give our clients a "book" that shows them what we've discovered and where we will be going with our services.
Do you see a relationship between storytelling and positive customer experience?
Real-life examples of success are crucial to your story and need to be part of the customer experience you offer. I was in politics for seven years while also running the business, and it was all about telling your story, your reputation, communicating and being available, being clear and so forth. You can't be everything to everyone, but you need to be clear about what you believe. Once you decide what you stand for and what you believe in, your strategy and how you spend your money can be laser-focused and get you results.
The medium and the message are important and should be clearly defined. In politics, it's important to be on Twitter, but for many businesses, this is not nearly as important. You can't tell your story everywhere, all the time, so strategy and choices become important.
How can storytelling help (or hurt) a brand's online reputation?
Once you figure out your story and messaging and you know what you want to achieve and who your customer is, then it becomes more instinctive to look at reputation and issues of relationship and trust.
It has become important to put out content pieces and use them to get to know your customers and to help salespeople connect with customers on LinkedIn and other platforms. Offering a case study or a webinar can help with those attempts to connect and can build trust when the customer doesn't know much about your company yet.
The term "brand champion" may be somewhat tired or overused, but it describes what we want to happen when content is consumed and customers get a good sense of what defines the brand and the brand's story. To be able to explain a brand to others, customers have to have a sense of the story behind it.
Have you used surveys to build stories, and has that been successful?
As part of our discovery process, we do surveys with various people within the company that are intended to reveal the ideal client, and then we survey people that represent that ideal client to find out how they operate and make purchasing decisions.
We also do surveys on social media to capture leads; those can be very effective. Clients sometimes do surveys on a local level to create a media opportunity to promote certain ideas and marketing opportunities.
One of the biggest challenges is to keep up with the evolution of marketing and the tools available to make the job more effective. The amount of data that can be collected online is quite extensive, and sometimes it can be overwhelming to make sense of it all, but it can also be quite effective to use those tools to meet goals and connect with people.
From your experience, what can businesses do to improve their reputation online?
Thinking about customer experience is key. Discovering your customer persona and doing SWOT analysis (strengths, weaknesses, opportunities, threats) on your competition are some important parts of the process of reputation management. It might seem odd to name your customer personas, describe them and give them specific characteristics, but it's really important in terms of visualizing the exact person you are going after and how to reach them.
Refreshing the process every year and making new goals is also important. When the economy is hot as it is right now in the United States, it may not seem that important to put money into marketing, but you never really know how long that's going to last. When a downturn comes (and it will), you will need to be prepared to meet those challenges. Having a marketing plan and strategy in place will make those ups and downs less impactful.
This interview has been edited and condensed.
Want to learn more about how to improve your online reputation and turn your customers into brand advocates? Download Turn Your Customers into Brand Champions today.