A Q&A with Erik Huberman: Sage Advice from a Young Go-Getter
Reputation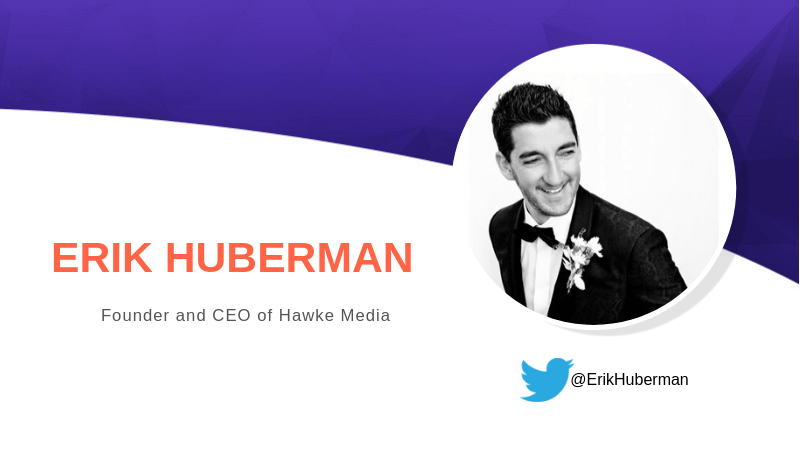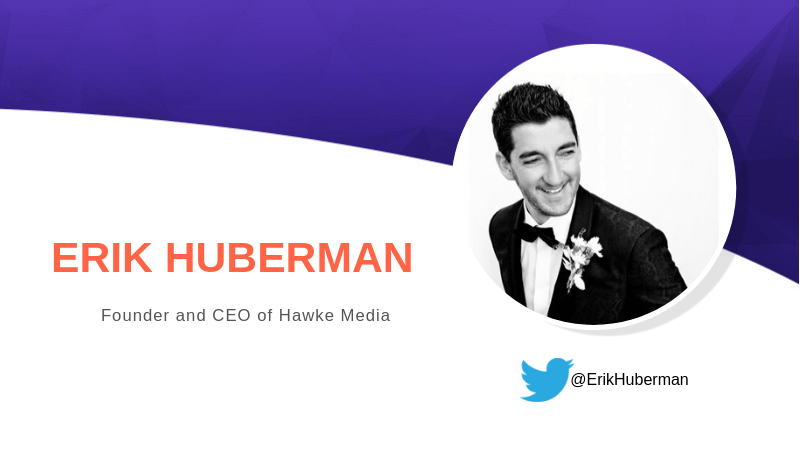 Erik Huberman, founder and CEO of Hawke Media, recently spoke with Reputation.com about what it takes to become a successful entrepreneur in the marketing field. As the owner of a 5-year-old firm recently valued at $60 million, Huberman has some excellent advice to give to budding entrepreneurs. Named to Forbes's top 30 Under 30 list of entrepreneurs, Inc. Magazine's Top 25 Marketing Influencers and a Top Influencive Influencers of 2017, Huberman has achieved so much, so quickly. Read what he has to say.
This interview has been edited and condensed.

Your firm calls itself "your outsourced CMO," offering marketing services on an a la carte basis. What made you decide to go this route, versus signing clients to contracts? Is this a trend?
When we say "outsourced CMO," the idea is that smaller businesses are getting a high-level professional to oversee their marketing efforts. Because they're not in a place where they can afford a senior-level CMO, they often end up hiring someone junior to run their marketing department, and the opportunity cost on that is incredibly high.
For larger companies that can afford a CMO, we become advisors. We manage marketing for 450 brands, and we have access to a ton of different marketing tactics. That forest-for-the-trees view for a CMO is also incredibly valuable.
However, the primary reason we called it "your outsourced CMO" was to convey that we're offering a high-level marketing partner. We're going to help run your marketing department with you. Our whole model is a la carte, month-to-month marketing experts just plugging in the missing pieces of a marketing organization.
The approach works because there are so many people paying together — it's fractional talent and fractional services. You may be working with a Facebook marketer who's an expert at Facebook, but they're collaborating with six companies instead of just you. Our approach allows you to get high-level expertise part-time, which is a difficult thing to come by.
You've talked about brand awareness, nurturing and trust, but the strategies to make progress in these areas seem ever-changing. How do you know which methods will help you achieve your goals?
The tactics you use will change — I wouldn't say constantly, though. People have this perception that the tactics constantly change because the offering changes frequently. However, as marketers, being the first mover on a new marketing effort or channel is generally only good for PR.
If you move first and execute flawlessly, sometimes it can work out — but it has nothing to do with the fact that you're the earliest adopter. We can often learn from the mistakes of the first.
Does the method change based on the product or service being offered?
The method changes based on the type of needs a company is serving.
For instance, social media is an excellent channel when customers are making an impulse buy and you can create demand for a product. But sometimes, it's more challenging to use social media to promote a service.
An example would be a personal injury attorney. As a personal injury attorney, you probably will not be successful in targeting specific audiences with social media advertising. A Facebook user isn't going to suddenly say, "Today sounds like a good day to hire a personal injury attorney." They have to have an existing need.
In this case, social media is not the best marketing channel. But in terms of direct response, Google advertising makes sense because people will use search engines to find a personal injury attorney.
You have achieved a great deal. To what do you attribute your success? Hard work? Luck? A little of each?
Luck and timing are important factors. Having the opportunity to leverage your intelligence and dive in at the right time is hugely important for success.
I see it over and over again. There's a type of person who executes — not thinks about things, plans them, talks about them — actually does things. I just read a stat that said 75 percent of millennials want to be entrepreneurs. The problem is, there's no "wanting" to be an entrepreneur. Entrepreneurs just go — they start a company, they start building something, they solve a problem!
What's the role of social media in a brand's reputation? What should companies do to get a handle on what's said about them online — or is this even possible?
It plays a significant role in a brand's online reputation. For instance, if a potential customer reads a negative review on Facebook, they might decide to go in another direction rather than work with your business. And if they've made up their mind based on what they've read, it can be difficult to change it.
Trust is a huge factor, and all it takes is one person, even if that reviewer is the one in the wrong. For us, our online reputation drives the majority of our business, so it's critical for us to maintain it.
How do you do this? Do you request reviews from your happy clients?
Online reviews are a vital piece of the puzzle, and yes, we definitely request them. But it's also not an easy thing to do, even if you're doing good work for a customer. It's not so transactional, and requesting a review can feel awkward — but it's important to move beyond that discomfort. In today's market, positive online reviews are essential to business success.