How Candy Corn Can Improve Its Reputation
Brynne Ramella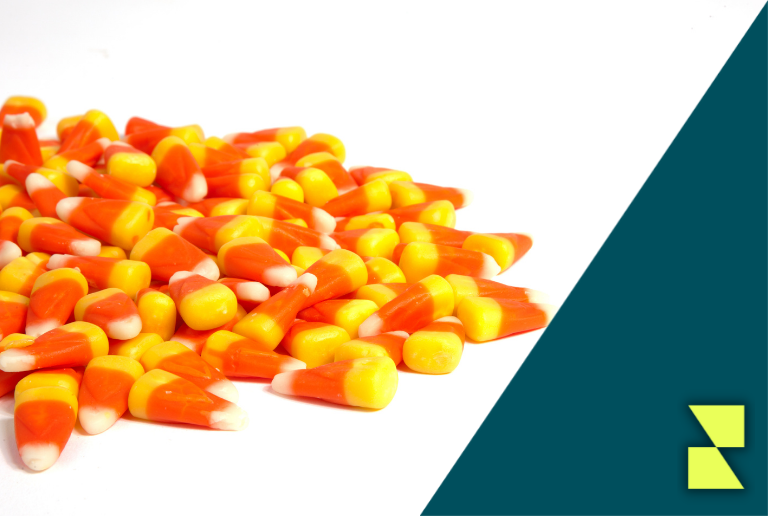 Few candies have as divisive of a reputation as candy corn. A 2017 Mashable survey found it to be the most hated candy in 21 states, yet it has been devoured in mass quantities for nearly 150 years. How did such a long-standing Halloween treat come to have such a divided following?
There's no one event that led to this division in candy fans. Some may claim the taste while others cite some of the unusual flavors that candy corn manufacturer Brach has steadily released over the years. But whatever the reason may be, candy corn has come to exist in a "love it or hate it" realm.
Does anyone actually like 'candy corn'?

— Nathalie Jacoby (@nathaliejacoby1) October 24, 2021
hot take: candy corn is good

— Yeon ☭ (@YeonU_Reeves) October 25, 2021
But is it too late for candy corn to change its reputation from so-so to a good reputation? We take a look at the ways in which candy corn can boost its image.
How to Improve Candy Corn's Reputation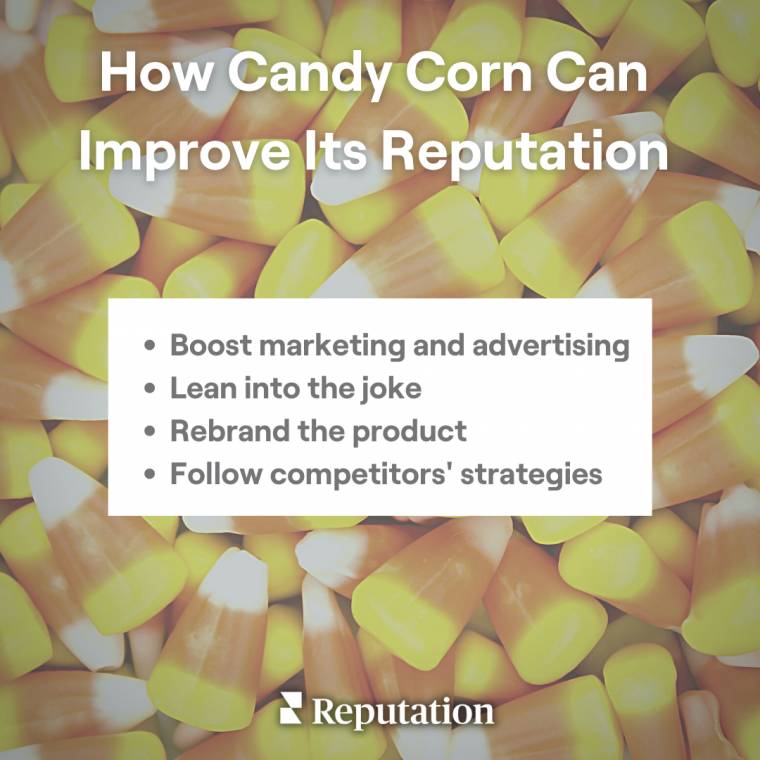 Digging into that Mashable survey further proves that candy corn's brand reputation is in need of a major overhaul. Millennials, Gen Xers and Baby Boomers alike across the US agree that candy corn is one of their least favorite candies. It's rare that three distinct generations hold the same opinion on something like this, which says something about the brand's reputation. Here are a few ways that candy corn could improve its reputation.
Boost Marketing and Advertising
Candy corn is an old Halloween candy, and its advertising tactics reflect that. Compared to some of its contemporaries, candy corn's advertising is severely lacking. In fact, comedian Lewis Black has joked that it's the only candy in the history of America that's never been advertised. While CampaignLive points out evidence that the candy put out advertising in both the 1950s and 2011, one would be hardpressed to find advertising these days.
This is a major mistake on the brand's part. Well-executed advertising campaigns are an effective way for brands to get themselves in front of customers — remind them why your product is great. Over the years, candy corn has gotten lost in a sea of chocolate and gummy treats. Proper advertising would remind candy lovers about what makes candy corn great and how it is remained in circulation for so long.
Lean Into the Joke
Thanks to the treat's mixed reputation people love to flood social media platforms with jokes about the seasonal treat. It's hard to deny that some of them are pretty funny.
Related: How to Build Brand Trust with Transparency
Candy corn is the fruitcake of Halloween.

— Shari Lynn (@LynnSharig8) October 25, 2021
Even if you are fully vaccinated, the CDC does not recommend candy corn

— Jorge A. Caballero, MD (@DataDrivenMD) October 24, 2021
Brach would be well-served if it leaned into the joke. People like a brand that can make fun of themselves. While Brach isn't the official manufacturer of candy corn, it is probably the manufacturer most well known for the treat. Brach's has a pretty conservative social media presence.
Their Twitter profile simply consists of cute pictures and tweets encouraging people to eat candy corn. Their Instagram boasts more followers than its Twitter profile, but the same content strategy seems to be applied here.
A more engaging strategy would be to lean into the lighthearted tone that people tend to take when talking about candy corn. As Tint says, self-deprecating advertising tends to create meaningful connections between brands and consumers.
A brand comes off as more "human" when they laugh at themselves. That breaks down barriers, allowing consumers to feel a part of the brand's community. Brach could easily engage with people posting about candy corn online and let themselves in on the joke or positively drive the conversation in a different direction.
Rebrand the Product
Candy corn is an older product, and it shows. Taking it back to Brach's, Brandland USA has stated that their logo, "which has had many unkempt iterations over the last few decades, has finally settled back to its familiar look as a series of six squares, one for each letter, a look it has had at least since the 1950s."
People may be losing interest in the product because of its tired branding. That may prove that it's time for a rebrand. More contemporary treats, such as Skittles or Reeses, have flashing branding, engaging social media profiles, and witty advertising.
People will be more likely to flock to newer and more exciting products. Candy corn can easily become one of those products if Brach freshens up its packaging and considers giving the treat its own social media profiles with a distinct personality.
Candy Brands Doing it Right
If the candy corn brand needs a little refreshing of its brand identity, they need not look further than some of its competitors and peers in the space.
M&Ms
M&Ms has famously attached distinct personalities to each individual M&M. Oscar-winning actor J.K. Simmons even voices the yellow M&M in commercials that appear on television and in movie theaters alike.
Costume. Done. You're welcome. Get yours here: https://t.co/cPVqTHaUPp #Halloween pic.twitter.com/DgTi134Au7

— M&M'S (@mmschocolate) October 14, 2021
This provides a humorous experience for consumers that keeps them engaged with the brand. Those creative and engaging ads make people more likely to spread the word and talk about the candy, keeping M&Ms a relevant part of the cultural zeitgeist.
Reese's
In a way, Reese's takes the opposite approach that M&Ms does. Instead of investing time into one product, Reese's is constantly evolving. The brand constantly releases different shapes and takes on their classic peanut butter cup — Easter eggs for Easter and a Reese's cup stuffed with pretzel bits, for example. The constant outpour of new products, while remaining true to Reese's core combination of chocolate and peanut butter, keeps people coming back for more.
Just to be clear, we're not chanting "Pac-12". We're chanting "12-Pack" pic.twitter.com/pu7PIkmoek

— REESE'S (@reeses) March 22, 2021
Sour Patch Kids
As of July 2021, Sour Patch Kids has the unique distinction of being the most popular snack brand on TikTok, with more than 1 million followers. The candy brand made one of the wisest decisions that any brand can — go where your consumers are.
As PRWeek reported, Tiktok was the most-downloaded application in 2020. The brand jumped on that and began posting Sour Patch Kid-themed takes on TikTok trends. One such video ended up with 5.4 million views and 1 million likes. The candy brand even partnered with TikTok "pranksters" on April Fool's Day and gained more than 1 billion views for the videos that came out of the partnership.
Candy corn has a bit of an old-fashioned feel to it, but in order to gain new fans and consumers, it needs to modernize its brand. By following common marketing practices or seeking inspiration from other brands in the space, it can easily become a treat that people love, instead of loving to make fun of.
Keep Reading: Why Branding is All About Storytelling