Building Trust with Transparency
Reputation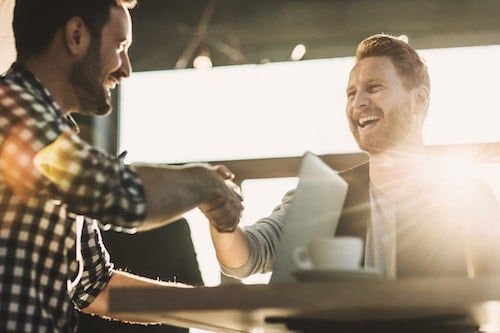 Let's play a game. Here's how it goes:
You must choose between two businesses you know nothing about. Business A has a decent website with strong branding. It ranked number 7 on the search results, but there isn't much going on on its social channels. You can't really get a feel for how the business interacts with customers.
Business B ranked number 2 in Google search results, with an ad that got your attention. When you clicked through to this company's social channels, you found lively posts, real-time conversations and quick responses to customer engagement.
Are you more likely to go with Business A or Business B?
Most people would choose Business B, as the deck is stacked heavily in its favor. Business B has its social "ducks" in a row, if you will. It ranks high in search results, uses ads to accentuate its offerings, and has a healthy online community that's engaged and singing its praises.
Clearly, as a business, you want to emulate Business B's approach. But first, let's explore why social activity so powerfully influences business decision making.
How Customers Build Trust
While both Business A and Business B provide adequate services, the social presence of Business B offers a window into the company operations that is simply not there with Business A. B's social presence demonstrates the company's commitment to being responsive, engaged and in tune with customer needs. A quick read of some social posts reveals they are up-front and transparent about any customer service snafus, and are willing to resolve them.
As a (game playing) customer, Business B's high level of transparency enables you to:
Assess the brand and its values
See how the business interfaces with customers, and especially addresses issues
Measure the level of authenticity and openness the company demonstrated
And transparency matters: 94% of customers are more likely to show loyalty to brands they deem as being transparent. Another 73% said they'd be willing to pay more to a company that was completely transparent in all its practices.
Game playing aside, this powerful insight can give your business an edge in the social space. By maximizing transparency and delivering on your promises, you'll be in a favorable position to connect with customers. This works especially well for local businesses that are heavily dependent on referral business. Social media and reviews have replaced direct word of mouth, but the potential impact is the same. Positive reviews generate more return business, and inspire new customers to check you out. Negative reviews do just what you would expect — they give potential customers reason to pause, and they establish a brand perception before people ever walk in your door.
How to Build Your Social Presence
But what exactly goes into cultivating and sustaining an effective social presence? For starters, recognition of the important elements of the social lifecycle:
Engage: Craft posts, monitor your follows, like and take action on a regular basis — multiple times per day, if possible. Use pictures, videos, memes and more to boost responses and forge business ties with your community.
Publish: Create engaging content that's timely, and promote it with targeted campaigns by audience demographics and geography to boost relevance to your followers.
Listen: Track mentions and sentiment, charting a course forward to keep the conversations working for you. Don't be afraid of negative comments; the way you handle these works for you every bit as much as it did for Company B above.
Analyze: Evaluate performance across organic and paid social media channels, so you can refine your approach to deliver increasingly better results. It's an iterative loop, where small gains will yield big results over time.
Wrangling Your Social Media
Building a thriving social media community takes effort, but should appear effortless. Followers expect timely, authentic content posted on a consistent basis that reflects your business culture, but is not overtly about you. Topics are only limited by your creativity, but posting should always demonstrate your commitment to your customers, their needs and interests.
Achieving this takes dedication and patience. Many businesses start social media programs with a great outpouring of effort, only to see them collapse under their own weight, leaving you in the social doldrums while your customers seek alternatives elsewhere.
Avoid that fate by planning ahead and adopting one of the many social media management tools that enable you to write, schedule, publish and measure your posts via a convenient dashboard.
Partnering with social media experts who have both the technology and expertise to position your company for success is a smart choice as well. There's so much to learn, so why suffer through social media pitfalls when they can be easily avoided?
Remember: When your social media presence looks polished, your business does too.