A Q&A with Brian Hart, Founder and CEO of Flackable, on Building a Successful Brand
Reputation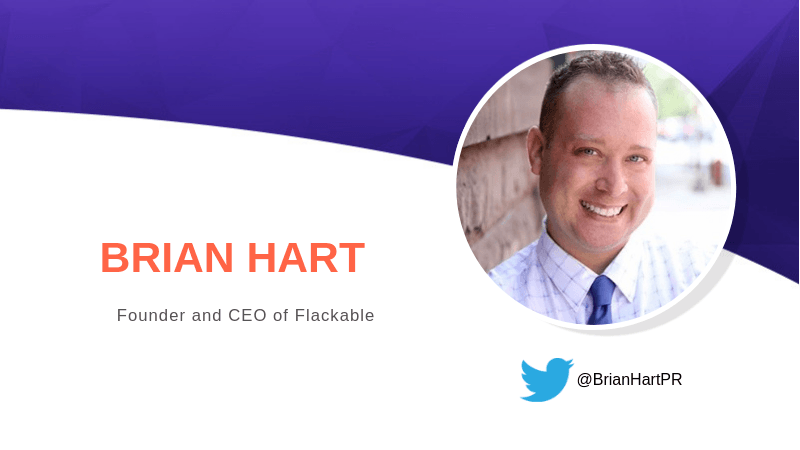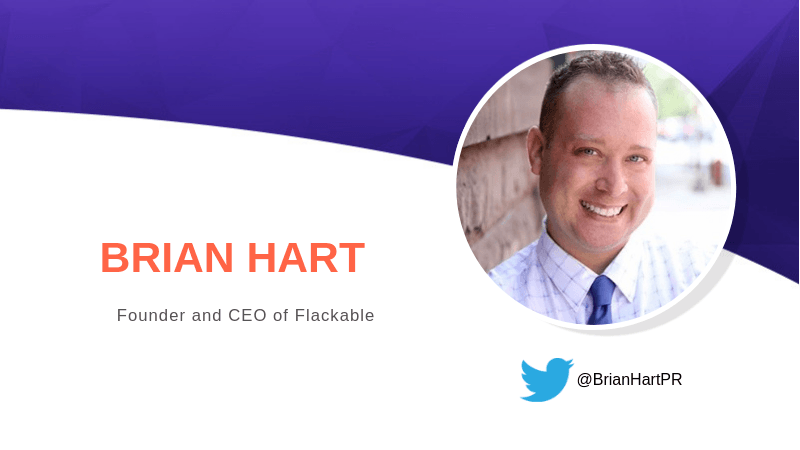 Reputation.com recently talked with Brian Hart, founder and CEO of Flackable, a top national financial and professional services PR and digital marketing firm. Hart is a prolific writer and pens a weekly column in Inc.com — Flack It Up — helping to cement his reputation as a thought leader in his field. He has won numerous awards, including Adweek's 2015 PR Industry 30 Under 30. Find out how he does it.
This interview has been edited and condensed.
Tell us how you forged your path to success.
My background is in financial services and PR. When I was working at a New York PR agency, I noticed a trend of independent financial advisory shops popping up all over the country — that's when the concept of Flackable hit me. Financial advisers were leaving big banks and forming their own brands. When I looked at the PR agencies that were serving this rapidly expanding section of the market, I wasn't impressed. I had a better vision for how they could be served. I would stay up at night scribbling all my ideas into a notepad, and eventually, I turned them into a business plan.
Then a wealth management firm out in Los Angeles reached out to me via LinkedIn. They had just fired a traditional PR agency, and I told them, "Your frustrations with that agency are my frustrations with the traditional PR model, in general." They were on board. A managing partner at the firm said, "Brian, what are the next steps?" I told him, "Let me go quit my job tomorrow, and I'll send you a contract." And that's exactly what I did.
How did you build your firm's reputation early on?
When I launched Flackable in 2014, I was 27 years old, and I hadn't been in the industry long. I was good at what I did and I was the top performer at a well-known New York agency, but I was by no means a large, established player at the time.
I took a few risks. One of them was naming my company Flackable. All the financial PR agencies are essentially named after the founder — you don't have a whole lot of edgy branding. So I decided that I wanted to take a risk, to reflect my personality. I didn't want to blend in with all these established brands; I wanted to be an alternative, and I think it's played out very well.
When I know a prospective client is talking to us and one or more of our competitors, my likelihood of landing that business is strong. We do a good job bringing on clients, partially because of our branding and how we're positioned.
Was your financial background a real clincher in helping you get new clients?
My in-house experience in financial services proved to be incredibly valuable. A lot of PR professionals really only know the agency realm. The advantage that I have is my experience with the types of firms that we represent. I know their sales goals in a way that no PR person's going to understand.
How did you expand into professional services?
When I launched Flackable, almost all our marketing was geared toward financial advisers — anywhere from one-person shops to larger 20-plus person teams. Our model was built specifically for these financial advisers. But I got a couple of referrals that were outside of financial services, and I found that while we built our model for a specific type of client, it was adaptable to others — in particular, professional services. So now our marketing is financial and professional services.
What advice do you have for brands building their online reputations?
If you find a great niche from a branding perspective, make sure you stay true to it. Any time you establish yourself in a niche, you're going to turn off some potential business. You need to be comfortable accepting that, or else you're going to find yourself diluting your brand to try to appeal to everybody, or you'll cast too wide of a net that you lose your appeal.
Another essential piece of advice is to write articles, blog posts, etc. If you're building a brand and establishing yourself as a thought leader within an industry, it's important to constantly write to build authority. Publishing valuable content regularly helped me to build up my reputation and my credibility. I was on a bunch of podcasts. I did a lot of blogging. That consistency paid off — within a year of launching Flackable, I made the Ad Week PR 30 Under 30 recognition list. It was a game changer. A lot of my success stems from the importance that I placed on writing and putting thought leadership content out there.
Download our free guide to Getting Started with Online Reputation Management