Be Found, Be Chosen and Be Better: Welcome to the Feedback Economy
Reputation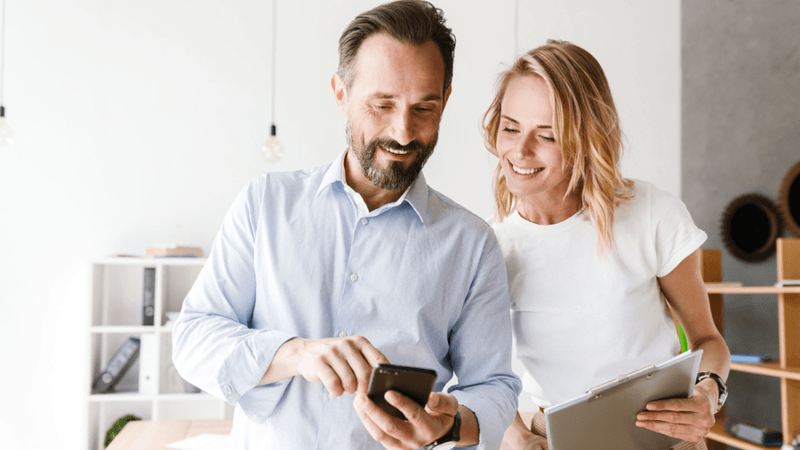 This article was originally published on LinkedIn. Click to follow Reputation.com on LinkedIn.
Businesses now live or die in a Feedback Economy, where your growth depends on how well you harness the value of customer ratings and reviews online.

Why? As I've discussed recently, a new customer journey has emerged – a nonlinear journey across the digital world in which people constantly share feedback about your business at every touchpoint, whether they're on a social media site, Google Maps, your website or a host of other flashpoints. Along the way, your customers leave a trail of data in the wild, a new category of unstructured customer feedback about your business scattered everywhere they encounter your brand.
Businesses that learn how to be present along the customer journey and harness the value of customer feedback at every touchpoint will succeed. But most businesses have struggled to adapt to the Feedback Economy, resulting in stagnating CX programs and NPS scores that don't align with revenue growth as well as they should. But where do you start making the transition? My advice is to get really good at three things: Being found, being chosen and being better.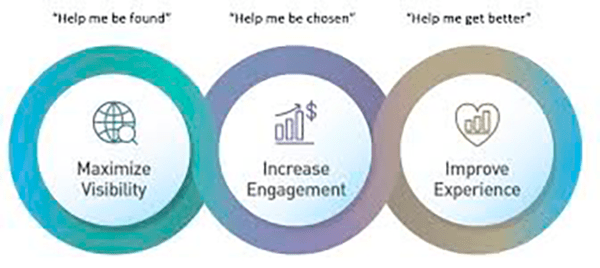 Maximize Visibility: Help Me Be Found
You can't make a good impression on a customer, and you can't learn from their feedback unless they can find you. Being found is all about keeping your presence active where customers look for you online.
When I was a kid, my next-door neighbor owned a small business. I remember the day he was talking to my dad about signing up for his first ad in the Yellow Pages. His business was going to the next level, and he was excited! The Yellow Pages were annual local listings of all businesses in a geographic area, published by the phone company, bagged in plastic and usually dropped in the driveway of every residence in a city. Being listed in this thick book was a key component of every business's marketing strategy. The Yellow Pages was how people found you. Because companies were listed in alphabetical order, some clever business owners figured out that if they put the letter "A" in front of their business name, they'd appear more prominently in the all-important Yellow Pages listing; hence, the proliferation of such as of AA Towing, AAA Towing, and Aardvark Plumbers.
The Yellow Pages of today has a new name: Google. And Google is the single most important tool that you can use if you want people to find you. About seven out of 10 searches happen on Google. It's this simple: Managing your presence on Google is key to aligning yourself with the new customer journey. And being present starts with having your name appear in the top three search results when customers are looking. If you're not top three, you're already in deep water.
But being in the top three still isn't good enough. About 60% of searches are "no-click," meaning the searcher doesn't even make it to your website. So you need to make a great digital first impression. Just as you wouldn't wear a stained shirt and ripped jeans to meet your partner's parents for the first time (hopefully), you don't want a sub-par business listing. Keeping your "digital clothes" cleaned and pressed means keeping all your information up to date, including customer reviews, basic location data (name, address and phone number) and variable data such as whether your business is pet-friendly.
In this blog post, my colleague Adam Dorfman dives into the different types of data you need to manage on your Google My Business (GMB) listing, which is the foundation for being found in Google's world. And there is a lot of data to manage:
Is address data for all of your locations updated and accurate?
Do you have hours of operation that differ by day of the week?
Do you have sales and service departments with different hours of operation?
The list of data points is long and detailed — but you have to manage this data to appear where people look for you everywhere on Google, including Google Maps. Check your Google Maps listing. Is it accurate? If not, you need to shore up your GMB listing. What is your process for maintaining your customers' sources of truth?
Then, once customers find you, you want them to choose you, which is where managing online ratings and reviews comes into play.
Increase Engagement: Help Me Be Chosen
Old News: People use your product or service and tell others about their experience.
New News: People tell the entire world about their experience online through reviews or digital word of mouth – and how you manage reviews matters.
During the new customer journey, people do a lot more than search for you. They look for customer opinions of your business. And what they find will either stop the journey cold or send them one step closer to your business. Think about your own journey: How often do you buy a product with lots of bad reviews and a low star rating? How often do you abandon a product or service or business with bad reviews and low star ratings?
In the Feedback Economy, your brand is the sum total of every interaction that your customers and potential customers experience, at every touchpoint in the new customer journey. Everything that you do has the ability to be reviewed by anyone online, which influences their future buying decision with your company. As a result, you need to be present and engaged.
If you operate out of a location such as a bank, hospital, retailer or restaurant, the way you advertise your business is now only part of the equation. The moment you open a location and serve customers, their journeys will be captured and shared online in an unstructured manner by the people who walk in and out of your doors. This data in the wild will be searchable and useable for your future customers, and it plays a part in whether they choose you. Succeeding in the Feedback Economy means managing data in the wild.
Here are some questions you should ask:
Are you aware of all the places reviews about your company can be found?
Are they all important?
How are you purposefully engaging with customers at every stage of their journey?
What are you doing to generate structured feedback?
What are you doing to generate feedback in the wild?
How are you capturing that feedback?
What about the feedback that comes from social media?
Once you've answered these questions, you should pay attention to how your competition answers the same questions, and how current and prospective customers might compare you to them. Be as present as possible to move the needle in a meaningful way.
Don't fall into the trap of trying to slow down or suppress your review volume — that won't end well. Different reviews can show up in different places, such as your website, GMB listing or Google Seller Ratings (GSRs), if you participate in paid search. You want customer feedback to be honest, accurate, consistent and predictable. The best way to do that is to generate as much volume as you can with intent. Yes, there will be customers who use a review as a slight or even an attack on your business, but the law of averages wins out over time. Focus on generating more review volume, which will make you more visible, too. And learn how to use those reviews to get better.
Improve Experience: Help Me Get Better
Achieving sustainable growth in the Feedback Economy means using all that continuous customer feedback happening in the wild to improve your business. When you improve by being responsive to customer feedback, you generate more positive reviews, which makes your business more findable – creating a virtuous cycle. But staying on top of customer feedback (much less learning from it) isn't easy.
You can sum up the practice of Customer Experience (CX) in the Feedback Economy in two very simple statements:
Listen to what customers have to say.
Take action on what you hear.
It really is that simple, yet so many businesses can't seem to get it right. If the "soul" of CX is to deliver meaningful, customer-driven change to the business, the "holy grail" of CX is "tell me what to do." And that's really the root of all of the problems: You can't figure out what to do. You want to get better. Maybe you've even taken the steps to gather the data, and you've stated your intent to do something about it. But you may have underestimated three problems:
The load is too much to manage at scale, because data comes in at an alarming rate from different sources, especially in the wild.
You lack the skill set to gather and construct the data in a way that allows for deliberate, measurable action.
Even if you have the solution to these challenges, who owns taking action? How is the process prioritized? How do you hold the owner of the challenge accountable?
To address these challenges at scale, you have options:
Hire more heads (which is unsustainable).
Leverage machine learning/AI to do the heavy lifting for you.
Leverage workflow management tools to help close the loops.
Get found, get chosen, get better. If you really want to thrive in the Feedback Economy, you need to do all three. Doing any one or two of these is better than doing nothing. But if you lack a plan of attack that incorporates all three, you aren't optimized for success. The tools and technology to create this virtuous cycle of findability, preference and improvement are in the market and getting better every day. While we are still in the early stages of building this new CX lifecycle, the future has never looked brighter.
By the way, I'll never forget the day in 1980 when the Yellow Pages dropped in our driveway. Everyone on the street ran out to see my neighbor's ad. And the Yellow Pages spelled it wrong. My neighbor had to wait a year before it was corrected. The old ways may have been simpler, but they weren't better. The new customer journey creates a new opportunity — but you must be willing to adapt.