Announcing the 2017 Winners of the Reputation.com Customer Awards
Reputation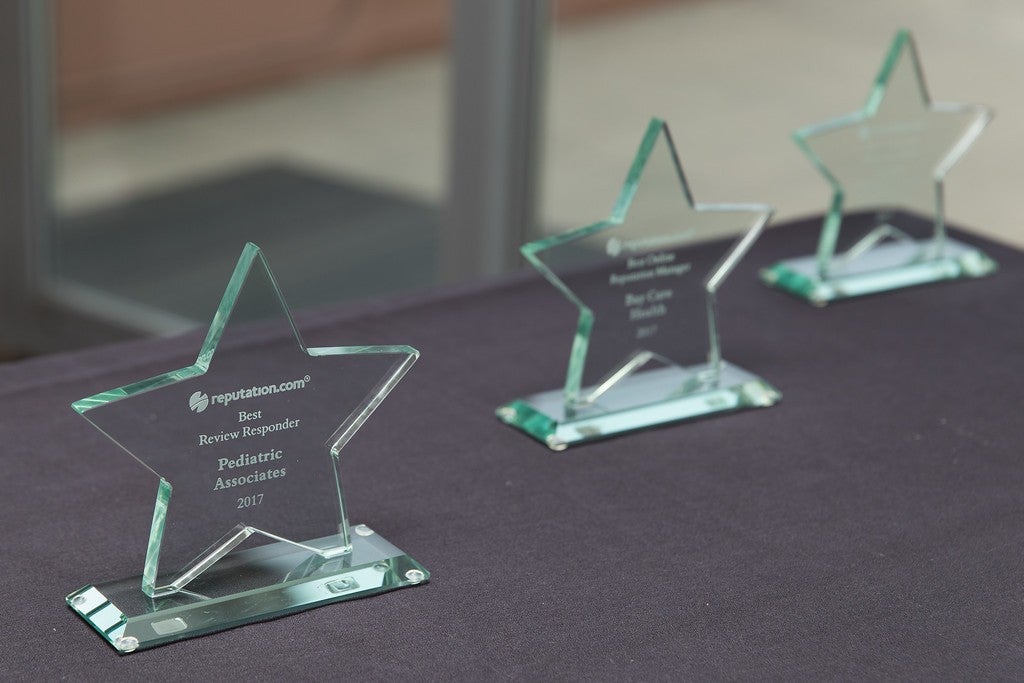 The mood was laid-back and cozy among Transform 2017 reception attendees at the Hyatt Regency in Jersey City, NJ. Guests enjoyed a panoramic view of the Manhattan skyline while sipping cocktails and fine wines in a casual, intimate setting with like-minded healthcare professionals.
Later in the evening, Reputation.com's Chief Product Officer Pascal Bensoussan presented five customer awards, to recognize a few of our key customers for their hard work and success in deploying Online Reputation Management in their organizations.
Here are the awards and their recipients:
1. Most Improved Reputation Score in the Hospital/Clinic category
Winner: Hackensack Meridian Health System
Improved Reputation Score by 201 points to 397
2. Most Improved Reputation Score in the Physician category
Winner: Cook Children's Health Care
Improved Reputation Score by 139 points to 402
3. Most Improved Reputation Score in the Dental category
Winner: InterDent
Improved Reputation Score by 121 points to 452
4. Best Review Responders
Winner: Pediatric Associates
Responded to 76 percent of all reviews over last year, 90 percent in March–April 2017
5. Best Online Reputation Managers
Winner: BayCare Health System
Achieved an average monthly page view per active user of 151 (this category measured the client's engagement with the Reputation.com platform)
Several of the recipients gave short acceptance speeches, including BayCare Health System's Dena Brannen, who said, "The relationship that Baycare has with Reputation.com feels less like a vendor relationship, and more like a partnership."
At the end of the evening, guests were surprised to see fireworks light up the night sky over the Hudson, closing out the evening with an unexpected and exciting treat.
Transform 2017 is the premier annual event for healthcare providers interested in optimizing their online reputation.
Read 4 Key Takeaways from Transform to learn more about topics covered at the event.