An Online Reputation Management Roundtable with UK Hospitality Leaders
Reputation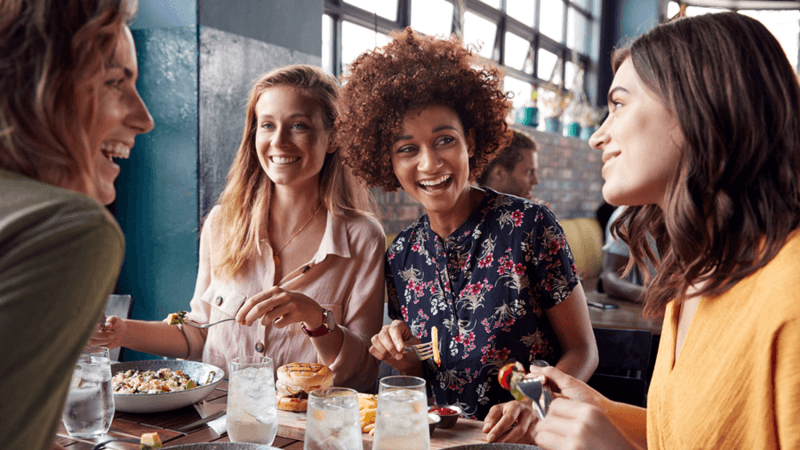 Online Reputation Management has been a popular topic for several years, ever since Reputation.com developed the concept back in 2006. As the famous Warren Buffett quote goes, it takes 20 years to build a reputation, and five minutes to ruin it. This is truer than ever, and so as a result, many larger brands are looking to take control of their online reputation, better understand what their customers are saying, and improve the customer experience.
Alongside BigHospitality and Morning Advertiser, Reputation.com recently hosted a roundtable lunch for some of the leading brands in UK hospitality to discuss several challenges currently facing the sector. Below, we will review key topics discussed by 12 restaurant and pub operators and Reputation.com's group of experts, including Chief Product Officer, Pascal Bensoussan.
How are operators dealing with increasing digital opportunities and how can they effectively manage their online footprint? What's the best approach to deal with feedback and benefit from an online reputation matching guest satisfaction?
The Importance of a Digital World
This was our first topic of discussion, and it quickly became apparent that for many, digital-first was the way of thinking. Emma Dickinson, Sales and Social Strategy Manager at Youngs Pubs explained that for them, "digital is essential. We've got a whole team that works on the online aspect of the business. We used to rely on word of mouth where one person would maybe tell 10 people maximum about a positive experience. But now, with the power of online channels, social media and review sites, it can be 10 million people."
"A lot of discussion about online presence is about social media, but it's broader than that. It's also how people find you." — Pascal Bensoussan, Chief Product Officer, Reputation.com
Further emphasizing the importance of digital, the first thing Pizza Pilgrims did, even before registering with Companies House, was create a Twitter account, according to Co-founder James Elliot. Prezzo, which was established before the explosion of social media, had an interesting take on the opposite side of the coin. Henry Sandford, Prezzo's Proposition & Customer Insight Manager, believes they've been playing catch-up to engage with customers on social media. Whether you're an established brand or a newer business, there are definite opportunities to be had.
The Wetherspoons Effect
Back in April 2018, Tim Martin, Founder and Chairman of JD Wetherspoons, revealed the pub chain's head office and 900+ pubs were quitting social media: Facebook, Twitter, Instagram —  everywhere. On the flip side, Lewis Townsend, Head of Marketing at Castle Rock Brewery believes social media is essential to growth and ongoing success; they see it as a "digital representation of their brand and as an extension of their growth."
Whether you're on social media or not, the importance of maintaining a presence and properly engaging with your customers is clear. There's a direct correlation between a negative online reputation and ignoring comments made on social media. Brands, similar to Youngs Pubs', that are actively using social platforms to engage with customers typically enjoy a positive online reputation.
Different businesses in the same sector take different approaches to social. For instance, Rosa's Thai Cafe shut down their Twitter account because they didn't feel it was important to their overall strategy; however, they're still active on Facebook and Instagram. Pizza Pilgrims updates their social pages every day. It's about finding what works for your brand and being as well-represented as you can be. Ultimately, if a person searches for your company, or does a location-specific search on their platform of choice, they expect to find you.
Dealing with Inbound Feedback
As businesses grow in terms of number of locations, their online estate grows with them. A single location could have four, five or six 'shop windows' online, when you think about your Google My Business page, Bing and Apple Maps, Facebook, Twitter, Instagram, etc. Consider how much work it would be to manage these profiles across hundreds or thousands of business locations. Enterprise brands need a way to centrally manage all of their online estate, and enable ground-level management to manage their own location, inbound feedback, social media and opening hours. For example, Reputation.com worked with Greene King and Mitchells & Butlers, helping nearly 4,000 pubs and restaurants manage their online reputations.
James Elliot, Co-Founder of Pizza Pilgrims, which has grown rapidly since it opened its first location in 2012, said that his brand now "manages feedback […] on a central level. People want that feedback loop." Fátima Diez, International Brand and Comms Manager at Five Guys, agrees with James, "we let our store managers handle any feedback themselves. If [our customers] need us, we're going to be on all the channels, and we like to reply quickly." Youngs Pubs has templates in place for specific issues, but asks that their managers customise and "humanise" the responses before they're sent out.
"It's vital to take ownership of information about your business because you don't want other people to." — Pascal Bensoussan, Chief Product Officer, Reputation.com
The Negative Review Strategy
Negative reviews are inevitable, but if you're consistently replying to authors, working to resolve issues and learning from them, you're following best practice. Ideally, your 'star average' online should be between 4.5 and 4.8 – 5/5 actually looks suspicious and can put people off.
Castle Rock explained that they have "always encouraged pub managers to respond to the positive feedback as well as the negative. We've had a few shocking reviews where we have genuinely got something wrong, but had people come in because we've responded to them well. There's value in that, it's about replying in the right way." Sophie Orbaum at Harts Group says her team simply doesn't have time to respond to every review, and that they focus only on the negative feedback. Reputation.com recommends responding to every piece of feedback you receive. However, without the right software and processes in place, this process can be difficult.
"The trick is to take it offline, but do it in such a way that looks professional to the outside world. It's important for managers to understand how to behave online and not get into a public argument." — Emma Cottram, Senior Marketing Manager, Wadworth & Co
Key Takeaways
There was a wealth of information discussed at the roundtable. Here are some key takeaways from the day:
Managing reviews left on third-party sites will only become more challenging. For instance, in addition to direct feedback on Google, Facebook and other social platforms, how do you manage reviews and online feedback via Deliveroo, Uber Eats, etc.? A centralised view of customer feedback across multiple platforms is essential for a healthy online reputation.
Google My Business (GMB) is currently testing an option to order food via GMB pages. How will your business manage this? Is your GMB page as information-rich as it can be? Twenty-five percent  of Google's search algorithm is influenced by a business's presence on GMB, and another 15% is influenced by online reviews. Thus, your GMB page may influence as much as 40% of your search rankings. Will your business be ready to take food and drink orders directly from Google?
Live messaging — including from within GMB pages — will soon become a key channel for customer engagement. Customers already accustomed to engaging with businesses via live chat, and may soon be able to view menus, place orders and make queries through live chat. Will your business be ready?
Aim to respond to every review and social post you receive. Regardless of whether feedback is positive or negative, it's important that you take the time to either thank your customers, or apologise and work to rectify issues raised.
Start Your Online Reputation Management Journey
A comprehensive Online Reputation Management (ORM) strategy should offer visibility into every area a customer can engage with your brand online. If you're interested in getting started with ORM, download our 'Complete Guide to Reputation Score and Online Reputation Management' to learn more.
Who Was Around the Table?
Megan Burton-Brown, Head of Marketing at Tortilla
Emma Cottam, Senior Marketing Manager at Wadworth & Co.
Emma Dickinson, Sales and Social Strategy Manager at Youngs Pubs
Fátima Diez, International Brand & Communications Manager at Five Guys
James Elliot, Co-founder at Pizza Pilgrims
Rosie Mira, Head of Marketing at Hawksmoor Group
Sophie Orbaum, Head of Marketing at Harts Group
Punky Patra-Yanan, Head of Brand and Marketing at Rosa's Thai Cafe
Alix Pickard, Director of Marketing at Hakkasan Group
Henry Sanford, Proposition & Customer Insight Manager at Prezzo
Gail Taylor, Commercial Executive at Admiral Taverns
Lewis Townsend, Head of Marketing at Castle Rock
From Reputation.com