Q&A with Aaron Agius re: Growth Hacking, Sales & ORM
Reputation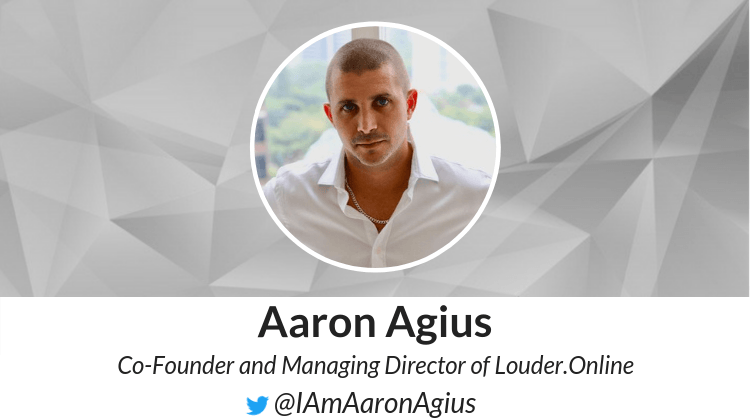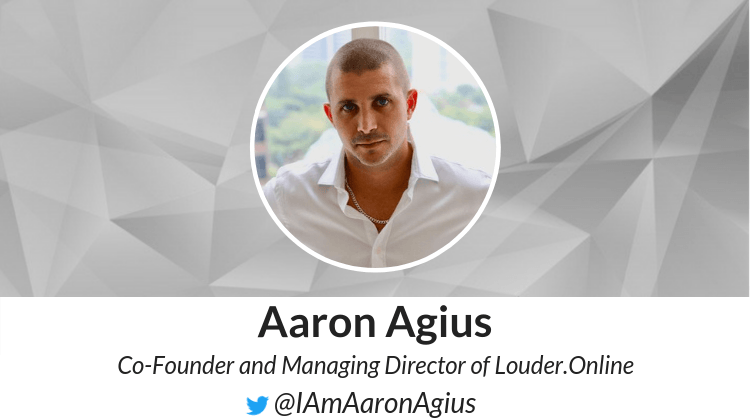 Aaron Agius is a content marketing expert who helps companies optimize online reputations and top-of-the-funnel acquisition strategy. He is the co-founder and managing director of Louder.Online, a Sydney, Australia-based marketing company. Agius has worked with major global brands such as Coca-Cola, Salesforce, IBM and Target on digital marketing strategy.
In this interview, Agius talks about the importance of brand awareness and creating compelling "finesse content" that educates and entertains in order to drive and convert visitors.
This interview has been edited and condensed.
When it comes to brand awareness, what are companies aware of and not aware of?
It depends on the size of the company. Startups to midsize companies often care about quick-fix ROI and closing sales, not about growing their brand. They focus on paid channels, AdWords [now Google Ads] and Facebook ads. They're not focused on long-term things like SEO content marketing that may not bring in an ROI now, but will in the future. Selling that to management is hard.
Bigger companies get it, but they have a budget for brand activities. There're so many things to gain when you take the time to build up awareness and knowledge about who you are, educate people and become a thought leader.
What are some of the things businesses can do to boost brand awareness?
Create a solid content strategy to educate or entertain your audience. Contribute content to other publications to leverage those audiences. Regular contributions to larger publications let you gain authority and credibility, plus you may also get great backlinks to help with SEO. Write content that answers questions, solves problems and educates in as many places as possible within budget.
Say more about content that can "educate or entertain."
People love entertainment, and with entertaining content, you're able to get a lot of traffic, awareness and social sharing. That drives social traffic at the very top of the sales funnel. If you're entertaining people, you have an opportunity to retarget them, run the right kind of ads for the right people and get them on your email list.
As a company, we very rarely create content talking about a company's product or service. It's usually related to the industry or how the product interacted with something in the industry. When we're creating content for clients, we ask, "Is it something people would share socially or link to naturally?" If the answer is yes, we know it's going to be a successful piece. You're going to get the referral traffic and the links that drive organic search traffic.
How do you define online reputation, and how do you work with clients in that space?
There is massive overlap between brand growth and reputation. As people read your content, they get to know your brand, what you stand for and that you know what you're talking about. People will come in through the top of the funnel and see that you've got all this good content that tells them about the industry and teaches them. That mix — growth and reputation — means people can recall your brand and recognize you as a brand that's outstanding in your industry.
On your website, you talk about "finesse content." Can you expand on that idea?
We see so many clients that create content for the sake of content – 300-500 words about a company's product or a new update. They publish it on their blog, think it's "content marketing," and wonder why their whole business hasn't changed.
We come in and give them data about trending, newsworthy information, what the search volumes are and what questions people are asking. We use that data to develop an ongoing strategy that is almost always about answering questions and solving problems in the industry through content.
We create long-form content, 2000-word-plus pieces, with lots of imagery and internal and external links. Then we ask ourselves if people would share the content socially or link to it. If the answer is yes, we consider that finesse copy that's going to get results. We don't create content for the sake of content.
You're not the experts on an industry. So how do you pull together that data and information that's relevant to a brand?
We don't aim to be the experts within any industry. Most clients come to us through inbound marketing, knowing they need help with SEO and content marketing. It's not hard for anyone to get an understanding of an industry from a top-of-the-funnel perspective. We see the questions people are asking and create content that provides answers. We don't write about a company's product or service or new features or updates; we keep it at the industry level.
Where are brands missing the mark in how they think about and develop content?
Most of them have no strategy, and it's just straight-to-the-point writing about what they think people are interested in — their product or service —and they are missing the mark. They come in and ask us to improve their SEO and get them links. We ask, "Why would anyone want to link to something about your particular product?"
Editorial publications aren't going to link to that kind of content. Instead, create content people care about. If you're helping other people and providing value, then it's going to come back tenfold.
What do you do when content misses the mark? How do you recover from that?
You've got to take a step back and determine if it was aligned with the strategy and if you had data proving it was the right piece of content to create. Ask why it fell flat or failed. Did you have the right metrics? Did you measure properly? Did you miss key fundamentals like structure and formatting that caused it to show up poorly in search?
What are the things brands are going to need to think about over the next two to three years?
I see more personalization coming, not just in content, but also the way results are showing up in Google. Everything will be personalized based on location, history and perceived intent. You're going to get closer to a one-on-one journey.
Voice search is going to have an impact on the way people search for things. You're going to have to create and structure content in a different way. If you're driving in your car and you're doing a voice search, you're not going to say, "Plumber Chicago." You're going to say, "I need an emergency plumber in Chicago tomorrow." How are we going to create content that provides a precise answer to that question?
Reputation.com focuses on user experience throughout the customer journey and how UX affects your online reputation. How do you connect those dots?
Most companies will say they've got a content strategy, but it's not written down anywhere. People just jump straight into production.
Instead, we create a full matrix of user journeys and buyer personas, and make sure we're appropriately hitting content in each one of those areas. We also include the right calls to action for the right people at the right part of the funnel. I think that's critical.
____
Reputation.com helps brands understand and maximize their online reputations. Download our free 5-Step Guide to Improving Your Online Reputation.