6 Online Reputation Management Tactics Healthcare Can Learn from Retail
Reputation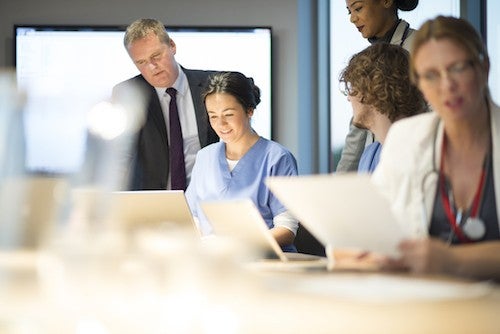 Healthcare consumers have options, and they know it. According to a recent report, consumers expect a retail experience from healthcare, requiring hospitals to pay closer attention to all the touchpoints patients have with them, including their online presence. There are definitely some great Online Reputation Management tactics that healthcare marketers can learn from retail.
Facing higher deductibles and out-of-pocket expenses, healthcare consumers are not as passive about choosing doctors and hospitals  as they've been in the past. They're turning to online review sites and social networks for information about healthcare providers, and they expect price transparency, high star ratings and positive reviews.
The Power of Online Reviews Across Industries
Originally, online reviews, star ratings and consumer sentiment about brands were concepts important only to restaurants and hotels, but now many industries understand their importance, as customers become increasingly vocal online.
For example, as the retail industry becomes increasingly digital, some brick-and-mortar mainstays such as Macy's are closing stores or going under. Successful retailers know that managing their online reputation and presence is now an essential marketing strategy.
Healthcare providers are late to the game, but have much to learn from retail. Reviews and ratings are being generated by patients for hospitals and health systems across the country. Yet the number of health systems making Online Reputation Management a priority remains low: less than 40 percent publish patient reviews online or participate in online review programs.
This is a serious blind spot for any healthcare organization. SoftwareAdvice reported nearly 80 percent of consumers report using online reviews as a first step to seeking a provider, while 16 percent use them to validate the choice of a doctor they're considering.
Neglecting the importance of online reputation is risky, as patients continue to demand more information and transparency when making important healthcare decisions, and turn to the web for this information.
Six Strategies for Great Reviews and Higher Ratings
Similar to businesses in other industries, healthcare providers must use online reviews and star ratings to their advantage, to capture an increasingly discerning consumer with myriad options and higher expectations.
Here are some key tactics for strengthening the online reputation of your doctors and hospitals in today's digital environment:
Request and respond to reviews: Patients should be asked for reviews immediately following visits, either by having a tablet at check-in/out or sending simple rating requests via email or SMS. Monitor and respond to all online reviews — positive or negative — in a timely manner.

Use customer surveys to augment CAHPS data: Online surveys help you collect valuable information about the patient experience that is not captured in CAHPS data. Online surveys can extend beyond the patient-physician encounter to collect information about interactions with staff, access to the clinic and convenience factors.  Surveys should be brief, readily accessible and easy to complete via tablets, mobile apps or online forms.

Make sure patients can find your doctors: Sixty-four percent of internet searches are completed on Google, so be sure to claim your Google business listings first, and ensure all the information is accurate — address, contact information, hours of operation, and so on. Other important sites include HealthGrades, Yahoo Local and Vitals.com. By actively monitoring your business listings, your locations can rise in search rankings giving potential patients a better chance of finding them.

Join the conversation online: Active engagement on social media will help you influence and optimize your organization's online reputation, build trust and awareness, drive traffic to your websites and, ultimately, result in more walk-ins, appointments and admissions.

Gain operational insights: Use what reviewers are saying online to make operational improvements across your organization. You may identify a recurring issue — for example, long wait times or multiple complaints about a specific doctor or location. Your social media team should work with your organization's patient experience team to develop a process for sharing operational insights and making needed changes.

Report on key metrics: Reporting to key stakeholders within your organization helps you demonstrate the outcomes of your reputation management efforts. An Online Reputation Management platform can provide insight with analytics and a dashboard, and help you gain valuable insights from various metrics, such as review volume, sentiment and social media activity.
Not all Online Reputation Management platforms are created equal. Reputation.com makes sure you're covered. Learn more by reading our  Success Kit.