5 Ways to Help Healthcare Consumers Find and Choose Your Practice Online
Reputation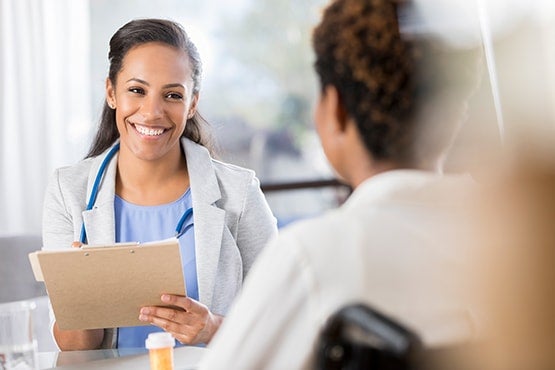 Healthcare providers: Your success in today's increasingly competitive market hinges on a sound digital strategy. Why? Because the majority — 88% — of healthcare consumers begin their search for providers online.
Consumers rely on search engines and review sites to steer their decisions about which practice to visit and which doctor call. And what they find can sway their decision. More importantly, the listings that rank higher are more likely to be among their top choices.
So, how do you rank above competitors? And how do you get patients to click on your listings for answers and appointments? Here are five things you can do to ensure your locations rank high, build trust and encourage patients to choose your practice and doctors.
1) Claim and optimize your location listings.
A patient's ability to find and choose you depends on the quality and accuracy of your listings data. Consumers are 38% more likely to visit from business with complete business listings. And complete listings also help you rank higher —  listing accuracy and consistency across multiple sites factor into Google's ranking algorithm.
Simply put, if your listings are missing, incorrect or incomplete, patients won't find your locations. Even if they do, misinformation on your listing initiates a poor experience that deter patients — and send them to competitors.
2) Help patients educate themselves about their ailment.
Healthcare consumers are searching online for information about whatever condition or ailment they have that's prompting them to seek care. Results may display articles, practitioners, treatment information and other related content. By associating your listings with relevant content, you'll rank higher in those targeted searches.
For example, say a consumer's knee is hurting. She may conduct a search with the keyword "knee pain." An orthopedic surgeon who treats knee injuries should post content covering common knee injuries and treatments, as well as include relevant keywords in their business listings. Having a complete, accurate listings with the appropriate categories chosen will also help the provider rank higher for that keyword search.
By providing relevant information at the time of inquiry, providers appear more credible than others to the prospective patient.
3) Don't underestimate the human element.
Healthcare is personal, and people are looking for providers who appear knowledgeable, friendly, capable and approachable. Including photos and bios of your practitioners and even staff can help make your locations look more welcoming and build trust with potential patients before they even make an appointment.
As part of the process of optimizing your listings, be sure to include headshots at a minimum, pictures of the practice or office environment, information about specializations, certifications, reviews, awards and testimonials. All of these will help persuade consumers to choose you.
4) Make scheduling seamless.
Integrated scheduling with your online presence — directly from a doctor's profile page, for example — via a consumer-facing find-a-doctor tool optimizes the patient's online experience and helps lower the possibility of them clicking off the page and seeking care elsewhere. The smoother you make the discovery and engagement process, the more likely patients are to continue through to your site and book an appointment.
5) Build community and credibility on social media.
According to Pew Research, 68% of U.S. adults are Facebook users, and about 75% of those users access Facebook on a daily basis. And it's not just the younger generation: 78% of people ages 30 to 49, 64% of people ages 50 to 64 and 37% of people 65 and older are dialed into social channels.
But don't dismiss millennials — they need healthcare too, and they represent the single largest and fastest-growing group of consumers.
Monitoring social channels and actively engaging with the community and influencers creates advocates, drives site traffic and gets the word out about your locations' positive reviews and feedback. Strategic, targeted social advertising can help raise brand awareness, as well.
Meet Patients Where They Are — Online
By meeting patients where they're searching for healthcare information and care options — on search engines, social media channels and reviews sites — you'll raise awareness for your locations and doctors and help boost their credibility as reliable, trustworthy sources. With a sound strategy and the right technology in place, you can guide patients through the process of discovering, evaluating and deciding on care options, providing an exceptional patient experience from start to finish.
For more information about how to optimize your online presence to attract and retain patients, check out our guide, "Online Reviews and Ratings 101: A 5-Step Guide to Improve Your Healthcare Organization's Online Reputation."