5 Tips for Requesting Patient Reviews
Reputation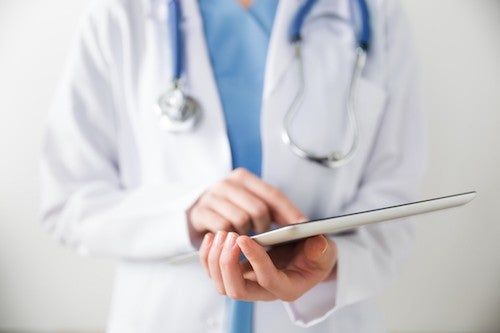 Nearly 70 percent of consumers rely on patient reviews to help them select their healthcare providers. The more positive reviews your providers have, the better — a large number of fresh, positive reviews will improve your search rankings, making it easier for potential patients to find you. An analysis of 20,000 reviews over three months revealed that ten new reviews will move you from page 2 to page 1 of local search results, and 50 new reviews generate a 266-percent increase in click-through rate.
But to incentivize patients to write good things about you is unethical, and posting only testimonials can be misleading. Here are five tips for requesting reviews to increase review volume the right way:
1)

Ask Routinely and Make It Easy

If you want more reviews, ask for them — systematically. You can do this in a number of ways, such as having patients fill out a short written survey immediately following a visit, sending emails to patients after appointments to request a review, or sending out a link to a survey via mobile.

Remember, your patients are busy people. Short surveys with just a few questions will get more traction. Make sure anything you send digitally works seamlessly and only takes a few clicks to complete.
2)

Make it Personal — But Scalable

If you want to grow review volume on major third-party websites such as Google or industry-specific websites such as Vitals or HealthGrades, send your patients a personalized email or text asking for a review.

FCC rules protect consumers from spam and unwanted solicitation under the TCPA and CAN-SPAM acts by requiring verbal permission to send emails, and both verbal and written permission for sending text messages. As an alternative, you can leverage an Online Reputation Management platform to integrate review requests with your scheduling or practice-management system, and automate the process.
3)

Choose the Best Time

Asking patients for a review immediately following a visit is the best way to ensure the experience is fresh in your patient's mind, and increases the likelihood they'll write a review. We've found there's an increase of 8 to 10 percent increase in review responses toward the middle of the week, and a 5-percent increase in responses in the morning hours compared to the afternoon. Timing is everything, so plan accordingly.
4)

Follow up

If a patient doesn't open your review request, don't give up — ask again. Sending two follow-up review request emails improves your success rate without annoying patients with too many requests. In fact, a second follow-up email tends to have better response than the first. With two follow-ups, we've seen click-through rates of 18 to 32 percent.
5)

Streamline the Process

Ensure a consistent flow of reviews by integrating your requesting process with your CAHPS or EHR/EMR system. Remember to encrypt all Personally Identifiable Information (PII) and Personal Health Information (PHI) for any system-to-system data transfer, including data going to and from your Online Reputation Management platform. Doing so safeguards against the possibility of unauthorized access to review data, which could compromise patient privacy.

As an added benefit to requesting reviews and building review volume, you'll have lots of patient feedback. Information from patient reviews can help you improve patient satisfaction, and make operational improvements across your organization to elevate the overall patient experience.