5 Surefire Ways to Convert Foot Traffic Into Increased Sales
Reputation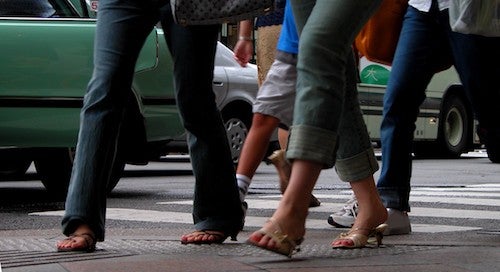 The auto purchase journey is rapidly moving away from the dealership and onto the social web. So, how can you manage your dealership's online reputation — so as to convert foot traffic into sales?
According to a McKinsey Advanced Industries study, 10 years ago, the average car shopper made five visits to dealerships to research potential vehicles. Today, that number has dropped to two.
As physical visits to dealerships decline, consumers are increasingly turning to digital as a way to research vehicles and dealerships to inform buying decisions.
This dramatic sea change requires a new digital marketing approach to reaching audiences and building customer preference.
New Competitive Frontier for Auto Dealers
Automotive brands are powerfully influenced by star ratings and online reviews. They shape consumer preferences and drive foot traffic to dealerships — either yours or the competition.
Consider this: ninety-four  percent of consumers would use a business with a 4-star rating. But that figure drops sharply to 54 percent with a 3-star rating. One star makes a big difference in the auto consumer journey.
Influencing and winning over auto shoppers doesn't happen in person anymore. What can today's dealership do to create buzz, increase foot traffic and close more deals?
Here are five keys to managing online ratings and reviews and improving revenue growth with an Online Reputation Management (ORM) platform.
Make sure you can be found: Fifty-one percent of new vehicle internet shoppers use a smart device to locate or call a dealership as they get closer to making a purchase. Accurate business listings are critical. If you're not found online in seconds, it's as though you don't exist.

Ask customers for honest reviews: Listen carefully to customer feedback — the good, the bad and the ugly. These moments of listening to customers are great learning opportunities that provide powerful business benefits. Lastly, respond promptly to all negative feedback, to demonstrate your commitment to outstanding customer service.

Monitor Google, Facebook and other industry-specific review sites: Tune in to what consumers are saying about your dealership. Learn what they really think about the quality of customer service you provide. Discover the amazing things customers are saying about you, and uncover startling insights into customer grievances.

Engage prospects with social media: Re-deploy positive feedback across the social web. Instantly publish customer success stories and the great things people say about your service. Extend reach, amplify awareness and build trust and credibility to drive foot traffic to your dealerships.

Gain insight: Perform thematic and customer sentiment analyses. Identify growth edges and areas of concern in customer service. Then take action to improve the retail experience at your dealerships. For instance, you might optimize inventory, add local incentives, adopt competitive pricing and engage staff in real-time training to improve customer service.
Today, the opportunity to engage audiences and influence buying decisions happens online, long before a prospect visits your dealership. With an ORM strategy in place, you can adapt your digital marketing. strategy to an always-on, handheld world — and drive sales at your dealerships.