5 Pitfalls to Avoid When Managing Your Online Reputation
Reputation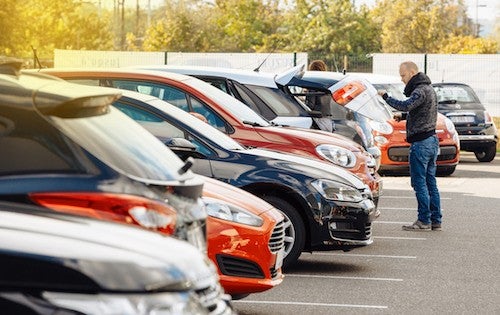 Your online reputation precedes you.
Mike really wants one of the models you have on your lot. He's been all over the web doing research, so he's armed with knowledge about your dealership as well as the one down the street — your competitor — that has a similar car, maybe at a lower price point.
He's probably read a bunch of reviews and knows your level of service and your negotiation style. He might be wary of that one bad online review you received last week, and he knows that he can easily go down the street if something seems amiss at your dealership.
So how do you ensure your dealership is the one he drives to, not past? Have a robust Online Reputation Management (ORM) strategy in place, so you know what customers are saying about you.
An ORM platform can help you engage with customers in a proactive and timely manner, while staying abreast of customer sentiment across the social web.
Smartphones Provide Savvy Consumers with Research On-the-Go
J.D. Power's 2015 New Autoshopper StudySM  analyzed new car buyers' use of tablets, smartphones and computers in their research efforts before purchasing. The study found over half of new vehicle shoppers use a mobile device to research the car they want, their price point and the best place to buy.
Armed with information on-the-go, Mike, who plans to visit your showroom one day, could change his or her mind in a split second based on a Google search of your address that brings up snippets of bad reviews.
Consumers can find information about your business on sites such as the Better Business Bureau, DealerRater, Edmunds, Cars.com and J.D. Power. They also have friends who share opinions on social media networks and car blogs.
Here are five mistakes you don't want to make when building your online reputation:
1) You don't ask for feedback about your service.
It's critical to ask for feedback from your customers immediately after a transaction. If their experience falls short of your customer service standards, you have an opportunity to address concerns directly with the customer before they post them on social media or a review site. Once a bad review is posted, you may not be able to find it before it changes the public perception of your business, and car buyers start driving by your dealership.
Instead of a posting bad review because of an unsolved problem, they might write a review about the positive experience with your dealership and your desire to provide excellent customer service.
2) Your forget to build an online/social media presence.
If you don't belong to communities and social media outlets where people are talking about cars and auto-related businesses, you won't be top of mind. Engage and monitor the sites where your buyers are looking for information. Listen to their comments, and, where appropriate, share insights that align with the conversation.
Also, see what people say about your business or the auto industry and respond to any misconceptions in a way that portrays you as an industry expert.
3) You don't respond to customer reviews.
Got a bad review? Make sure you respond promptly to all negative reviews, and let customers know you've heard their concerns. You'll demonstrate the importance you place on customer service and relationships, potentially turning a bad review into an overall good experience and changing customer sentiment.
4) You're defensive.
Instead of arguing with a reviewer, offer solutions. Keep a professional tone, and remember that what you post doesn't go away, even if you delete it. It can be shared and spread across the internet instantaneously. A positive response that reassures the customer you're doing everything you can to address the problem is much more effective than getting into an online — very public — argument.
5) You try to do everything manually.
Managing online customer sentiment is more complex, as customers find more outlets for sharing their opinions and experiences with businesses. There are thousands of "Mikes" within a 10-minute drive of your dealerships.  if you make sure they all see positive online reviews, you'll bring in more of them, move more units, drive up service revenue and cut off competitors. The only way to do this is by using an Online Reputation Management solution that takes a systematic and holistic approach.
Learn more about ORM and test drive our solutions.