4 Ways to Use Customer Feedback to Enhance Employee Engagement
Adam Dorfman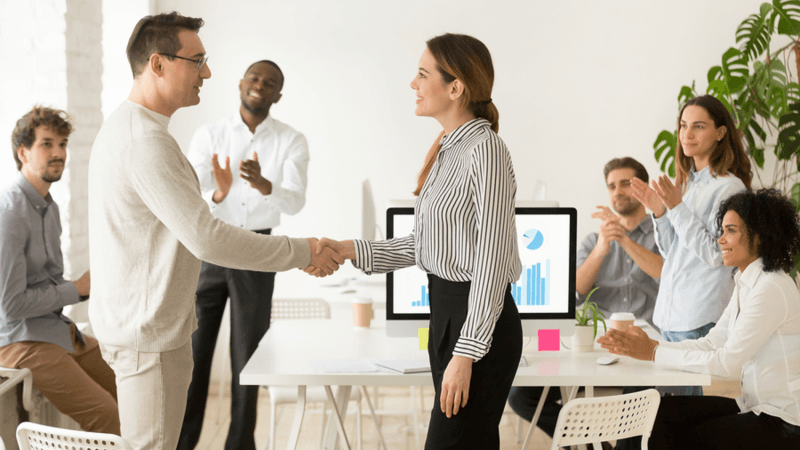 Here's a little-known tactic that will help you keep your employees engaged and happy: Use customer feedback not only to make sure your customers are happy, but to ensure your employees know they have an impact on the customer experience. 
Engaged employees are more committed to your organization's goals and will work harder to keep your customers happy.
How do you communicate customer satisfaction to your employees to keep them enthusiastic and engaged? Use the wealth of information you collect from online reviews, social media posts and customer surveys to enlighten your current workforce. Additionally, you can review and enhance your employee training and development programs.
Positive customer experience and employee engagement go together, so the steps you take to improve employee engagement benefit not only the employees and your business, but also your customers.
Here are four tips for improving employee engagement:
1. Spread the Word from New Employees' First Day
When you share what you've learned about your company's strengths and weaknesses during new hire orientation and training, you establish high customer experience standards from the start. Employees feel a greater sense of ownership when they know what you expect and that you're willing to be straight with them.
You can reinforce your high standards by consistently sharing customer experience results through monthly regional or nationwide reports. When employees know what excellence looks like from your customers' perspective, they're more likely to duplicate it. Sharing positive reviews also boosts staff morale. Seeing that their actions have a beneficial impact on the lives of your customers can be very motivating.
When you have a collection of good reviews, hang them up in the break room. Send out a team or company-wide email acknowledging the positive work of a specific employee or team. Provide incentives or rewards for employees who uphold or exceed customer service standards. By acknowledging individuals or teams for the positive reviews they've received, you'll set the bar higher for others and provide an incentive for all employees to provide excellent service.
2. Make Role-Playing Part of Employee Training
Role-playing is a great way to introduce your employees to new situations in a safe and controlled environment, and help them build confidence in their ability to navigate both negative and positive interactions.
Use actual customer scenarios from your online reviews and survey responses for role-playing exercises that illustrate both the behaviors you want to see and those you want to avoid. When you set up scenarios, don't tell your trainees about the customer's personality or objectives; let them work to figure out how to handle the customer to create the best experience possible.
3. Standardize the Behaviors Your Customers Appreciate Most
If you learn one location (or team) is receiving more positive reviews than others, you can interview the appropriate employees, find out what they're doing differently to receive such praise and standardize these practices across all your locations.
Incorporate the practices into your new hire training programs, to raise the level of customer service at all locations moving forward.
If negative reviews indicate a widespread problem or are specific to one functional area, you can use this knowledge to determine what type of training needs to take place to correct the problem. Operations and HR can incorporate proven tips into your training materials to steer employees away from damaging behaviors.
4. Use an Online Reputation Management System to Collect Customer Feedback
The most effective way to determine what customers think about your company and gain great customer experience data is to invest in an online reputation management program that automates the process of requesting and monitoring online reviews and managing surveys.
Online reputation management platforms like that of leading provider Reputation also provide phenomenally useful tools like dashboards and reporting capabilities that will help location managers and executives quickly review trends and key findings. As a result, businesses can not only assimilate and understand customer feedback more quickly, they can act on it quickly and improve the customer experience.