4 Ways Actionable Analytics Will Help You Improve Your Online Reputation
Reputation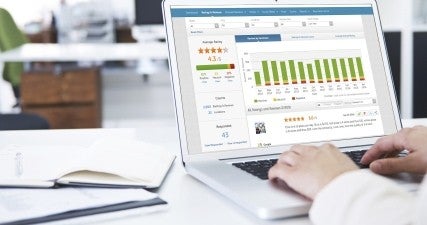 When it comes to making important decisions in life, people will often say things like, "go with your gut" or "what does your gut tell you?"
In some cases, your gut instinct leads to results. But, in business, your gut can only get you so far. B2B SaaS platforms and cloud technologies supplement those instincts by capturing reporting and analytics that help you make better, data-driven, business decisions.
However, you need to identify the data that's most relevant to your business and then determine how best to use it to positively impact your business.
Here are four types of analytics that you should pay attention to that will help your company improve and drive revenue:
1. Customer feedback
It's not enough to monitor customer reviews about your business. You need to pay attention to what customers say.
If words and phrases are used frequently, they can reveal trends and issues that deserve further scrutiny.
Consider using an Online Reputation Management platform to facilitate your search for trends and issues.
This platform employs natural language processing algorithms, which assesses the most important terms that appear consistently in reviews and social media posts about your business.
A word cloud can also help to quickly spot emerging issues. It provides an easily digestible visual for showing the most frequently used terms in positive and negative reviews. You can click on individual words to see what people said or sort by date, location, sentiment, and frequency.
2. Thematic analysis
Online Reputation Management platforms can group words automatically into categories related to your industry and then surfaces the top positive and negative terms that come up within each one so that you can take action.
For example, if you're a healthcare provider, "facilities" would be a category you'd want to see highly scored.
If your score isn't where you'd want it to be, you can dig deeper to understand why — by clicking on the relevant word (e.g. "unsanitary," "old") to see the list of reviews.
You can even download the actual reviews for further analysis.
3. Sentiment over time
The way your customers feel about your business can shift — positively or negatively — over time. If you have a seasonal business, you may want to know, for instance, what the biggest issues are in summer versus winter.
If your auto dealership is selling a new model, it might be interesting to see how customer sentiment has changed about car brands since last year's model introduction.
Using your ORM platform, customize a set of dates for comparison and see a fast snapshot — letter grades make it easy to understand how sentiment is shifting. You can even do a quick search for specific words.
4. Hyperlocal trends
If you're part of a multi-location business, you already know that performance can differ dramatically from location to location. But analytics can remove the guesswork.
With information about sentiment and word analysis, you can determine which locations are delivering outstanding customer service and which have problems with facilities, inventory or personnel.
You can then take action, and have someone from a high-performing location train those who need it or provide recognition for staff members who are going the extra mile.