4 Reasons Healthcare Consumers Choose Your Competitor
Reputation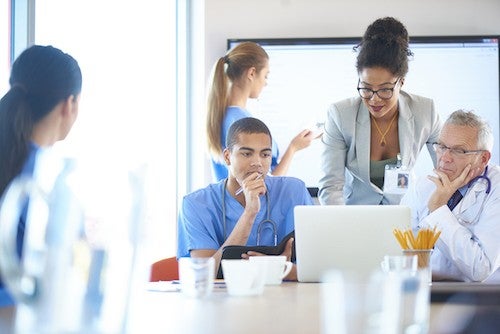 Attracting and retaining patients isn't as easy as it used to be. Healthcare consumers have more information and more choices — and they're less loyal than ever.
Pew Research reports that the majority of consumers begin their search for healthcare information online. They look on Google, industry-specific sites such as Healthgrades, and on your own web pages.
So consider four questions:    
Are your doctors easy to find online?

Is all the information on your doctors' profiles and web pages correct?

Do your providers have good ratings and reviews?
Digital capabilities — electronic health records, consumer portals and online appointment scheduling, for example — are improving at a blistering pace. As they do, it becomes ever faster and easier for patients to locate providers. Which means your competition is intensifying.
Here are the top reasons potential patients can pass you by and choose a competing provider:
1. They can't find you online, or when they do, your listings are inaccurate.
Accurate business listings for your providers and locations — on major search engines, industry-specific sites such as Healthgrades and Vitals, as well as your website — are critical to attracting new patients.
Pew Research reports 77 percent of health seekers start online with Google or other major search engines. And accuracy is essential. Placable found 73 percent of people lose trust in a local business if its business listing has inaccuracies, and 67 percent lose trust in a business if they get lost because the address listed online is wrong.
Yet for large health systems with hundreds or thousands of affiliated doctors and physicians, keeping listings accurate on your website and across the web can be extremely challenging — if not impossible. Not only is physician data constantly in flux, but data may be coming from multiple, disparate sources. This makes it difficult to connect patients to the right healthcare services and creates frustration for your patients, and lost revenue for your organization.  
Devoting staff to updating and optimizing physician sites is a costly, time-consuming endeavor. But without a single source of truth, missing or inaccurate listings — and bad patient experiences — are inevitable.
2. Ratings and reviews are not on your website.
A recent Reputation.com survey revealed 80 percent of consumers say ratings and reviews strongly influence their choice of provider. And according to Software Advice, 47 percent of consumers say positive online reviews would persuade them to choose a doctor who's out-of-network.
Those are pretty powerful stats. If the physician profiles on your website don't display ratings and reviews, you're not providing the information patients need to choose you over a competitor.
3. You make it difficult to schedule an appointment.
Healthcare seekers now expect a consumer-like experience when choosing a healthcare provider. If you're not taking advantage of technologies available to create a smooth, seamless digital patient experience, you're at a disadvantage.
Patients should be able not only to find a provider, but to read reviews from other patients and immediately schedule an appointment — all in one place.
Sending them to another website for scheduling or requiring that they call for an appointment introduces a barrier to acquisition — and an opportunity for them to take an easier route with a competitor.
4. Your providers are referring patients to out-of-network doctors.
Accenture research shows that 44 percent of consumers choose their healthcare provider based on a recommendation. Many such recommendations come from other doctors.
What if a doctor in your system refers a patient to a specialist he or she knows who is outside your system, because it's easier than searching for a physician within your network? It's likely that patient will accept the recommendation and exit your system, and you'll lose their business.
But if it's easy for your doctors to refer patients to other providers within your system, they will — and patients won't be sent to competitors.
Eliminate the Barriers
The best strategy for competitive success is to make it easy for patients to find, select and book appointments with your providers. Reputation.com's Healthcare Directory eliminates the barriers to patient acquisition and retention with an integrated directory solution that:
Provides a single source of truth for managing physician and location data.

Ensures consistency between internal data and third-party listings across the web.

Incorporates online ratings and reviews, surveys and scheduling on physician pages.

Simplifies in-house referrals and helps doctors connect patients with the right providers.
To learn more about Healthcare Directory, request a demo.