3 Reasons Urgent Care Facilities Should Care About Online Reviews
Reputation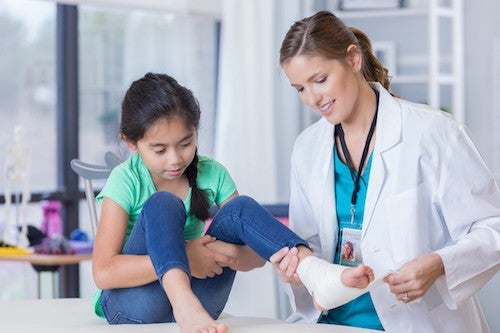 When finding medical care is urgent, you only have a few moments to decide where to go for help.
If you're holding your toddler who has just hit his head on a door jam, or you've slipped walking down the stairs, you pull out your phone and google "Urgent Care near me," and Google provides three top choices in its local 3-pack.
You don't have time to read the details in the online reviews — it's likely you'll just scan the star ratings and pick a facility that's close by and has four or more stars.
The address and star ratings are the most critical aspects of an urgent care facility's business listing, so many urgent care facility managers assume online reviews aren't all that important to attracting patients and walk-ins.
In fact, they're essential to search rankings and ratings. Here are three reasons why:
1) Online Reviews Help You Rank Higher
Google's algorithms for determining where a business ranks in search now depend in large measure on the volume of recent online reviews it receives. If your care facility only has a few, old online reviews, it may not show up in search results at all. 
Research shows that review volume, timing, length and sentiment have the most impact on how high a business ranks in search.
2) Online Reviews Boost Your Star Ratings
Improving search rankings isn't the only reason online reviews are essential to the success of an Urgent Care facility. Having a continuous stream of new online reviews has a direct and positive influence on average star ratings, as well.
For most businesses, negative reviews are typically few and far between — and they have a lesser effect on your locations' average star ratings if you have a strong volume of positive ones, as well. The goal here is to secure a fair, representative picture of your urgent care clinics, that reflects the quality of service they provide. And the best way to get that picture is to increase overall review volume.
You can boost your review volume by having processes and tools in place for routinely requesting reviews from patients — via email, SMS or in-office tablet. It's also critical that your clinics respond to all negative reviews and attempt to resolve issues. An Online Reputation Management (ORM) platform can help clinic managers respond in a HIPAA-compliant way using approved templates, and address outstanding issues from unhappy patients.
Also, Google recently changed the way it calculates ratings. It simply adds the total number of stars a business receives and divides the sum by the number of reviews. This means a business with two 5-star reviews will get 5 stars.
But a location with one 5-star review and one 1-star review will have an overall rating of 3 stars — not enough to win new business from local search or even rank in the 3-pack.
The math is straightforward: The more online reviews a location has, the more representative — and generally, the higher — its average star rating will be.
3) Review Snippets Show Up in Your Business Listings
The team at Google is pretty smart — they know reviews help people decide where to spend their time and money. So to help consumers in those "micro-moments" and when time is of the essence, they've started including review snippets with business listings.
So, if you Google "local Urgent Care facilities" and click on a result, the business listing often appears on the right-hand side of the page. It will include all the information you need to make your decision: address, phone number, photos, star ratings, and even snippets from recent online reviews. Here's an example:
While a patient in need scans for star ratings, they can also quickly scan review snippets which may further influence their decision.
Having numerous recent reviews that Google can pull adds credibility to your business listing and may give prospective patients confidence to choose your clinic over a competitor.
An ORM Platform Puts It All Together
A strong online presence and reputation is vital to attracting and acquiring new patients — whether they're searching for urgent care or taking their time to choose a provider for ongoing care.
The best way to cover all your bases — including star ratings,search rankings, online reviews,  business listings, social media and more — is to lean on a trusted all-in-one platform that brings together all components of Online Reputation Management.
Not sure how to get started? Check out our ORM Starter Pack to learn more.