How to Request and Respond to Reviews of Your Dealership
Adam Dorfman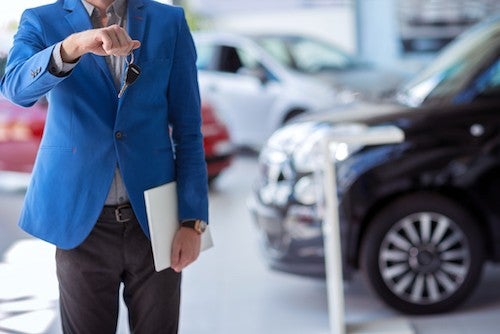 Selling cars is tricky business. Sure, car buyers may know what they want, but if they come into your dealership ready to buy, whether they drive off the lot in a new vehicle or not often depends on their experience.
And what a consumer does following that experience may affect your dealership's ability to draw in more car buyers. If a happy customer shares her experience online — in the form of an online review — you reap the benefit of higher ratings and search rankings, as well as improved brand perception online.
On the flipside, if a dissatisfied customer posts a negative rant, the fallout can be damaging. In this case, a well thought-out, constructive response is necessary.
Handle Reviews with Finesse
Your job as a dealership manager or the person in charge of your company's online reputation is to get buyers to review you, and respond quickly to negative reviews. Requesting and responding to reviews — the right way — is a good way to take control of your online reputation.
Here are 10 essential tips for requesting and responding to online reviews about your dealership:
Request reviews after every customer interaction. Getting listed on the first page of search results — or Google's local 3-pack in mobile search — requires lots of recent reviews. People may review you without being asked, but a nudge toward a review site to provide customer feedback increases the chances. Have a consistent, repeatable process in place for requesting reviews from all customers so you have a representative sample that's fresh and relevant.

Use a mobile app to send and follow up on requests. In the showroom — before a happy car buyer leaves your dealership — is the perfect time to ask for feedback. But sales reps on the floor don't have time to go back to their computers. Online Reputation Management platforms that offer a mobile app address this need. The rep can simply text the review request to the customer, right then and there. Done. In fact, text-based reviews receive up to 15 times better response rates than emailed requests.

Thank people for giving you feedback. They took time to respond, so thank them, even if they provide negative feedback. Even criticism is helpful — you can apply lessons learned during staff training, and standardize changes across dealerships. This ultimately leads to better customer service — and more positive reviews down the road.

Use the 20/100 rule for responding. Reputation recommends responding to at least 20 percent of positive reviews and 100 percent of negative reviews. Have a system and templates in place make this process fast and easy. Whatever you do, don't ignore the negative reviews — 33 percent of customers who receive a reply to a negative review  subsequently posted a positive review.

Focus on the positive. After you thank them, keep your response upbeat and positive. Resist the urge to defend yourself or point out what an unhappy reviewer did wrong to contribute to a bad situation. Instead, emphasize your commitment to customer experience and ensure them you're doing everything possible to correct the problem.

Take it offline. When responding to feedback online, on a social site or industry-specific review site, don't get into a discussion about the person's experience online — especially in cases of negative reviews. Instead, invite them to contact you directly so you can address any concerns in detail.

Use templates. Use well-crafted, approved, templated responses that address typical scenarios. That way, your dealership managers and reps don't have to write them from scratch. It helps avoid rogue, inappropriate responses, and ensures your tone and messaging hit the mark. Templates can be created and loaded into your Online Reputation Management platform for easy access from a drop-down menu.

Don't delete negative reviews. About 90 percent of customers suspect censorship when a business only has positive reviews. So it behooves you to leave up the occasional negative ones. Being transparent about all feedback — good and bad — builds trust with your audience and makes the positive reviews more credible. Unless a review includes profanity or slander, you should leave all reviews up. This builds trust with your audience, and adds credibility to your positive reviews.

Don't pay for reviews. Paying for reviews with any incentive — money, discounts, gifts, etc. — is not only immoral, it's unnecessary. What you want is candid, honest feedback. What good are reviews if they're fake and provide no information for how you can improve customer service?

Socialize the good stuff. Leverage social media to promote good reviews. User-generated content (i.e. the text responses your customers leave in online reviews) is extremely valuable and helps you showcase how you're fulfilling your mission to provide an excellent customer experience. You can even stream reviews to your dealership websites, so people who are researching your dealerships see the praise along with your high star ratings.
Learn more about how your dealership will benefit from ORM strategies.