Best Practices for Business Continuity: Hit the Ground Running (UK)
Reputation
Hit the Ground Running: Post-COVID-19 Business Continuity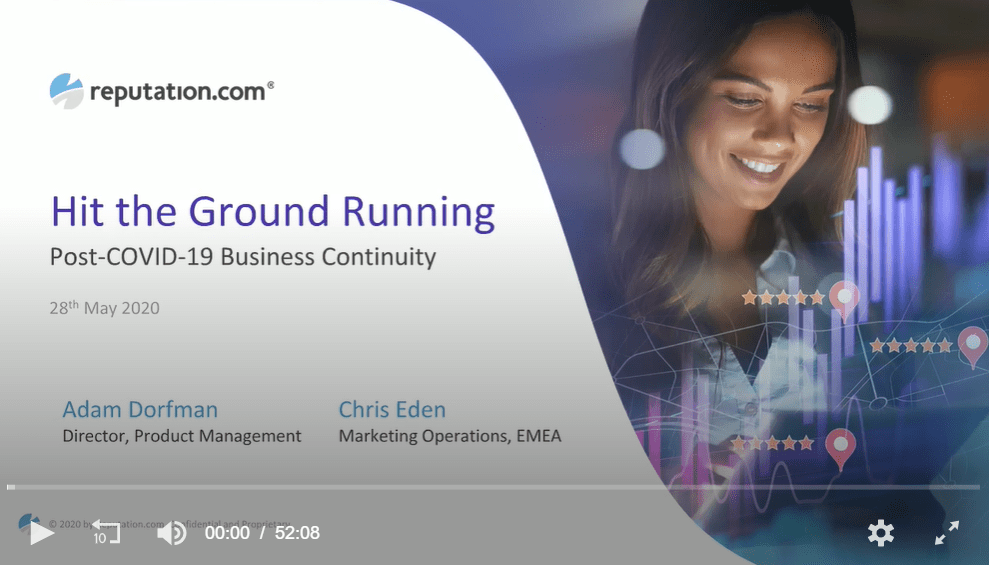 Click on the image above to view the the third instalment of this webinar in the series. Alternatively, click on the webinar title.
Watch Best Practices for Reputation and Social Media Management During COVID-19 (part one) here.
Watch Online Best Practices During COVID-19 and Beyond (part two) here.
---
Adam Dorfman, Director of Product Growth at Reputation.com, returns for a third Town Hall Webinar to provide insight into the post-COVID-19 landscape and how your preparation now can ensure business continuity and help your brand when it comes to re-opening.
We delve deep into key updates and share the learning of these past few weeks about Google and GMB, and discuss how businesses can be ready to bounce back from COVID-19.
There is also a Q&A with our presenter who imparts expertise to prominent figures from a range of industries.
If you are looking for expert business insight from leaders in the industry about how to give your company the edge after lock down, Hit the Ground Running: Post-COVID-19 Business Continuity is an unmissable webinar.
Gain further valuable information and expertise by watching the other webinars in the series:
Best Practices for Reputation and Social Media Management During COVID-19 (part one)