Why User-Generated Visual Content Is a Two-Edged Sword for Businesses
Reputation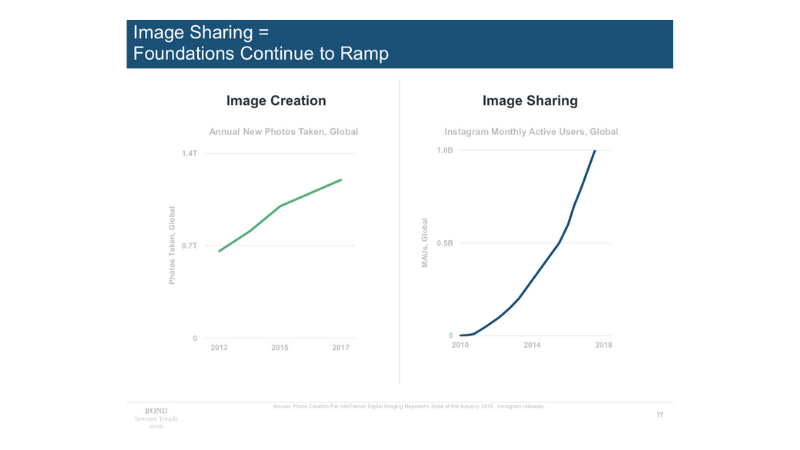 User-generated visual content is as big as ever, which is good news and bad news for businesses.
According to Mary Meeker's Internet Trends 2019 report, visual content is one of the key drivers for internet growth, as evidenced by a surge in Instagram users and rise in the volume of images posted:
How Brands Are Benefiting from User-Generated Visual Content
The good news is that platforms such as Instagram are making it easier for businesses to capitalize on the rise of user-generated visual content. For example, recently Instagram launched an advertising feature known as Branded Content Ads, which makes it possible for businesses to take a user's Instagram posts and turn them into branded content on the business's own feed (with the permission of the user).
The idea is to forge closer relationships between brands and the most effective visual storytellers on Instagram and to make brands' visual content more authentic by letting them capitalize (and monetize) especially popular and influential user-generated posts. Branded Content Ads, which are still in their infancy, should give companies another tool to build their visibility on a fast-growing platform.
How Brands Are Struggling with User-Generated Visual Content
The increase in the posting of user-generated visual content online is not all good news for brands. That's because:
Not all user-generated content is quality user-generated content.
For instance, here is a photo that a customer of a Chicago suburban restaurant posted on that restaurant's Google My Business page:
The photo was posted by a customer ranked as a Google local guide, meaning they have more influence due to the volume of content they post. But this image, while perhaps charming to the person who posted it, is hardly a flattering portrayal of the restaurant.
Businesses Can't Always Stop Bad User-Generated Content
Here's another big problem: the restaurant I cited above cannot do anything to stop the customer from posting an unflattering image on its Google My Business page. The business can only hope that someone else flags the image as being of poor quality, and perhaps Google will consider removing it. Customers posting unflattering photos on a company's Google My Business page is, in fact, one of the biggest problems that local businesses struggle with, according to David Mihm.
Ironically, the rise of user-generated visual content means that businesses need to step up their efforts to act with more visual flair. It's essential to publish professional-looking content – and keep publishing it – everywhere people find your brand. If you don't, someone else will – and some random user will control your brand narrative.
I discuss the rise of user-generated visual content in my latest Search Engine Land column, "When Bad User-Generated Content Happens to Good Businesses." In the column, I discuss three types of user-generated content that businesses need to manage and address: images, ratings/reviews, and Q&As. Read my post for more insight, and download the guide below to learn how to improve your online reputation with more effective social media management.