The Top Marketing Podcasts for 2019
Reputation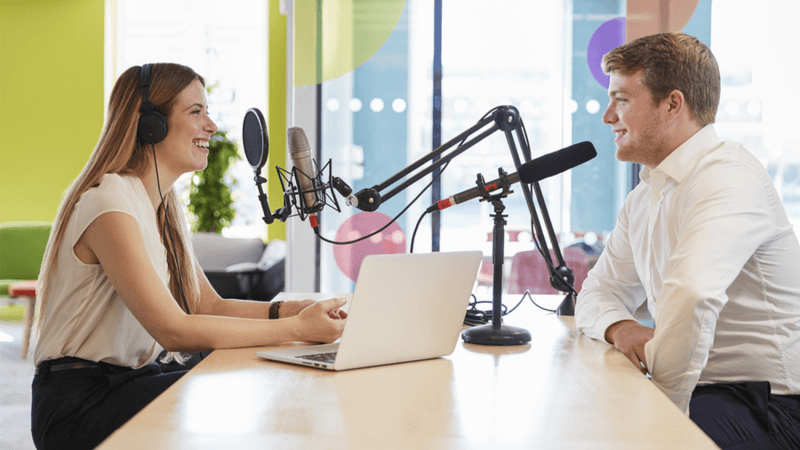 Marketing evolves rapidly, and it's not always easy for marketing professionals to keep up.
Yet effective marketing and reputation management are intertwined, so it pays to stay on top of the latest in marketing trends. Podcasts are an excellent tool for this. Click subscribe, and you automatically receive new episodes and listen to expert discussions on topics of interest.

Here are some of today's top marketing podcasts. You're sure to find a few that speak to your interests.
Hosted by David Cancel and Dave Gerhardt, Seeking Wisdom offers a mix of tactical marketing ideas and more general topics like management, learning and leadership. Not only do listeners gain practical tips, but they also learn about the underlying business and entrepreneurial principles that give power to marketing techniques.
If you don't have time to listen to longer-form podcasts, Marketing School, hosted by Neil Patel and Eric Siu, is outstanding. Episodes focus on actionable, bite-sized lessons, and each is about 10 minutes long. It's a great way to pack learning about unconventional marketing wisdom into a busy schedule, and it's also a great "binge-listen" for when you have time to listen to multiple episodes.
Brought to you by Unbounce, Call to Action can be considered an extension of the company's library of resources. Though the show is currently on hiatus, there are 74 episodes available for listening, and you can learn all about how strategy, planning execution, optimization and measurement fuel outstanding marketing. It's an excellent resource for online marketing strategies as well as actionable tactics.
Growth Marketing Toolbox is hosted by Earnworthy's Nicholas Scalice. It focuses on exploring the latest in growth marketing tools and technology. Scalice specializes in landing page design, conversion optimization and A/B testing, and he talks with other experts on these techniques. You'll hear from industry experts, product creators and more, and learn from their successes to enhance your own marketing toolbox.
If you're interested in continually improving your content marketing (and you should be), then Copyblogger FM is an excellent resource. Hosted by Sonia Simone, the Copyblogger FM podcast is all about content marketing, including email marketing and copywriting. Content creation skills must be continuously improved to make the most of your SEO strategy, and this podcast is excellent for discovering ways to fine-tune your own skills.
The Science of Social Media was created by social media SaaS company Buffer. In short, information-packed episodes, this podcast offers practical social media advice in easily digestible portions. It's useful to beginners and seasoned social media strategists, and the show regularly features conversations with luminaries like Neil Patel and Mari Smith. Social media marketing is evolving even faster than more traditional types of marketing, so this show deserves a place in your podcast app.
The Social Media Marketing Podcast is produced by Social Media Examiner. Social Media Examiner's Michael Stelzner and other people in the company host. Episodes focus on new social media features and social media strategies. Each one is about 45 minutes long and delves into important topics, while still providing tips and tactics you can take away each week.
Hosts John J. Wall and Christopher S. Penn host this informal weekly podcast from a coffee shop. The format is more conversational, yet always includes excellent tips on social media marketing, search marketing, SEO, copywriting and more. They also answer listener questions. In fact, it's an excellent listen when you need to step away and enjoy your own cuppa.
From DigitalMarketer, the Perpetual Traffic Podcast is hosted by Molly Pittman, Keith Krance and Ralph Burns. The strategies and tactics they discuss apply to businesses of any size, in any industry. If you want to learn all about PPC and PPC platforms, this podcast is a terrific resource. You'll come away with excellent ideas for generating leads and sales through digital marketing and social media channels.
Staying on your toes in the ever-changing world of marketing isn't always easy, but you have to keep your knowledge current to maximize your marketing ROI. Outstanding marketing and strong online reputation go together, with success in one fueling success in the other. Podcasts can be an excellent way to learn what's new, find new ideas and fully develop your marketing knowledge.
If you're determined to maximize your marketing ROI, Reputation.com invites you to download our report: Online Reputation Management and Your Budget: Make Sure Your Marketing Spend Pays Off.