The Top 5 Blog Posts on Online Reputation Management in 2017 — From the Experts
Reputation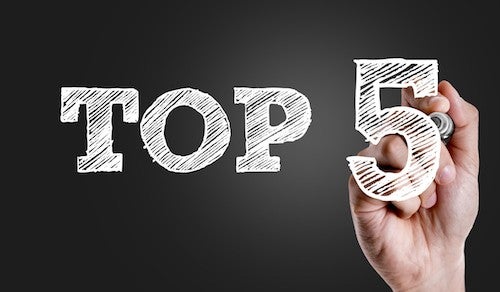 In 2017, we've written about a lot of interesting topics related to managing your online reputation. But it was a busy year for everyone, and we feel it would be a shame if you missed our best posts.
That's why we've gathered the top five most viewed posts from 2017 and made them accessible from this very article. Here's a list with brief summaries and links:
1) Top 4 Trends for Online Reputation Management in 2017
Although we're about to release our predictions for 2018, this article still offers value. It calls out trends we predicted and saw developing throughout the year. With a link to our full 2017 Trends report, you won't want to pass this piece by. Check it out so you have a baseline for understanding next year's trends and predictions, which we'll publish in January.
2)

The Do's and Don'ts for Responding to Patient Reviews in a HIPAA-Compliant Way

Healthcare organizations can no longer ignore the power of online reviews — at least 77% of healthcare consumers use them to evaluate doctors. But although responding to 100% of all negative reviews is a recommended best practice, healthcare marketers and practitioners must be careful not to violate HIPAA regulations while doing so. This article offers practical tips for avoiding risk while still responding to patient reviews in a consistent manner.
3)

The 6 Pillars of Online Reputation Management

Ever wonder what activities constitute effective Online Reputation Management? There are several aspects, and they're all interrelated. If you let one or more slip through the cracks, your impact may be diminished. Not to worry — an integrated platform like Reputation.com takes all aspects of ORM into consideration. This article describes the six key pillars of a solid ORM strategy in detail.
4)

Reputation Score is the Ultimate Measure of Brand Trust

Just like your credit score is an indicator of your ability to repay loans, Reputation Score is a clear indication of your brand's health and trustworthiness. But what factors go into calculating your score? This article breaks it down, and explains how various ORM strategies can help you elevate your overall score, along with a case study synopsis telling how an automaker did it.
5)

4 Ways to Attract New Business from 'Near Me' Search

Consumers are more mobile than ever — which is why the number of "near me" searches has skyrocketed. And if your locations aren't showing up in Google's local 3-pack — the top three results of a local search — customers are passing you by. This article provides practical tips on how to rank higher and secure a spot for your locations in local search.