Online Review Guidelines: What They Are, Why They Matter and How to Follow Them
Reputation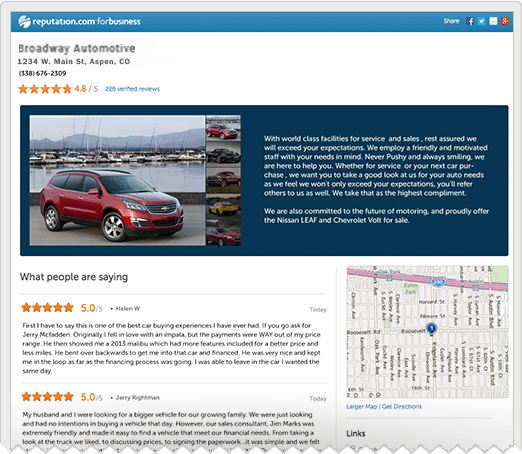 Companies are no longer selling to a passive audience online, but rather engaging with consumers on
social networks
and various directory sites. It's become more critical than ever for businesses to be transparent with consumers, which means that they not only open themselves up to feedback but also encourage it.
Consumers increasingly use online reviews to make purchasing decisions. One study found that 88% of Americans trust online reviews to help them make purchasing decisions. According to SEO consulting company Moz, a company's review signals are important page ranking factors, which are vital for local SEO.

But being transparent with consumers can be challenging. Not only must you be ready to face criticism and respond to it appropriately, you also need to understand and follow online review guidelines.
What Are Online Review Guidelines?
Most of the top online platforms that feature local business listings also feature customer reviews. If your business wants to have the most competitive and complete listings, online reviews are an important piece of the puzzle.
Each platform has its own review guidelines, which is a set of rules that govern what businesses are and aren't permitted to do when managing reviews. If you violate these guidelines, you might be penalized by the platform, so it's to your advantage to locate and understand the terms for each platform that you use.
Why Following These Guidelines Matters
Local business listing platforms create online review guidelines for two primary reasons:
1. To prevent low-quality or untrustworthy content from being posted on the platform. 
Online review platforms must gain and maintain the trust of their users, or the information posted on them won't be of much use. Most of these sites are monetized in other ways, so this loss of trust will impact the platform's bottom-line results.
Review guidelines enable a platform to ensure the integrity of the information that is posted. Visitors have peace of mind knowing that they are reading genuine experiences from other consumers that can help them make purchasing choices.
2. To prevent fraudulent or untrustworthy content from influencing consumers. 
Platforms must also ensure that the data posted on their site is accurate and truthful. Anything less not only defeats the purpose of the platform but also crosses over into being illegal.
For example, FTC guidelines make it unlawful for a company to review itself or pay for fake reviews. The FTC fined one Los Angeles car dealership group $3.6 million
for posting fake reviews and misleading ads. Setting guidelines to prohibit these actions will reduce this type of fraud and reassure site users.
No company wants to get into trouble with the FTC, get publicly shamed on the internet or lose business to a competitor that is managing reviews more efficiently. Here are some guidelines for a few top platforms, so that you can follow the rules and get the exposure your company needs.
Google Review Guidelines
Every company should have a Google My Business listing. Google provides details on what it will and won't accept from both reviewers and businesses, most of which fall under its "Prohibited and Restricted Content" guidelines. It has also added information under "Format Specific Criteria," which addresses practices such as review gating.
Review gating refers to the practice of businesses using third-party tools to filter out negative reviews by keeping those private. This creates a skewed impression, and it's something that Google now expressly prohibits.
Google also doesn't allow a business to review itself, and this includes asking staff to do this or to pose as customers. It's considered a "conflict of interest" and not permitted for businesses to review competitors.
Google doesn't want businesses to pay for reviews (obviously), but there also shouldn't ever be an incentive or solicitation for reviews.
Facebook Review Guidelines and Recommendations
Facebook recently switched from reviews to recommendations, but users still leave narrative reviews about their experiences on this massive social media platform. According to the Facebook Community Standards, there's a 'no spam' rule, meaning the company outlaws fraud and false advertising.
The platform's Authenticity Policy states that users may only create accounts with their true identity and may not have multiple accounts. The Pages, Groups and Events policy prohibits Pages, groups and events from incentivizing people to misuse the functions or features of Facebook.
TripAdvisor Review Guidelines
TripAdvisor also has extensive guidelines for reviews, but they do vary from some of the other platforms that we've listed. For example, TripAdvisor encourages businesses to ask customers to leave reviews, and it even provides free tools to help businesses reach out to guests asking for a review.
However, TripAdvisor doesn't allow businesses to incentivize reviews, and they take a strong stance against fake reviews. It will delete the accounts of suspected paid reviews and even blacklist a business account with a red badge.
Other Online Site Review Guidelines
These are just a few of the top platforms that host reviews, but there are many others. Depending on your industry, you might have customers posting reviews on other sites, which you'll need to monitor. Likewise, understanding the guidelines for these sites will be vital. Here are just a few other top review platforms with links to their guideline pages:
Streamlining Your Review Management
Having a strong review presence can help your business' local SEO with "near me" searches. There are many online review platforms, and consumers will also let others know their thoughts about your business on social media through reviews and mentions. This is a lot to manage piecemeal, particularly when you're tasked with staying on the right side of each platform's stated review guidelines.
The best way to address this is by leveraging technology and making an Online Reputation Management (ORM) platform work for you. This will allow you to systematically monitor and respond to reviews across various platforms and business locations, showcase positive reviews and ratings on your website and access valuable insights to help you improve the customer experience.