How Veterinary Companies Can Achieve 'Top Dog' Status
Paul Modaley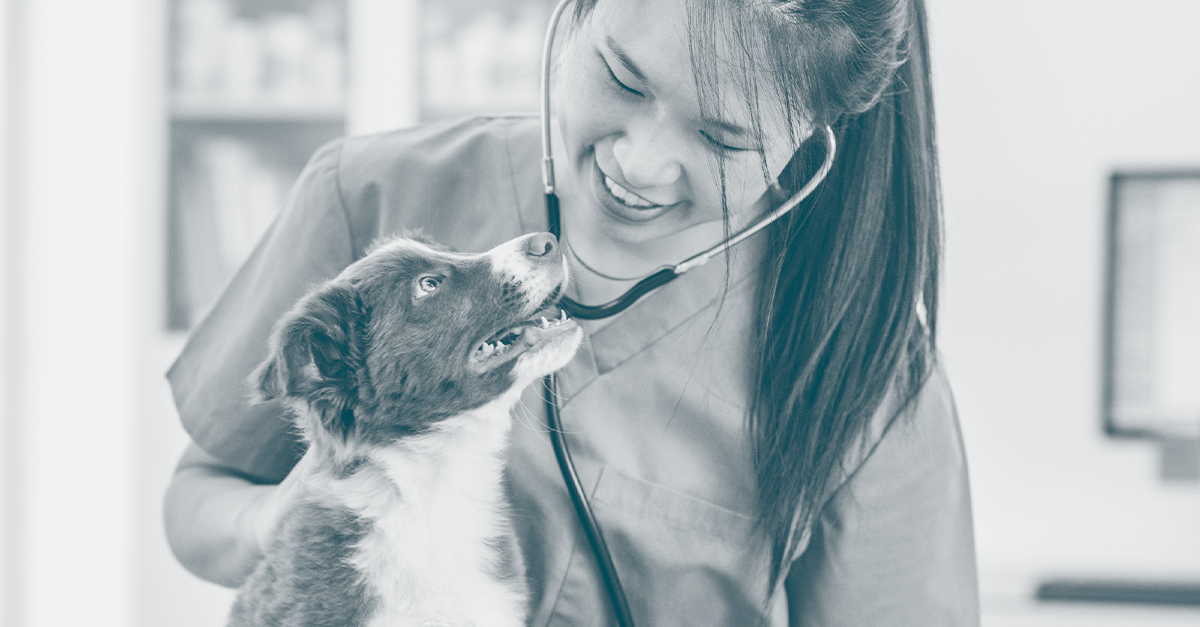 Veterinary care is big business. In 2020, the sector's market value was estimated at $101,150 million globally, and this figure is forecast to grow to a staggering $140,285 million in 2026.
Global lockdowns amidst the coronavirus crisis impacted veterinary services worldwide and industry growth slowed dramatically but the sector now seems to be recovering with savvy practices adapting to offer telehealth services. Moreover, as government-imposed restrictions begin to ease, it looks as though the sector may well achieve its forecasted global growth figures.
Fuelling growth is the rising number of pet-owners; 3.2 million British households have acquired a pet since the start of the coronavirus pandemic while 30% of Americans adopted a pet during 2020. 
With rising pet ownership on both sides of the Atlantic, veterinarians have every reason to feel optimistic. However, future success can't be taken for granted and veterinary practices must continue adapting to the ever-changing business landscape and evolving customer journey. 
Challenges For Veterinary Companies
Veterinary practices face numerous obstacles when it comes to surviving and thriving in a highly competitive marketplace. As well as fierce competition from others in the pack, veterinary service companies must also adapt to a complex client journey.
Today's clients almost invariably begin their search for a vet on Google; 35% of searches for products or services go through the search engine and with the average Google session lasting less than a minute, veterinary companies must appear to searchers in the 'local 3-pack' during these narrow windows.
Social media and the need to maintain a positive reputation on a plethora of social media platforms present further challenges to veterinary businesses. It's a challenge to which they must rise if they are to succeed in winning customers in today's digital-first world where 75% of American consumers rely on social networking sites to receive recommendations and research businesses. 
Ranking highly in Google's local search results and having a pristine social media presence may still not be enough for most multi-location veterinary companies. Nowadays, pet owners demand a high level of personalisation. In a survey of consumers age 18-64, 80% of respondents said they would be more likely to do business with a company if it offers personalised experiences while 90% claimed they find personalisation appealing. 
For businesses, the challenge of personalisation is further complicated by pet owners' adoration of their animals and their 'pets are people too' attitudes. According to Jane Westgarth, a leading Senior Retail Analyst, in Mintel's UK Petcare Market Report, "Pets are 'people' too, in the eyes of most pet owners. And, just like treasured members of the family, pets are indulged with toys, stylish accessories and good quality pet care products. This 'humanisation' trend even stretches to pets being given their own Christmas and birthday gifts. People are also buying into technical products, such as fitness and activity monitors, again mirroring trends in the human marketplace."
If a veterinary practice is successful in implementing local SEO, mastering social media, and delivering personalised client experiences where the pets are on par with their owners, there remain two more significant hurdles to overcome in the new customer journey – obtaining client feedback and winning referrals.
These days, a paper-based client survey is woefully inadequate, requiring hours of staff time to garner meaningful insights from the data. Furthermore, tying your referral strategy to an all-but-obsolete paper-based survey system is cumbersome and unlikely to bear fruit, especially when compared to sleek, sophisticated digital surveys and referral systems employed by leading businesses. 
Fortunately for savvy veterinary businesses, there is a solution to overcome all these hurdles…
How Veterinary Companies Can Overcome Online Challenges 
Winning and keeping business in today's digitised client journey demands a sophisticated technological solution. 
Reputation's platform has a track record of enabling multi-location veterinary businesses to succeed and rise above the competition. For example, within two years, a large, UK-based veterinary group with 390+ locations and 3,500+ employees, achieved:
A

Reputation Score

increase of 165%, from 282 to 746, 94 points above Industry Average

206% more views of

online listings

136% increase in 'Clicks to Website', and 182% 'Clicks to Call' conversion from GMB

93% Positive or Neutral inbound feedback, with an Average Star Rating of 4.5

A 15% increase in total revenue
How does a large veterinary company operating nationally achieve such impressive business outcomes with Reputation? 
While there isn't a one-size-fits-all approach to utilising the Reputation platform (every business has different challenges after all), it is highly likely that using the platform to overcome the challenges outlined above, will deliver impressive results.
In the case of Reputation's veterinary customer, the results were achieved by implementing our software solution to:
Improve the accuracy of business listings including Google My Business (GMB)
Deploying Reputation's business listings solution enabled our veterinary customer to achieve more accurate business listings. By using the business listings module to regularly update business listings at scale with location-specific information, the company secured greater visibility on Google. Reputation's platform enabled the veterinary care group to achieve a monumental 136% clicks-to-website conversion rate from its GMB listings and an astonishing 182% click-to-call rate.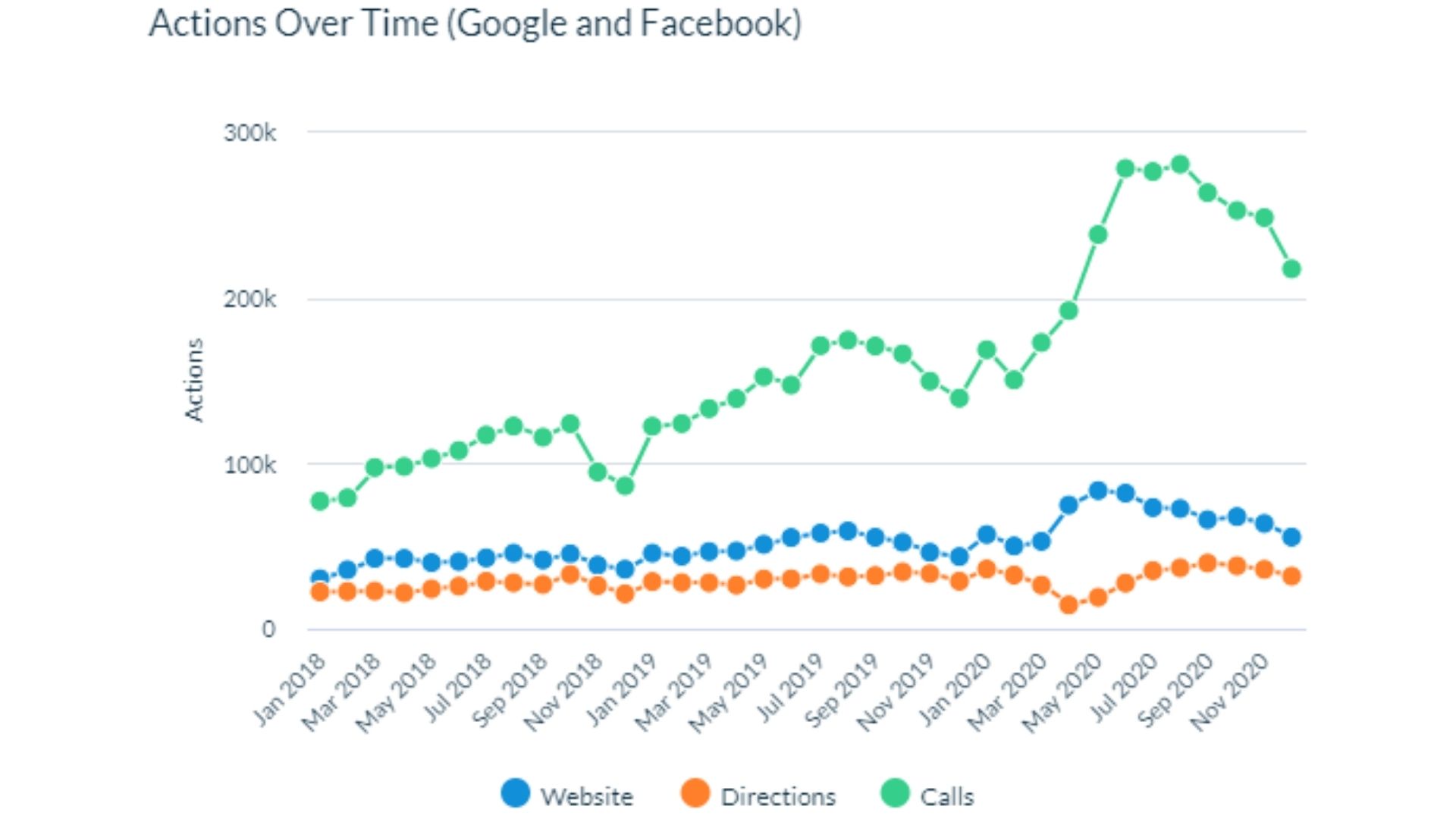 Drive review volumes to further boost online visibility
Google favours businesses that get reviews, and it favours businesses even more that respond to customer reviews in a timely manner. 
Reputation's veterinary customer successfully implemented our software solution to request client reviews digitally and also to respond to reviews left on its business listing pages. The result of these actions was an increase in the number of listings view which correlated directly with an increase in business revenue as shown by the graph below:
Certainly, the digitisation and personalisation of review and survey requests played a role in enabling this company to achieve an Average Star Rating of 4.5 with an exceptionally high percentage of reviews being positive or neutral. 
Through Reputation's industry-leading software, your veterinary practice could also deploy review requests and surveys at scale, offering personalisation along the way to truly impress your clients. Moreover, it is possible to deliver your referral marketing scheme within your digitised review and survey requests, enabling your company to win new clients while delighting current ones. 
Centralise Social Media Channels
Operating multiple social media channels simultaneously for numerous geographical locations is demanding and resource-draining for any business. 
In the case of our veterinary client, managing social media platforms for each of its locations is now streamlined with all its social media accounts controlled through Reputation. While saving time and money, our veterinary customer uses our platform to drive website traffic and footfall via its social media pages. 
With Reputation's social media solution, which was recently bolstered by our acquisition of Nuvi, veterinary practices can scale their social media operations while maintaining the unique voice of each of its locations. 
Become The 'Pick Of The Litter'
The competition amongst veterinary businesses in both the UK and the US is fierce. With an evolving, increasingly digitised customer journey, prudent practice owners ought to work to drive their facilities' online visibility, enhance their reputation online, and deliver a better customer experience overall else risk ending up as the runt of the litter.
Reputation has proven its capabilities in assisting veterinary practices to become 'top dog' in the new customer journey. Schedule a demo to discover how Reputation can deliver phenomenal business results for your veterinary company too.