How Hospitality Leaders Can Overcome A Crisis Of Confidence In Their Industry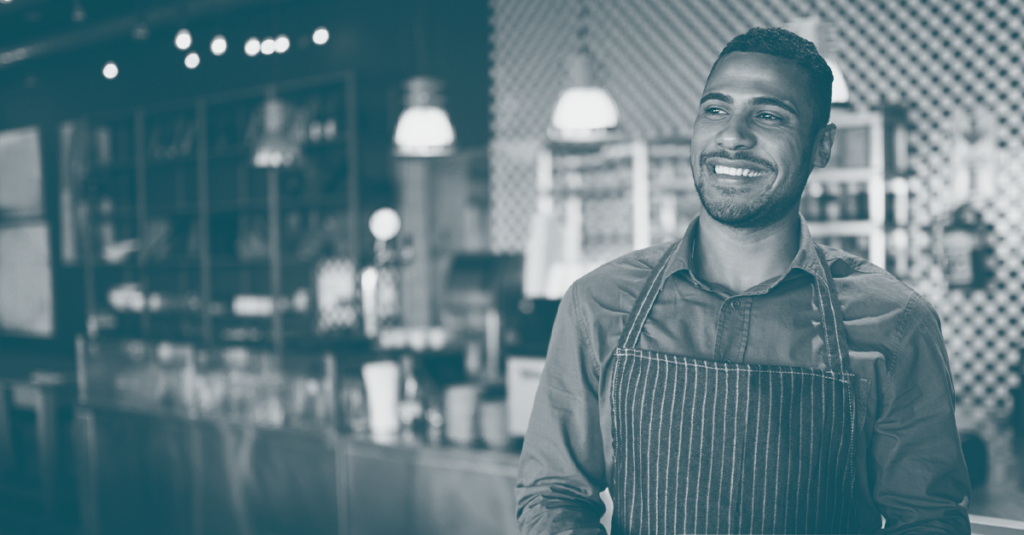 Leaders of multi-site hospitality operators were surveyed across 16,000 sites for CGA's Business Confidence Survey (October) in Association with Fourth.
While the survey results reveal a stark picture of low morale and withering optimism amongst hospitality leaders, it is important to state at the outset that savvy operators are far from being bereft of solutions to adapt to the current climate. There are reasons to be hopeful when one considers the industry's resilience and consumers' enthusiasm for hospitality establishments. 
Potential solutions, remedies and reasons for optimism are outlined later in this article but first, let us examine the state of business confidence in the hospitality sector.
Morale in the Hospitality Industry is at its Lowest Since 2020
CGA's survey reveals that the business leaders' confidence in hospitality has fallen sharply since the summer months of 2022 and levels are their lowest since the spring-summer period in 2020. Leaders are reporting that their declining confidence is a result of both market trends and the state of their own business performance with the two closely correlating as one might expect.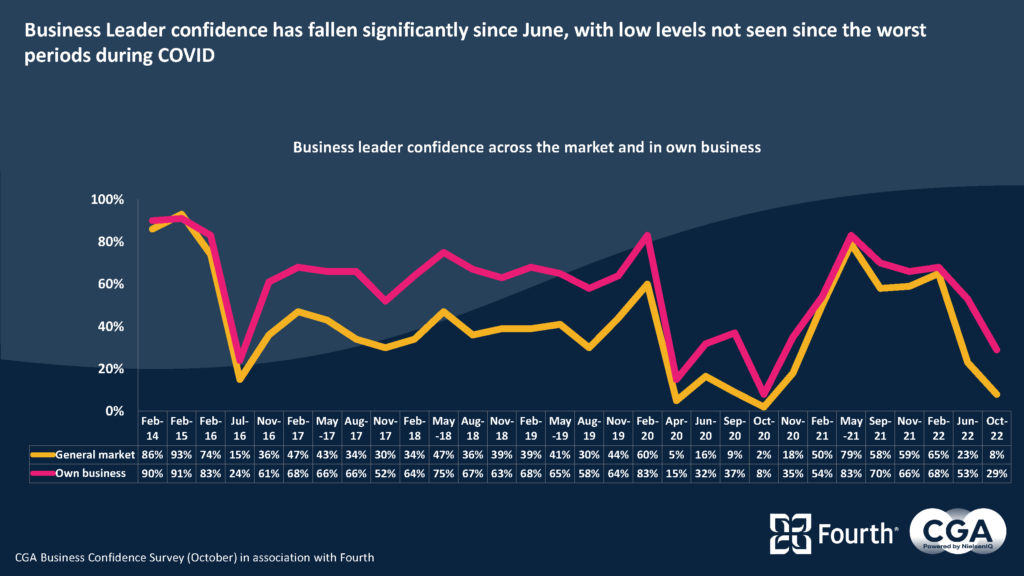 Interestingly, hospitality business leaders are generally more confident in their own businesses' ability to adapt and succeed than they have confidence in the market in general to beat economic, political and social pressures. This perhaps suggests that despite the external challenges, hospitality brands remain steadfastly confident in their internal systems and personnel to overcome obstacles to survival and business growth.
Like For Like (L4L) Hospitality Sales Are Above 2019 Levels
Sales performance in the industry ought to give operators reason for optimism as current levels of L4L sales are exceeding 2019's levels. Moreover, with 96% of 'typical on-premise visitors' having visited the sector in the last month, survey results show that consumers remain 'highly engaged' in the eating & drinking out sector despite the high cost of living brought about by exorbitant fuel prices among other factors.
However, inflation is more than just a proverbial fly spoiling the ointment – at 14% above 2019 levels, inflation drags down sales in 'real terms' to below the levels they saw in 2019. Similarly, while 80% of operators are currently in profit, the vast majority are yet to achieve pre-pandemic profit levels.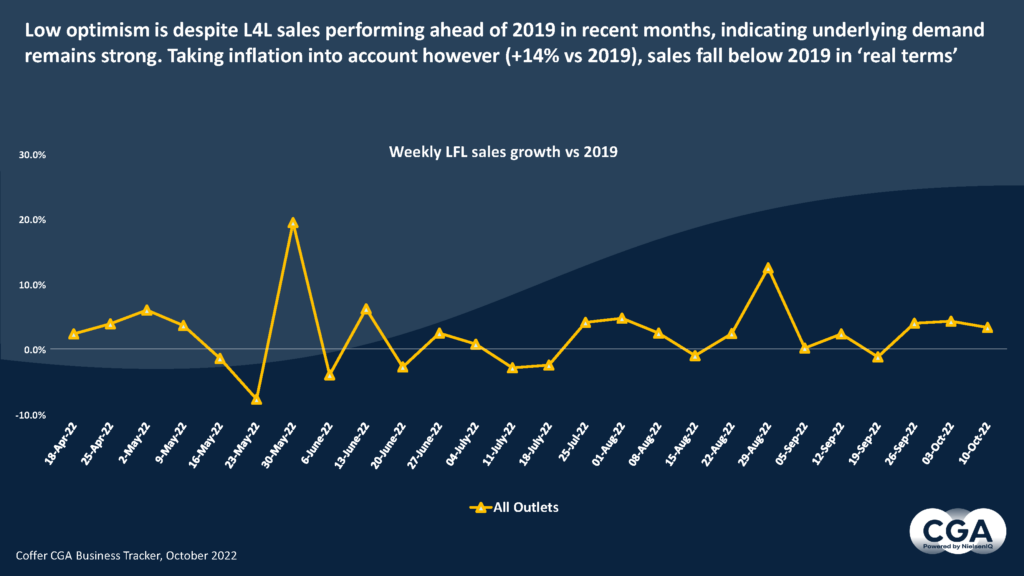 Uncertainty Lies Ahead For Hospitality Operators
Political and economic turmoil domestically is having a profound negative impact on the confidence of business leaders in the sector. Many leaders expect a worsening of the industry's situation with as many as 13% expecting their businesses to operate at a loss or become unviable.
Adding to the industry's woes is the prospect of further site closures following 2,200 net closures in recent months which have disproportionately hit the independent sector. 41% of operators are expecting to close sites in the next 12 months, arguably a consequence of significant rises in food/drink and energy costs affecting 90% of operators.
As operator costs rise, it is perhaps no surprise that these costs are being passed on to the consumer in the form of higher food and drink prices at venues. In fact, 13% of leaders have increased food prices in the last year while 11% have bumped up the price of drinks on their menus. It seems that the industry is currently succeeding somewhat in delicately balancing covering costs without negatively impacting consumer demand.
Changing Consumer Habits
Consumers are adapting to rising living costs by cutting down on visits to venues. Changing consumer behaviours and habits have not gone unnoticed by hospitality leaders with 79% noticing a drop in eating/drinking out frequency. However, a reduction in frequency has been somewhat offset by an increased spend per visit suggesting that consumers are still willing and able to splash out for a good experience or during a special occasion.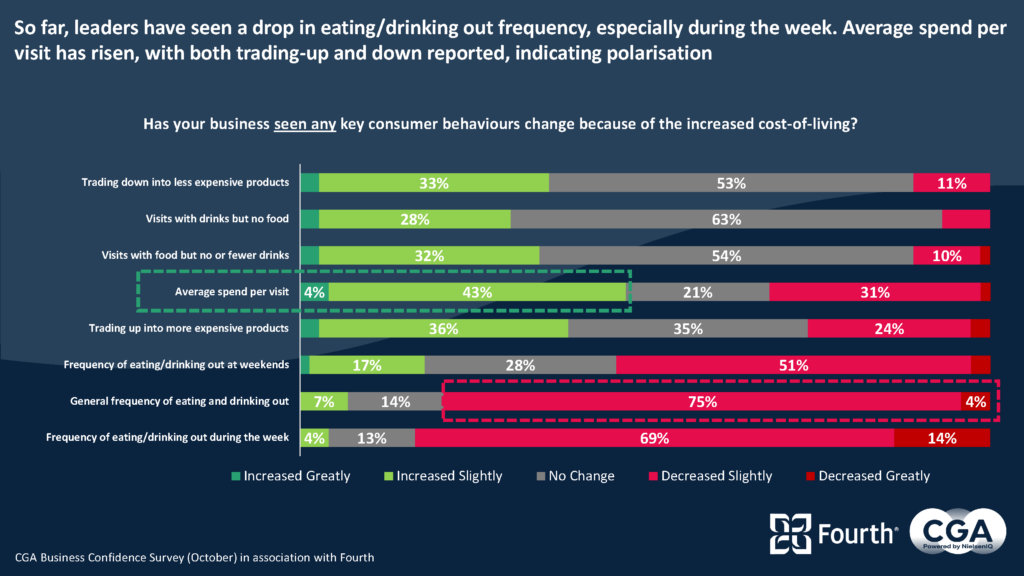 Can't Get The Staff These Days (Literally!)
Staff shortages and recruitment issues are another blight on the health of the hospitality industry. According to CGA's survey, leaders reported the following as being among the main causes of staffing shortages:
Lack of access to EU workers (51%)
Lack of access to non-EU workers (34%)
Insufficiently skilled workers (41%)
Struggling to retain staff (28%)
Easier to stay on out-of-work benefits (25%)
Making matters worse is the 19% churn rate (the percentage of the workforce leaving businesses) which has hampered leaders' efforts to ensure continuity of service in the 3 months prior to October. Leaders are understandably concerned that without experienced staff, particularly at the management level in-venue, locations run the risk of damaging operational efficiency and the guest experience.
How Hospitality Leaders Can Optimise Amid Significant Challenges
While leaders in the hospitality industry are very much up against it in 2022, there are a number of actions savvy leaders could take to optimise their operational processes and enhance the guest experience to ensure customer retention and advocacy.
Understand What's Driving an Increase In Spend Per Visit
While many hospitality leaders are raising prices, many others are trying where possible to avoid passing on the rising costs to consumers so the industry is looking elsewhere to reduce spending on overheads. One hospitality leader at a recent fireside chat remarked, "increasing prices is really difficult and customers can't absorb all the price increases. It'd be really helpful to understand why customers are spending more, and what will keep them coming back."
To understand why guests are spending more, it is necessary to deploy technological solutions to obtain and interpret guest feedback. Digitised surveys could be one such technology that could enable brands to ask guests at opportune moments about what made them open their wallets and spend big on a round of drinks or a meal.
Hospitality leaders working closely with Reputation suggest that because guests are going out less frequently, they are more inclined to splash out when they do venture out for a drinking/dining experience. While this is great insight, nothing beats hearing it from your guests so a Voice of the Customer (VoC) programme as part of a wider Customer Experience (CX) strategy is paramount.
Understand What Is and What Is Not Important to Customers
To streamline and optimise operations at each and every venue across a hospitality brand's estate, operators must undertake a 'key driver analysis' as part of their CX or guest experience strategy. Doing so (provided it is done effectively using sophisticated tools) enables leaders to identify the factors that bring customers back to a venue, or what causes them to seek hospitality experiences elsewhere.
For example, renowned UK pub giant, Marston's, partnered with Reputation to undertake
their 'key driver' analysis. Marston's identified 'food quality' as the most important driver of customer loyalty generally with 'speed of service' being the most important at some formats.
Drilling down further into the data with Reputation's platform and customer success team, Marston's were able to pinpoint specific locations where 'food quality' or 'speed of service' were needing improvement and they subsequently created a plan to reduce variance and improve consistency in these two key areas.
Now, Marston's incorporates these insights into its regular reporting to ensure the business remains 'guest obsessed'. Reputation's platform is listed as a key tool in ensuring Marston's commitment to ensuring 'insight at the heart of all decisions' as highlighted in its 2021 annual report.
Understanding what matters to your guests is more important now than ever. Without rich, actionable insights, your brand may risk cutting costs where there ought to be more investment, or fixing that which is not broken!
Recommended resource: How Marston's Improved Their CX With Reputation
Listen To Your Employees and Act Upon Their Feedback
With recruitment and employee retention significant problems for hospitality operators, implementing a 'Voice of the Employee' (VoE) programme is critical.
A VoE programme involves eliciting honest feedback from employees, both past and present and using it to improve the employee experience, which in turn positively impacts the customer experience and ultimately drives revenue.
There are a number of methods for obtaining feedback from employees. One such method is to deploy VoE surveys. A powerful tool for measuring employee sentiment, surveys give operators feedback straight from the horse's mouth which can be used by organisations to make not only enhancements to the employee experience but to also implement measures to streamline and optimise operations on the venue floor.
Another method for measuring employee sentiment is analysing employee reviews on the likes of Glassdoor or Indeed. Sentiment analysis tools are needed for this sort of VoE activity as they can quickly distil large amounts of unstructured data into digestible formats to enable organisational evolution.
Whether your brand employs one method or multiple methods to obtain employee feedback, what is absolutely critical in the current business climate is gain actionable insights so that can work to drive employee satisfaction and empower your staff to deliver top-notch experiences for guests.
Conclusion
Although the hospitality industry is under mounting pressure with leaders' confidence somewhat diminished at present, there are reasons for optimism, including:
Increased guest spending per visit
High L4L sales performance vs 2019
Business leaders' apparent belief in their own companies
To capitalise on the positives, hospitality leaders must take action now to optimise their business operations by:
Understanding what's driving an increase in the spend per visit
Determining what is and what is not important to guests amid a cost-of-living crisis
Listening to employee feedback and acting upon it
Having state-of-the-art digital tools to listen to feedback everywhere is critical at this time but just having a clearer picture of guest experience trends in the industry can also help significantly.
Reputation's 2022 hospitality industry report, An Analysis of Guest Experience Trends in UK Hospitality, is a great starting point for hospitality leaders looking to optimise their business operations and enhance the guest experience.