Healthcare Reputation Management: 4 Best Practices for Medical Professionals
Reputation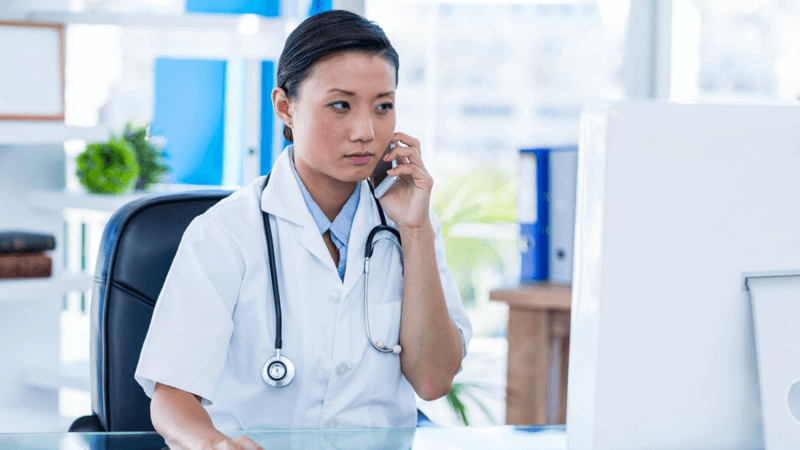 Reputation management for doctors requires a careful and professional approach.
Medical professionals can't ignore online reputation management if they want their practice to thrive. If you're a doctor, you must handle reviews and other online content about your practice with the utmost professionalism. You must also understand how to manage business social media accounts to engage and build trust with patients.
Medical professionals must always be aware of applicable regulations, such as HIPAA. Physicians must protect the privacy of their personal social media accounts to keep them totally separate from work social media accounts. Here are four best practices for medical professionals for effective healthcare reputation management.
1. Educate staff on the importance of asking for online reviews.
Your staff members may use online reviews when seeking their own medical care, so they are probably already aware of how important online reviews are. Patient-facing administrative workers should learn how to ask patients for online reviews and get into the habit of doing so. The more people who review your practice, the clearer a picture those reviews will create of the patient experience you deliver. Occasional negative reviews are a fact of life for all medical practices, but when you handle them professionally they don't detract from your good reputation.
2. Respond to reviews promptly.
Ideally, you should respond to all negative reviews and at least 20 percent of positive reviews. Every negative review is an opportunity for you to address a patient's concerns. Request that the reviewer contact them directly so that you can discuss the matter privately rather than online. All review responses, whether to positive or negative reviews, must be courteous and professional. The right response to a negative review can prompt the reviewer to write a new, more positive review or remove a negative one.
Download the 2019 Healthcare Reputation Report.

3. Ensure personal social media accounts use strict privacy settings.
Physicians, nurse practitioners and other clinical staff must consider the privacy of their personal social media accounts. Using strict privacy settings on personal Facebook and Instagram accounts allows you to enjoy social interaction with fewer worries about patients using these accounts to air grievances. Professional social media accounts for the practice should use business logos, business contact information and other profile information that makes it clear that the account is a business and not a personal account.
4. Enlist managed services to coordinate everything.
Effective reputation management for doctors involves many moving parts, and it can take significant time if you don't have the right tools to help you. Reputation.com now offers Managed Services for Google to streamline the process considerably.
With Managed Services for Google, you can be confident that all practice locations appear wherever people search for you on Google. This service helps you optimize your Google My Business Listing and keep it that way, even when Google makes changes. It allows your practice to deliver an outstanding customer experience starting from a patient's first online search.
Let Reputation.com help you maintain your online reputation.
Reputation management for doctors can make a measurable difference in a practice's success. It requires attention to many details as well as tracking results over time. Reputation.com offers tools that do the heavy lifting for you so you spend less time on administrative aspects of online reputation management and more time serving your patients and improving your online reputation in meaningful ways. To learn more, check out our Managed Services for Google offering.