Google Business Profile Q&A Best Practices
Adam Dorfman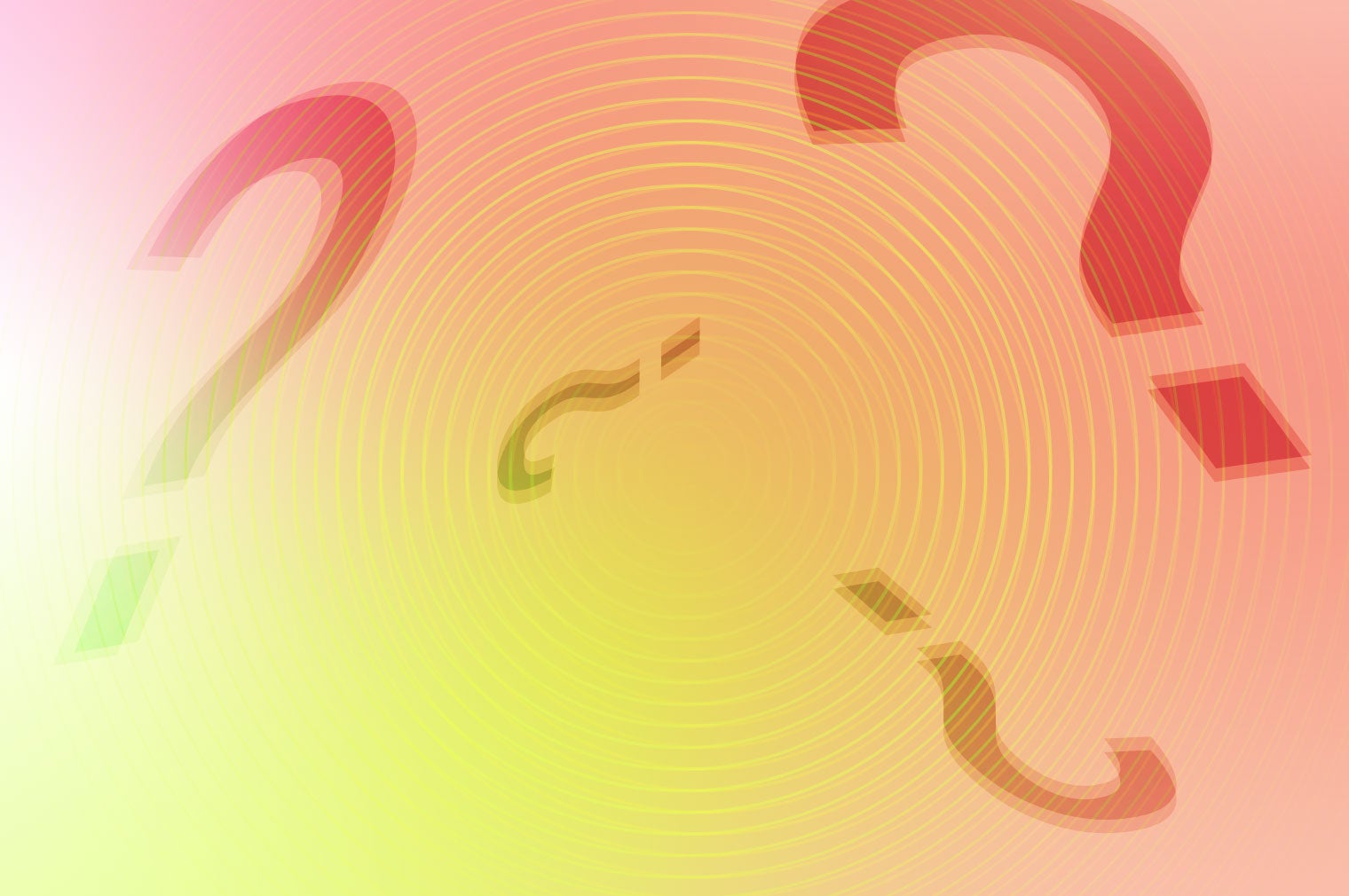 A strong Google Business Profile is essential to attract and convert customers for businesses in any industry.
According to Whitespark's 2021 Local Search Ranking Factors Study, Google Business Profile listings are far and away the single-most-important factor driving an enterprise's visibility for local searches.
In addition, most searches do not result in click-throughs to websites. People are finding what they need in Google's universe, including Search and Profiles. So, it's important that businesses with brick-and-mortar locations provide users with the best experience possible on their Profiles. 
This starts with publishing accurate business information such as your address, phone number, and hours of operation. But what many people don't know is that Google offers a lot of free Profile features that improve the user experience. One of them is Q&A, which is a source of deeper information about a location.
What Is the Q&A Feature?
Q&A is designed to give users a forum to ask questions about a business on its Profile, and other users may reply to them.  You can pre-populate your Q&A with frequently asked questions and answers yourself — in effect, your own FAQ section on your Profile. It is a good way to get out in front of the questions your customers are likely to ask and proactively address them.
Related: How Google Improved Search To Be More Immersive and Relevant
Why Is the Q&A Feature Important?
The feature is important for a number of reasons, including:
Prominence
Google is making Q&A content more visible in the Google Knowledge Panel as shown in this example from a Chicago taquería.
Typically, Q&A results appear above the fold in search results on the desktop and in mobile searches as well. If you look closely at the Knowledge Panel results, you can see that "Ask a Question" also appears prominently as a call to action for people searching online. This means Google wants people to use the Q&A feature: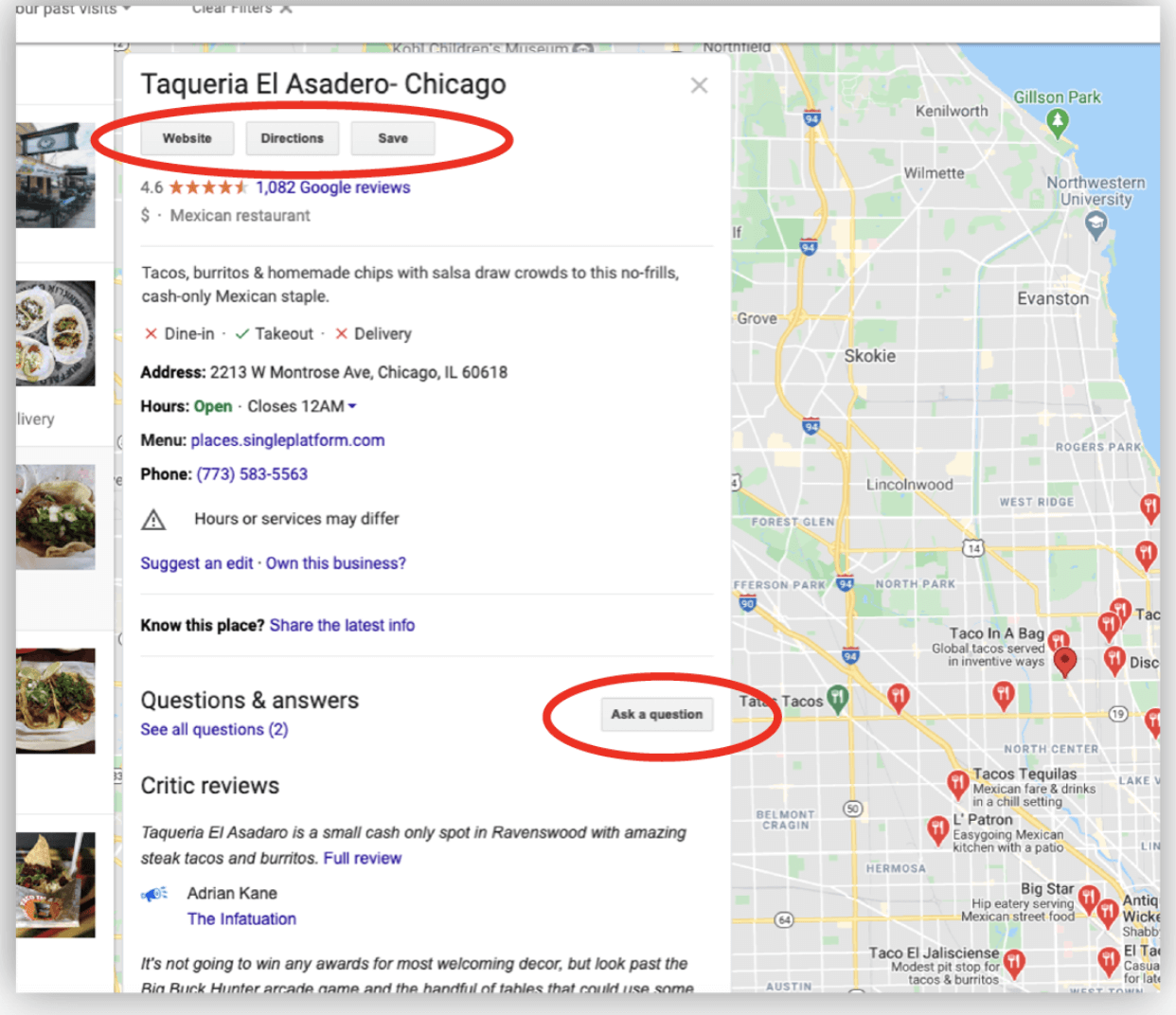 A New Research Channel
For Google, Q&A is a new channel to learn about how people and businesses interact. For business owners, the feature is an opportunity to learn more about what your customers want from you. For instance, notice these customer comments appearing in a Q&A for a restaurant: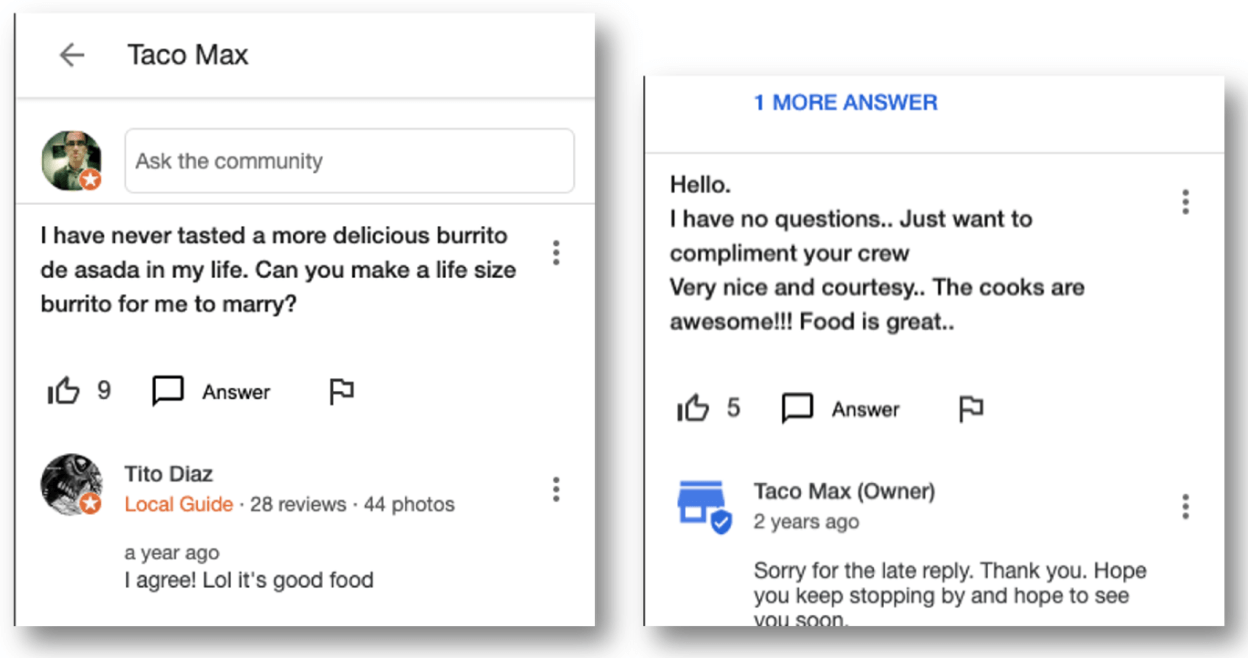 The above examples are really ratings/reviews, but they appear in the Q&A section as well. This means that yes, ratings/reviews are appearing in both the Reviews and Q&A features of Profiles. What's different about Q&A, though, is that other customers can respond to the questions, and negative feedback won't hurt your review star ratings. 
Related: How to Support the LGBTQ+ Community on Your Google Business Profile
This feedback gives a business an opportunity to improve itself. Treat this information like gold. For instance, the following question from a customer flagged a problem with a business not responding to phone calls in a timely manner: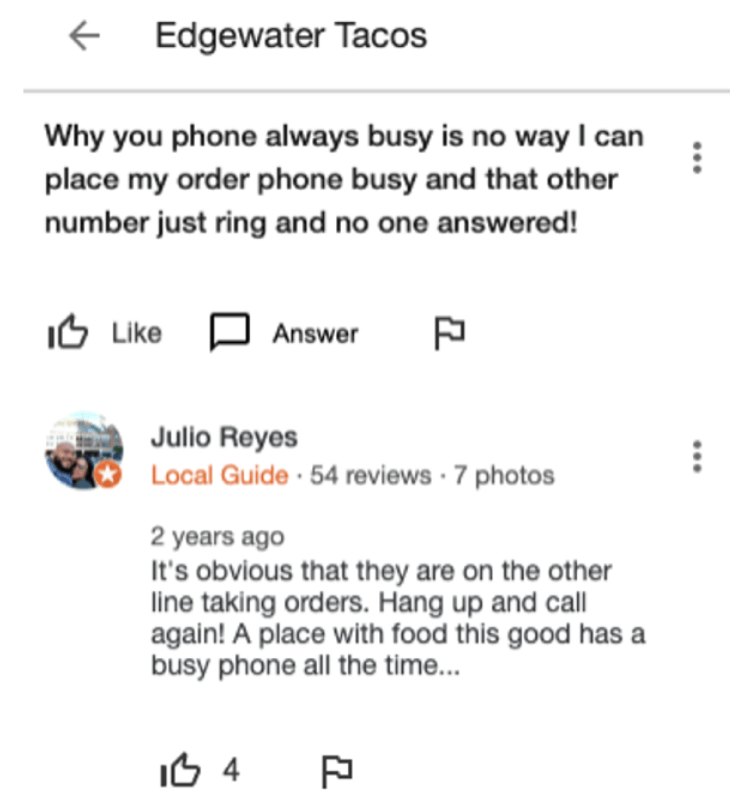 Customers might also ask questions about products and services. This is especially important because many of those questions come from people who are ready to make a purchase or become a customer, and they are considering you as an option. For instance, a restaurant might get questions such as "Do you offer catering?" or an automotive dealership might be asked, "Do you have this car in stock today?"
Monitor these questions. They constitute an opportunity to convert shoppers to become customers or uncover areas where you could expand your business and generate more revenue.
How to Optimize Q&A
So, how do you optimize Q&A? Here are some tips:
1. Be Responsive
Answer every question within 24 hours within the Q&A section. Do not send users to your website to find answers to their questions. If someone has taken the time to ask something on Google, don't make them work harder by going somewhere else. Respond on Google.
What happens, though, if another customer responds to a question? Simply acknowledge and thank the other person who replied. Then respond with an insight that builds upon the reply that has been shared already. This is a great way to show that you are listening to your customers and want to interact with them.
2. Create Q&A of Your Own
Consider Q&A as an FAQ to promote your business by answering questions that provide insight into your business. Let's say you're a hair salon with multiple locations, and you notice that your male clientele are interested in fade hair styles. It's easy to go on to your Profile and simply ask, "Do you offer fades?" Then answer the question by confirming that yes indeed you do, including different styles. 
Another way to find content for a self-created Q&A is to conduct keyword research. If you use a paid search tool such as Semrush, you can more easily find ideas for Q&As focusing on keywords more relevant to your business. If you have an FAQ on your website, consider repeating that content on your Q&A.
Related: 5 Google Trends to Look Out for in 2022
3. Like and Flag Questions
It is important to like and upvote the questions most relevant to your business, as those will rise to the top of your Q&A. At the same time, flag questions and responses that violate Google's guidelines, such as spam, off-topic questions, or questions with inappropriate content. This is no guarantee that Google will remove the content, but it's a requirement to having Google consider doing so.
4. Repurpose Content
In addition, consider turning your Profile Q&A data into an FAQ on your website or location page . Then mark it up with Schema. If you do that, you create a massive opportunity to get additional real estate on Google. Consider this example from Healthgrades: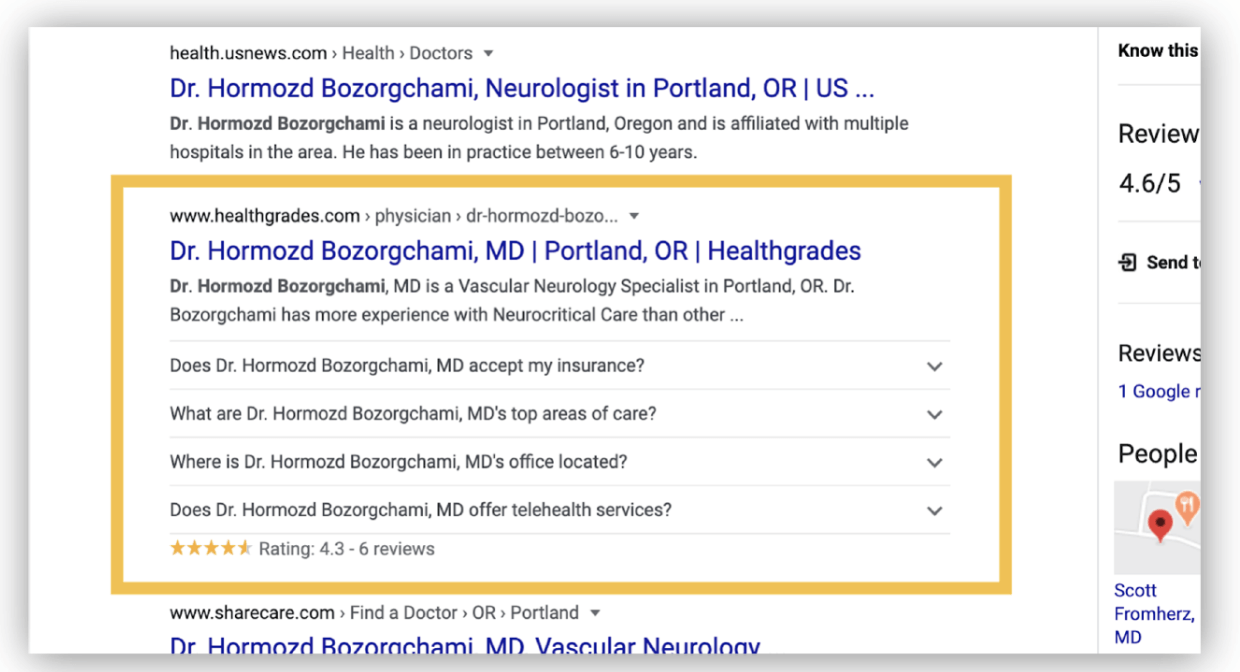 Every doctor page on Healthgrades automatically has an FAQ added to it, which is marked up with Schema. Most of the time, when you search for a doctor, wherever a Healthgrades listing exists, Q&A content appears alongside the search results.
It's reasonable to wonder if duplicating FAQ content on a Profile discourages people from visiting your website. Just remember the objective is to meet people where they are — Google. Doing so will demonstrate authority and make your Profile more visible. 
5. Quality over Quantity
Technically, Q&A is not a ranking algorithm. So, don't flood your Q&A with content in hope of improving your ranking. Ask high-quality questions and respond with useful answers relevant to what your customers want to know. Focus on the user experience you are providing inside Google. That means sharing excellent content.
Related: Why Your Business Needs Multiple Google Business Profiles
6. Refresh Your Answers as Needed
Review the Q&As you have posted from time to time for freshness. They might need occasional updating. Let's say you are a restaurant, and you have discontinued lava cake from your menu. It might be necessary to go back to a question a customer asked six months ago about that with a new answer recommending a different item. This is a great example of focusing on the user experience. 
Contact Reputation
Reputation supports our clients through our own managed services that include managing your Google Business Profiles.  Learn more about our Managed Services for Google.