5 Competitive Intelligence Hacks You Can Use in 15 Minutes
Reputation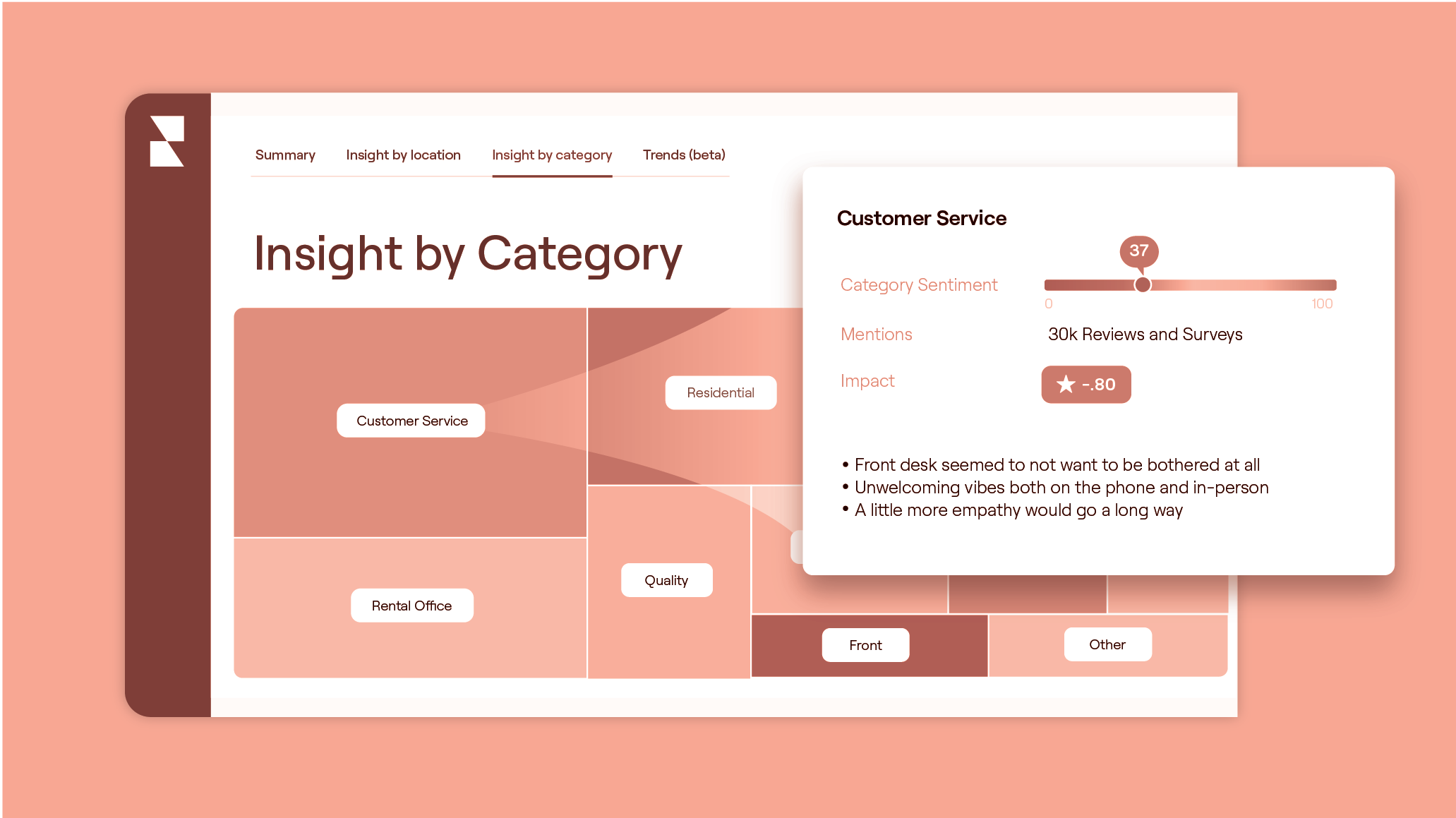 As an increasing amount of business is being generated from online sources, the companies getting ahead are those making data-driven decisions to improve their social, digital and customer experiences. But very few companies are actually tapping into the crucial insights and market trends that provide the wealth source of this data — unstructured feedback. 
According to a Deloitte survey, only 18 percent of companies are leveraging this type of data. Considering Gartner recently estimated that 80% of the world's data is unstructured, there's a lot left on the table for companies looking to edge out their competitors. 
The best way to do this is by conducting competitor analysis and use those valuable insights to strengthen your own brand strategies. But keep in mind that data alone does not automatically benefit your business — knowing exactly what to do with it can.
In this article, we'll provide five competitive intelligence hacks that will allow you to harness that data and get ahead of your competition. The best part is that you can get clear insights and takeaways in 15 minutes or less. If these hacks are put into action, they can positively impact your entire strategy this year. 
#1 The Leaderboard: How are my competitors rated? Who's the best? The worst?
Understand what brands are performing the best overall across top review sites like Google, Facebook, and industry-specific 3rd party sites. Dive deeper by filtering across specific regions and locations.
Comparing competitive ratings and reviews along with sentiment analysis, response levels, and customer feedback trends gives you direct insight into each brand's overall health, such as:
Overall rating distribution across key channels

Specific category trends and impact levels  

How much your competitors are responding to reviews

What customers like and dislike most about their experience

What departments, locations or people are being impacted most 
Tracking this information helps you identify who is currently showing up the most to customers searching for a product or service in your industry. From here, you can investigate a specific brand or sub-filter to get more insights into the "why."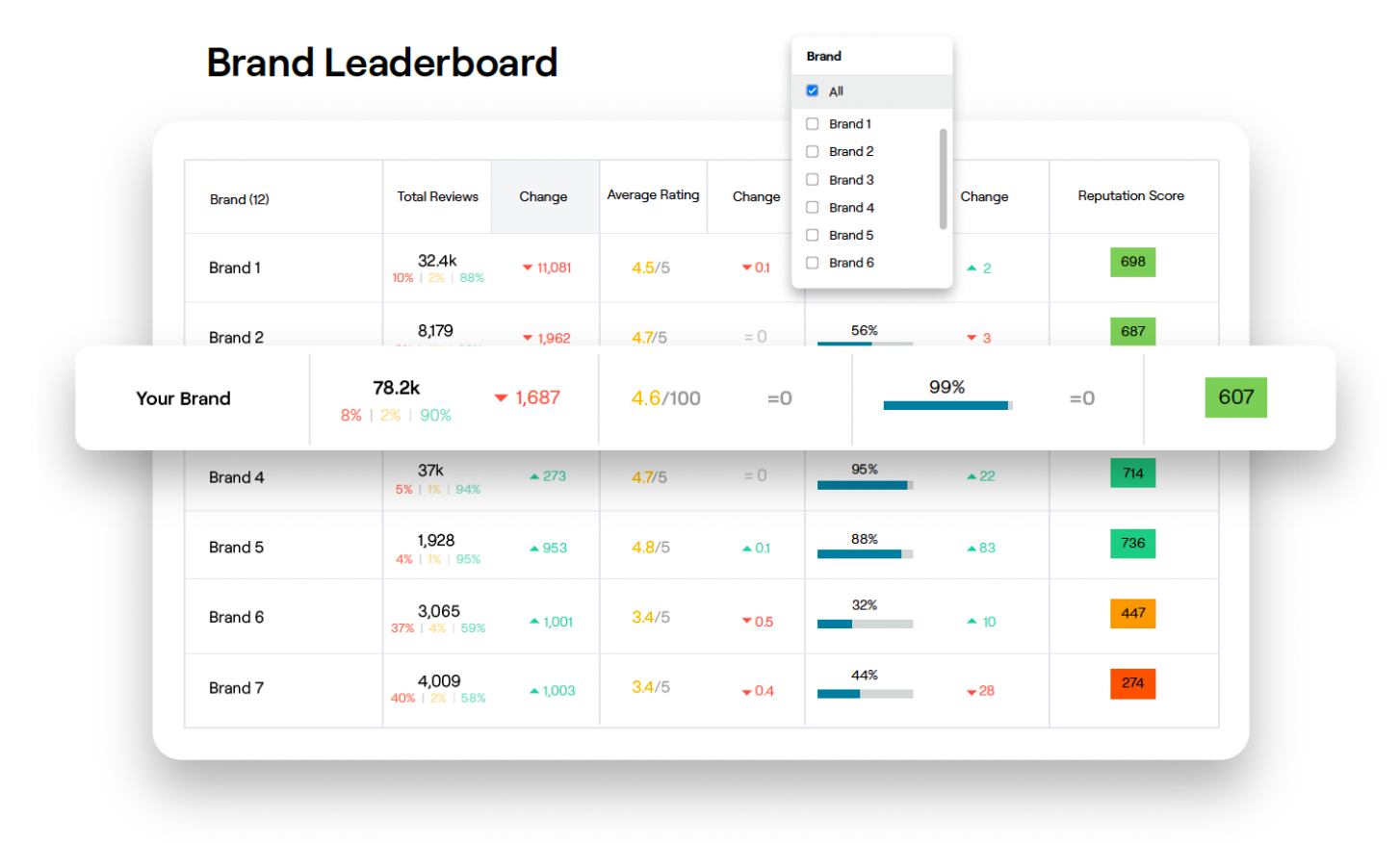 Our Reputation Score, based on public feedback data, can help fill in the blanks. Reputation Score delivers a metric that aligns your business to your industry benchmarks so you can measure how you compare to the average and best in class brands. Reputation Score also helps rally internal organizations around a single metric that measures the impact of their combined customer experience, social experience, and digital experience.  
#2 Understand the Why Behind the Scores: Why are my competitors performing better or worse than my brand?
You should know what customers like most and least about your brand. Now imagine knowing exactly what they like and dislike about your top competitors. Knowing why the competition is getting the ratings and reviews they are is an extremely helpful driver for your own strategies to win new business or improve the customer experience. 
Explore insights about your competition's customer experience and compare trends surfacing from their ratings and reviews. The intel provided from this data is where you can learn to innovate to drive category growth. 
From here you may want to drill down into their actual review comments to see the most recent customer feedback, as well as any company review responses (or lack thereof).  
#3 Find out How your Competitors are Performing on Key Channels:
While Google is typically the main focus, it's extremely valuable to understand how your brand compares to your competition across all key channels you're trying to win new customers.  With this data, you can choose to focus attention on specific channels where you need to improve or where you can be even more strategic and double down where they're weak. 

#4 Understand Feedback Trends in Real-Time
Decoding unstructured feedback enables you to understand the real impact to the bottom and front lines of your business. Prior to AI-powered platforms, this simply was not possible. Now that it is, companies that leverage this data are able to develop and gain validation on their strategies and get ahead of the competition. 
With category analysis, you can easily pinpoint exactly what factors are most positively and negatively affecting your online ratings compared to your competition. Leveraging competitive insight tools deliver this information in real-time so your business has the ability to get ahead of potential brand crises, your competition, and the latest trends in consumer behavior.  
Understand your strengths and weaknesses beyond your own feedback – and with more insights from your competitors' customers, you can better identify where the largest opportunities and threats exist for your business.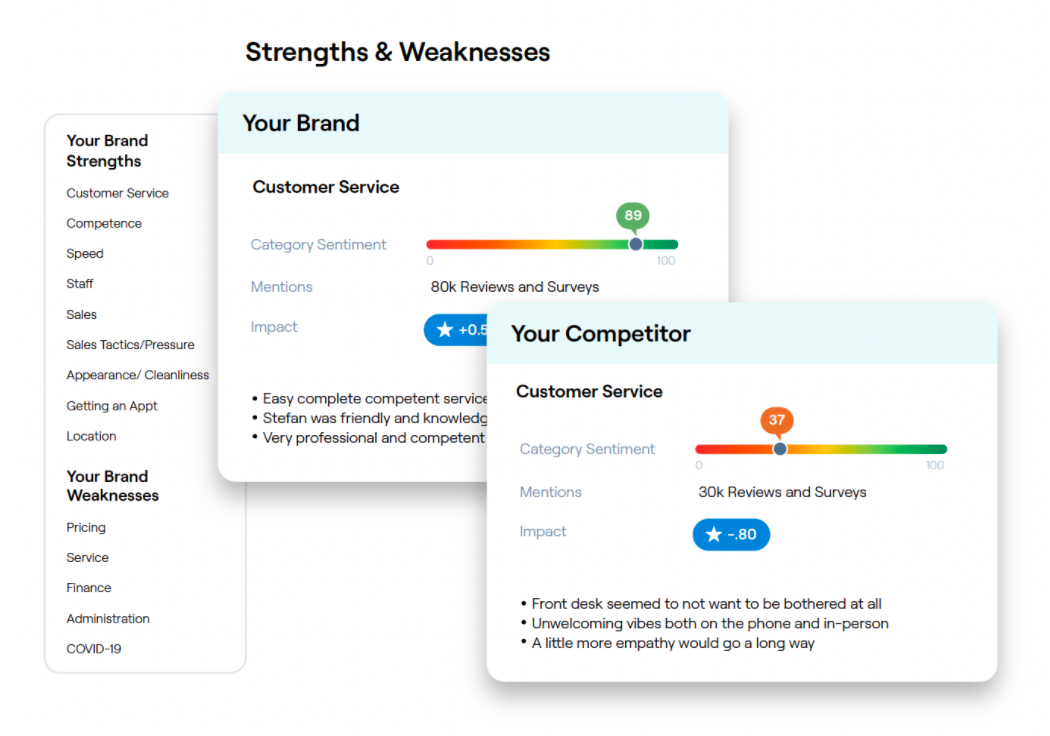 Knowing the strengths and weaknesses trending in customer feedback can help you narrow in on specific areas that require your attention – and breaking down category trends to uncover the biggest keywords from actual customer comments. Leveraging this direct "word of mouth" — and the sentiment around each brand's performance — can fuel your own sales, marketing, CX, product/service innovation, and advertising efforts.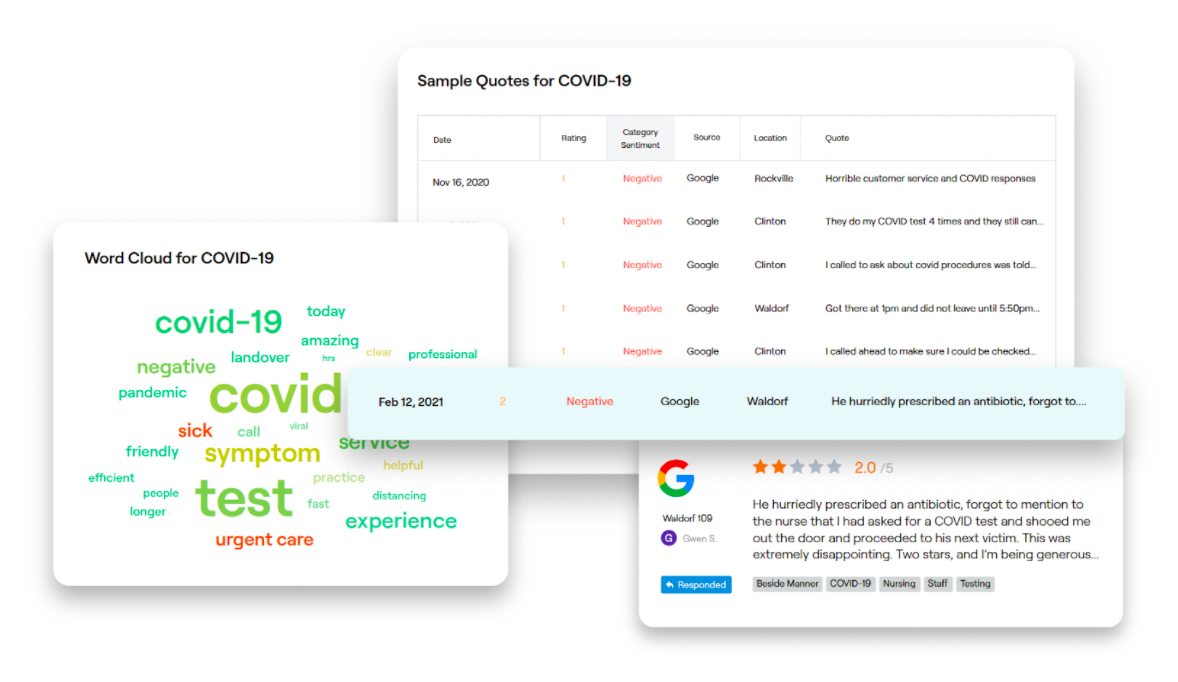 #5 Discover Emerging Market Trends to Uncover Wins and Risks for your Brand
While sentiment trends give strong indicators about a brand's health, you really want to reveal the root of where the wins and issues are happening. Through analyzing key drivers and detractors, you can discover in real-time where to focus attention across multiple areas of the business.   
With your customer feedback and your competitors' feedback data in a central location, you can find extreme clarity on your position in the market and what specific themes are causing business wins and declines. From our Competitive Intelligence platform you're able to narrow in on the right answer with clear data summaries on where you can drive the greatest impact, such as the example below: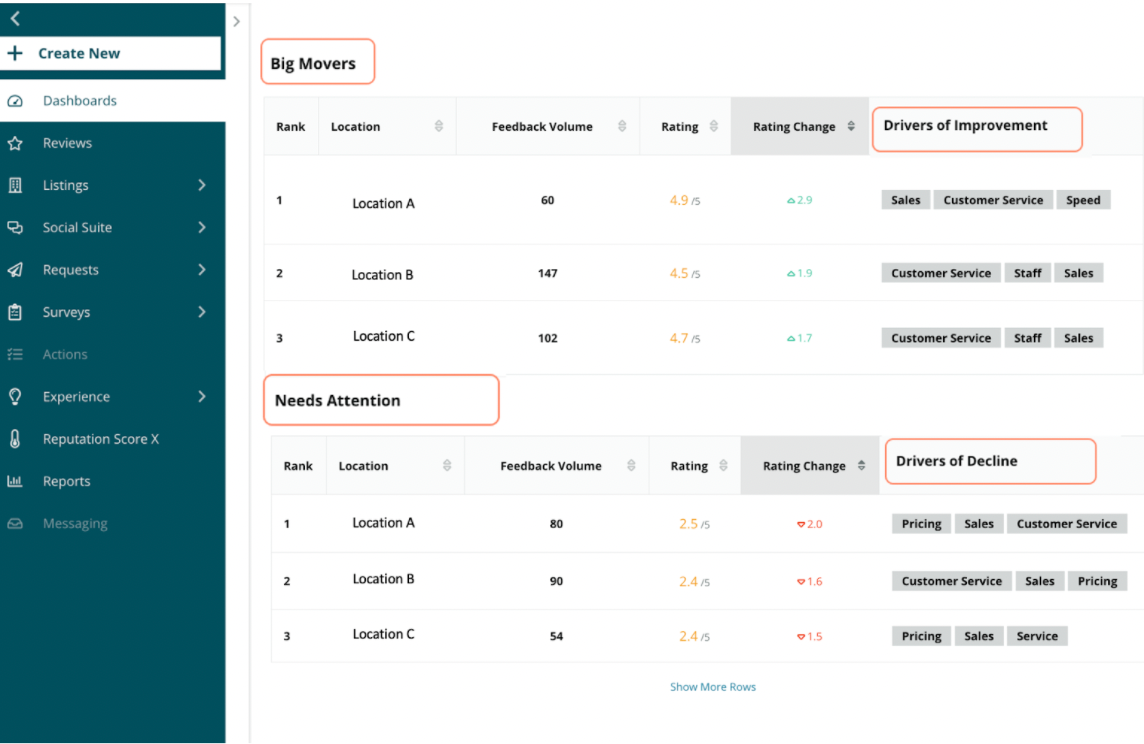 Gaining access to previously limited intelligence about your competitors and using what you learn to your advantage is how you can significantly fuel your own business strategies. The benefit comes from prioritizing action on specific categories, departments, locations, or people where attention is needed or opportunities exist. 
With Competitive Intelligence from Reputation, companies get to learn the "why" behind their competition's online reputation and how to gain the advantage with target customers and market trends. With these insights at your fingertips, your business has the potential to get miles ahead of the competition.