A Q&A with Aaron Orendorff re: Content Marketing
Reputation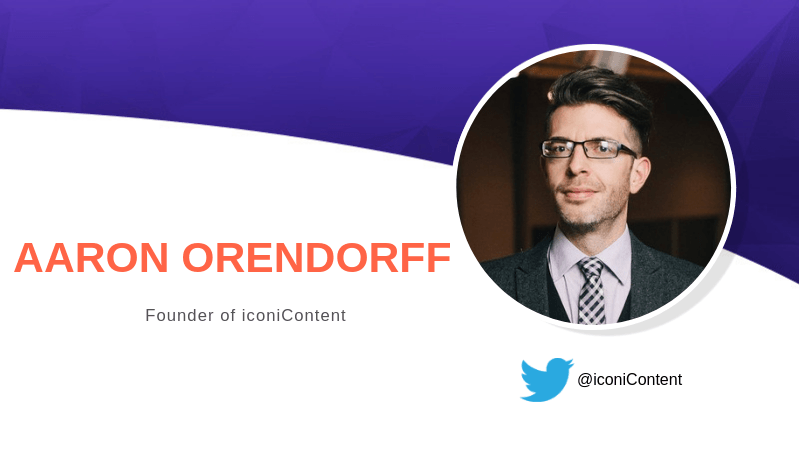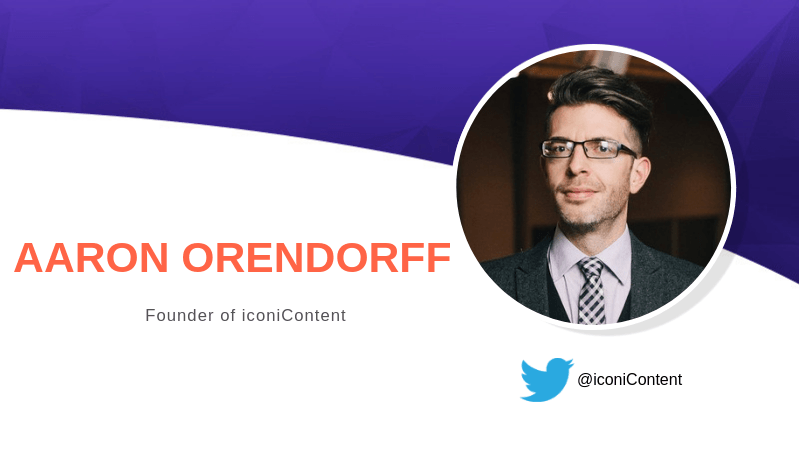 Aaron Orendorff, founder of iconiContent, a cutting-edge provider of top-notch content crafted to serve as a critical cog in a business's marketing strategy, is a prolific writer on entrenched and emerging digital marketing topics. In 2017, Forbes named Orendorff one of 25 Marketing Influencers to Watch. Learn how and why content marketing can make or break your business.
What's most important with content? Keywords? Length? Frequency of posting?
Quality counts. Some of the AI machine learning will auto-generate a post for you, but I have yet to see any legitimate ROI from mediocre content in any space where there's money to be made.
Part of the problem is simply that a lot of companies don't know how to measure ROI or understand what it should be. There's this enormous disconnect between the funnel and the content, and content marketing and copywriting, especially the way it fits into the funnel.
It's like we check the box for content and then we either throw money at it and walk away or we never look at it again.
You have to understand which keywords to target and create content so that it's seen, so that it appears on page one. Anything past that is never going to generate any sort of awareness, let alone move somebody into the funnel.
On the back end of that is figuring out what monitoring tool to use so that we're paying close attention to the keywords we identified as mattering. It's much more important to understand the relationship between those keywords and their business value and the volume that they can drive versus raw traffic numbers to something like the blog, or even just to the site. Better-quality traffic is always going to pay off far more than simply traffic in aggregate.
Traffic in aggregate is so seductive because it feels good to go in there and see those numbers tick up. You can do pretty crappy content and get that endorphin kick but have it actually make no difference to your bottom line.
What a lot of people overlook is it is insane how many people will give you their information to share, download, get a simplified version or just a straight-up PDF of the web page they're on — as long as that content itself is valuable.
How do you craft your content? Where do you start?
I push hard at the start of every engagement to identify what kind of hell their ideal customer is experiencing right now. I use the word "hell" simply to make it visceral and emotional. What are the fears, what are the hangups, what's the frustration? What's the thing they have to do over and over again that absolutely cannibalizes their time, and how do they express that? What words do they use? What's wrong in their world as it touches upon the thing that you will eventually solve for them?
Every product should solve a problem.
Then the heaven is, what would a perfect world look like in which this is solved, and where does the product offer hope for that?
It's going to have to offer practical advice, concrete data, actionable steps, examples that bring it to life visually, so someone says, "Oh, I see. That's how you send a better email so that it gets opened." That's selling without selling. Ninety percent of this data should be driven from case studies that have already been written or from customer interviews that you've conducted.
Your target market should walk away able to do something with that information.
What about pictures and video? Aren't these important with content as well?
There are all kinds of things you can layer on top of written words. Video especially, and interactive tools and calculators and generators. They are great entry points to different information that you want to access.
The backbone of all of that is words. It's inescapable. The words matter immensely. If you don't have that backbone, there's so much wasted effort that ends up just devouring a company's time and efforts.
A lot of people put a lot of effort and a ton of money into good content, especially for the visuals and videos and interactive tools. What's crazy is how neglected what happens next is. An email is almost always what happens next.
Maybe you get a functional email with the thing that you asked for and then maybe you get a follow up if you opened it but didn't click through. After that, it's like, "Welcome to the purgatory of our email newsletter and it's one size fits all."
The ability to use email after someone enters your funnel is critical. You need it so that you're tracking information. You have to follow up within 24 hours.
It's a mistake not treating all leads as equal. It's crazy to me how people will pay for all that front-end stuff and then super-hardcore neglect what happens after that.
Lots of companies have a page for potential clients to check out their reviews, but you put yours on your homepage. Why?
The thing I want my homepage to do is immediately establish authority and trust. That's built intentionally. I include real numbers on my homepage that are specific and from dashboards. I have all the logos of organizations for whom I've written.
Then, I have these great people who just say wonderful things about me. This is to get across the bridge of, "Nobody knows who Aaron is, so don't listen to what Aaron says." Here's what the logos say, here's what the numbers say, here's what other people say. All social proof!
The trick is whenever someone asks me for an endorsement, as long as it's someone I know and actually want to endorse, I immediately come back with, "Yeah sure. You write it up, I'm going to make sure we're not lying, and then I'll punch it up so it sounds like me."
That's how you get endorsements.
__________________________________________
Reputation.com helps companies improve their online brands and increase positive customer feedback. Download our Turn your customers into brand champions guide today.