4 Takeaways from Transform 2016
Reputation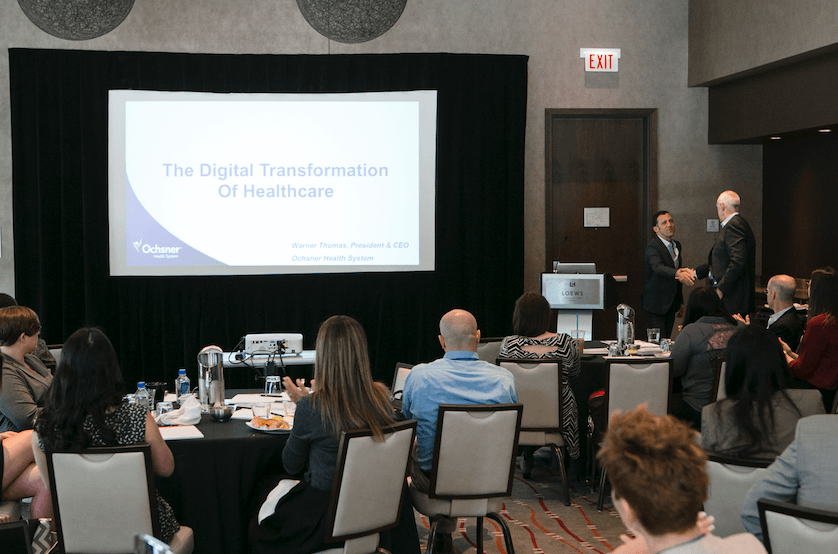 Reputation.com concluded its first-ever user conference — Transform 2016 — in Chicago on May 16, which focused on the strategies and best practices
healthcare
marketers use for managing their organization's online reputation.
The conference brought together marketing leaders from top healthcare companies — including Kindred Healthcare, Ochsner Health System, Stanford Healthcare, Interdent and American Family Care, among others.
Topics covered at the conference included how Online Reputation Management can improve operations and drive positive accountability, how to get buy-in from staff and physicians who are unfamiliar with ORM, and how best to manage online reviews.
There were several invaluable insights from Transform 2016 that healthcare systems can use to improve their online presence. Here are four key takeaways:
1. Create an Air-tight Protocol for Requesting and Responding to Reviews
Susan Moss, Senior Vice President of Communications and Marketing for Kindred Health, offered her organization's best practices for requesting and responding to online patient reviews.
Moss explained that when requesting reviews, her team is focused not only on generating reviews, but also on where those reviews are surfaced.
For instance, her team focused on building a sustainable volume of reviews that are shown on sites that are relevant to Kindred and their patients, such as HealthGrades, Google and Facebook.
"The work here is not how many reviews can you get, it's what kind of reviews can you get on the relevant sites," Moss added.
And when responding to reviews, Kindred takes negative feedback very seriously, but also puts HIPAA compliance first. They don't address specifics of the visit directly in the review, but they help to connect the patient with the facility offline so that the issue can be resolved.
"Reviewers want to talk to someone at the facility that's directly responsible for changing the patient experience at the facility," said Moss.
The Takeaway: Identify the review sites that are relevant to your organization and establish a process for building review volume, as well as responding to reviews posted on those relevant sites while maintaining HIPAA compliance.
2. Get Buy-in from Doctors and Staff to Help Drive Operational Changes
When it came to launching a successful Online Reputation Management program, many participants revealed that they encountered a lot of pushback from their healthcare organization's staff and physicians.
The majority of presenters said that physicians were initially hesitant to solicit feedback from patients because they were afraid they would garner more negative feedback.
However, this information was used to drive operational changes, improve the patient experience, as well as increase the Reputation Score for many of these facilities.
In order to get buy in, Janeen Walls, Public Relations Specialist for Cook's Children's Hospital, examined negative and positive reviews, and would first send positive reviews to physicians to acclimate them to receiving feedback.
Then, as negative reviews came in, she would work with her network of physicians and department heads to implement operational changes and training for staff — based on patient feedback.
Using online reviews to help improve processes and efficiencies ultimately helped to increase their Reputation Score by 50 percent.
The Takeaway: Getting buy-in from staff and physicians was paramount to the success of Cook's Online Reputation Management program. In fact, using other doctors to evangelize the power of ORM can help expedite adoption.
3. Work Cross Functionally to Respond to Reviews
Another challenge healthcare marketers face is establishing ownership for review responding and ensuring that it doesn't solely become the responsibility of one department.
During a panel discussion, Heidi Shalev, Director of Marketing and Communications for Austin Regional Clinic, recounted how her team found the most success when working cross-functionally with risk managers and clinic managers to address online feedback.
"We work closely with our practice managers and our risk managers. We [marketing] will draft a response [to a review], then we'll send it over to our practice or clinic managers since they know the history of the visit. Then it will be sent to our risk manager, so they can add information," she added.
Shalev continued to explain that this joint effort between Marketing, the clinic and the risk manager helps to ensure that the someone has addressed the issue, the response is HIPAA-compliant, and that it resolves the complaint.
"We can't do this all by ourselves. We have to work together."
The Takeaway: A cross-functional approach decentralizes the review responding process and reinforces the notion that providing a satisfying patient experience is the responsibility of the entire organization.
4. Reinforce Positive Feedback —  Don't Just Focus on Negative Reviews
When asked about handling negative reviews, many of the day's speakers revealed that focusing on negative reviews became very demoralizing for the doctors over time.
In order to make monitoring and managing reviews less of a burden for the staff and doctors, Stewart Skrondal, Director of Digital Marketing for Integramed, decided to take a "happy path" and highlight the positive reviews.
"Instead of focusing just on the negative reviews and taking them directly to the doctor, we would take the top positive reviews and show them to our CEO," Skrondal said.
"Our CEO looks at those reviews every day. Then he calls each doctor that receives good reviews and congratulates them."
This would also spark the physicians' competitive spirit, and once they got wind of this program they started taking steps to proactively improve the patient experience in order to be recognized by their peers and the CEO.
The Takeaway: Listen to and embrace the good reviews to provide positive reinforcement for doctors and help reinvigorate their desire to provide a great patient experience.
Stay tuned to Reputation.com's blog to get more insights from Transform 2016!