3 Ways to Use Digital Tools for Senior Care Communities Right Now
Adam Dorfman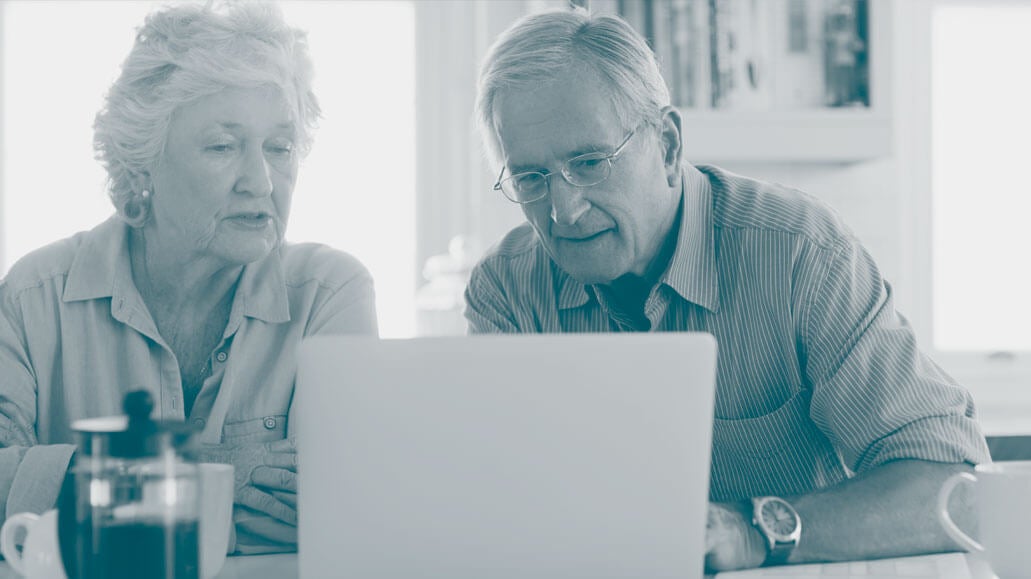 Senior care communities have changed dramatically and permanently. The fundamental need to find assisted living for loved ones is as strong as ever: 10,000 Baby Boomers will reach retirement age daily between now and 2030, according to RetirementLiving.com. But the COVID-19 pandemic has changed how we learn about senior care facilities and how we perceive them.
In this post, I share three fundamental ways the experience is different as we adjust to life during the pandemic — and what your facility can do to change along with the times.
1 Hold Virtual Tours of Senior Care Communities
Before the pandemic hit, senior care facilities could entice prospective residents to come see what a fabulous place they have. Onsite visits gave prospective residents and their adult children a first-hand taste of the facility's ambiance, including amenities, the pool, gym, onsite activities and more. But now that residential properties need to drastically limit onsite visitors, in-person tours are not happening.
Senior care communities must capitalize on digital channels to give prospective residents a sense of the onsite experience, beginning with the use of virtual property tours. But that's not all: Senior care facilities need to become better visual storytellers — period. This means sharing photos, short videos and opportunities to take virtual tours everywhere a prospective resident finds you online — including your website, social media channels and Google My Business (GMB) listings.
Baby Boomers, like younger generations, have largely embraced digital, with 68% owning a smartphone and 60% using social media, especially Facebook. Additionally, the decision regarding senior care often includes adult children of seniors, who are even more active online. Virtual tours — either via video or photographs — are an effective tactic for digital storytelling, especially as brands limit the number of non-residents onsite.
Related: Effective Online Reputation Management for Senior Care Communities
2 Address Senior Care Communities Safety Issues
Unfortunately, COVID-19 has had a significant negative impact on a number of nursing homes and other long-term care facilities. According to The New York Times, more than 40% of all COVID-19 deaths in the U.S. are linked to nursing homes. This kind of data is more than sobering — it also creates fear amongst residents, caregivers and families. At the same time, the general population is now more aware of the measures that need to be put in place to protect loved ones. Senior care facilities have responded with stronger virus control protocols including testing, social distancing, hand washing, increased sanitization and the uniform use of safety masks. Senior care facilities also need to:
Listen: Use regular surveys to gauge how residents and their families are feeling about the COVID-19 measures in place. Questions can include: "How confident are you in our new health and safety protocols?", "How effectively have we communicated regarding your loved one?" and "What could we do better to keep you or your family member safe?" Have them rate their answers on a scale of 1-5, with one being lowest.
Additionally, it's important to monitor feedback such as posts made on your Facebook wall, private messages and Google reviews. This kind of data complements your formal surveys with more real-time insight. And, be sure to act on what you hear. Now is the time to respond quickly when a negative issue surfaces through formal surveys and other feedback such as social posts.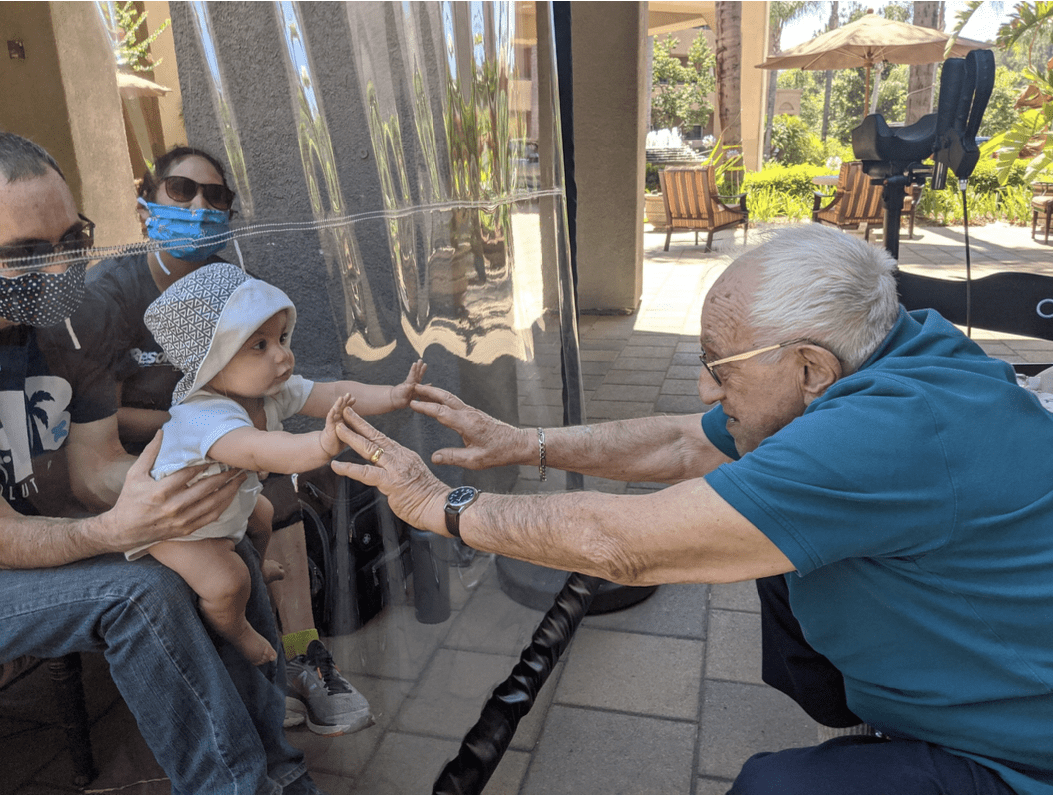 Pacifica Senior Living is taking extra safety precautions, including this plastic screen to protect residents during visits.
3 Combat Isolation in Senior Care Communities
The mass lockdown that occurred across the U.S. as the pandemic spread took a toll on the mental health of the general population. Back in April, 72% of Americans surveyed by Newsweek said they would hit a mental breaking point if stay-at-home restrictions continued into June.
Consider what seniors are experiencing right now as the pandemic continues. Even as many states have eased lockdown orders, residents of senior care communities remain in lockdown. Additionally, many facilities have limited visitors, so some residents are not able to see family in person.
A number of senior care facilities have addressed this problem by working with residents and loved ones to schedule video conference visits and even in-person visits where it's possible to interact with residents through a window. It's essential that your facility:
Share your visitor restrictions and protocols clearly on your website, GMB listing and social channels. Consider using content formats such as FAQs to communicate your protocol.
Related: Handling Emotional Senior Care Reviews from Family Members
Make it easy for residents to use digital tools such as Zoom or Google Hangouts to connect virtually with loved ones. Your staff will need to get involved in assisting residents and managing the nuts and bolts of a virtual visit. Make sure you communicate how to schedule one on your website, GMB listing and social channels.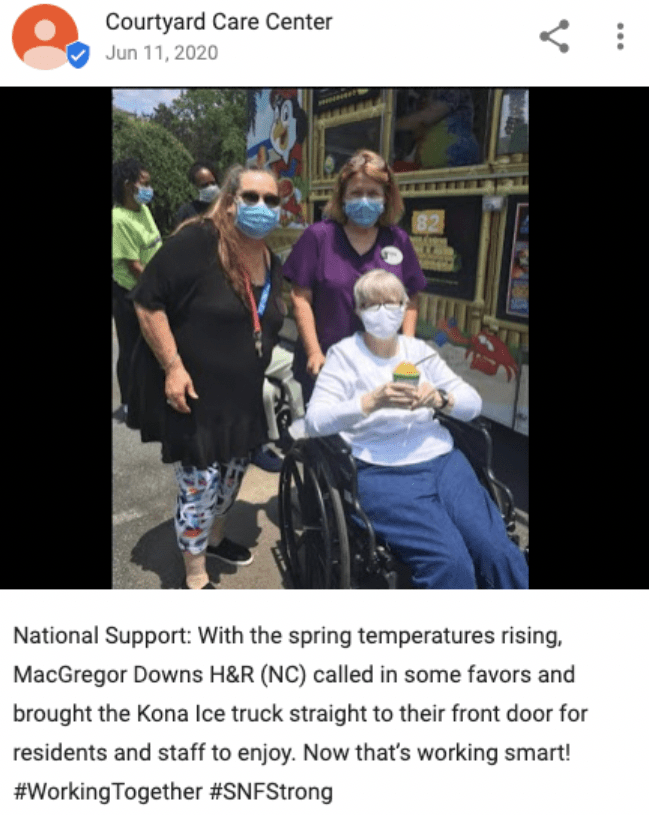 Sava Senior Care shares Posts on Google My Business, featuring activities for residents.
Reputation Can Help
Managing the new elder care experience during the pandemic can be challenging. If you need help optimizing the visibility of your facilities, contact Reputation. For more tips, check out "6 Ways to Manage a Senior Care Reputation Crisis," and download our eBook on Reputation Management for Senior Care.
Keep Reading: 3 Ways to Use Digital Tools for Senior Care Communities Right Now