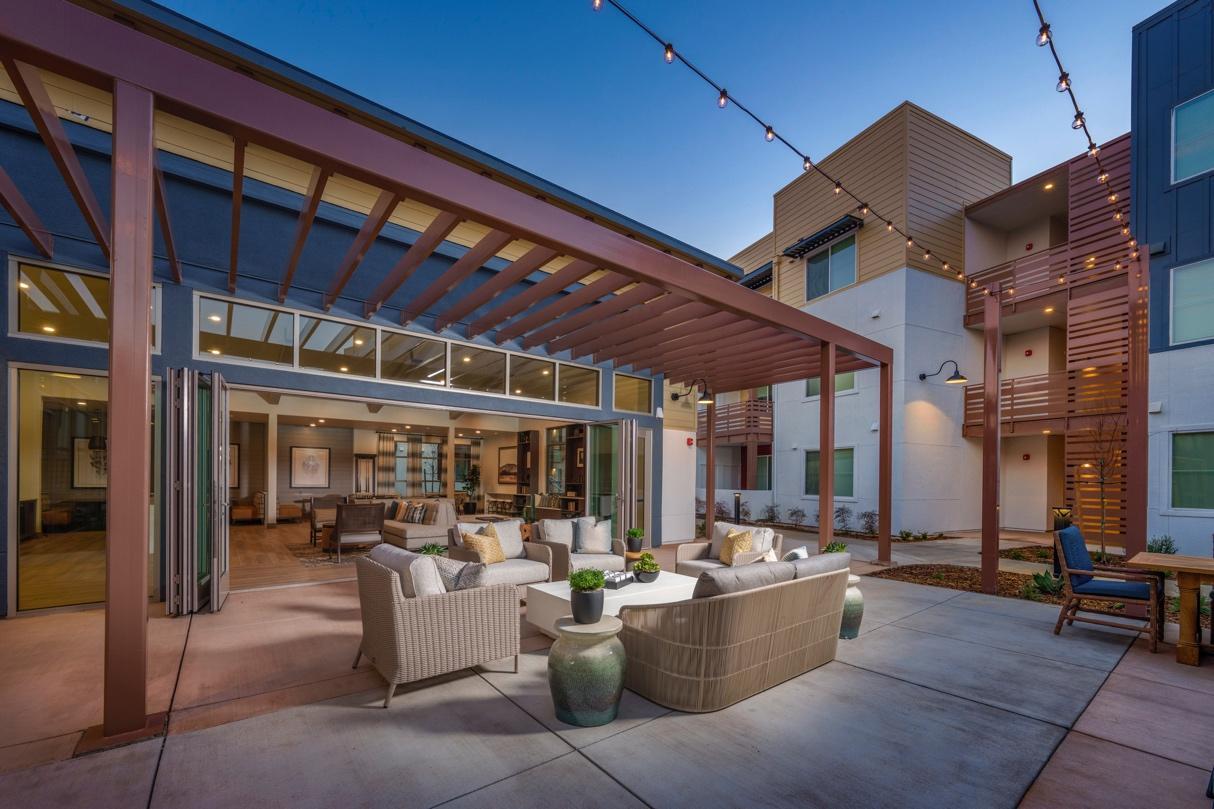 Empowering Communities and Improving Affordable Housing Through Review Aggregation
Written by Lawrence Williams, Senior Manager at USA Properties Fund
Great customer service is hard to define. While the fundamentals are always the same, sometimes an approach that works in one industry may be poorly suited to another. And even as companies make tremendous efforts to become more customer-centric, their service sometimes lags behind what customers actually want.
But here's the thing: customers will tell you what works and what doesn't if you know how to listen. Regardless of your product or industry, you have to start paying attention.
My Favorite Question Is, "Why?"
USA Properties Fund is an award-winning property developer, builder, and manager. We specialize in affordable apartment communities in California and Nevada. Our portfolio of properties consists of around 11,000 units—including some premium residences—in more than 85 communities, and our customer base includes families and seniors seeking budget-friendly accommodation.
Price is the utmost consideration for our customers, but the quality of our units and the quality of life they afford are equally important. Over the years, our corporate operations have increased their focus on the quality of our product and are paying more attention to our brand image and reputation.
Customers will tell you what works and what doesn't if you know how to listen. Regardless of your product or industry, you have to start paying attention.

Lawrence Williams, Senior Manager at USA Properties Fund
I'm our senior manager of marketing and talent development. I started as a temporary leasing agent 17 years ago, and I now develop our in-house training material and outbound marketing campaigns for new products and services. My favorite question is, "Why?" especially when reviewing longstanding policies and procedures. We sometimes need to reassess and adapt, even if we've done something the same way for years—which was the case with our marketing strategy.
We Needed to Take Control of Our Brand
Before 2018, there wasn't a need to do a lot of traditional advertising, but we kept seeing our names and properties crop up in various places online. We saw reviews on pages we didn't own, including unclaimed Google Business pages and automatically-generated Facebook pages for each of our locations. These pages often had incorrect information like misspelled property names and conflicting addresses—there might be a Google listing for Terracina Apartments, a Facebook page for Terracina Cathedral City, and another page for Terracina at Cathedral City on some random real estate site. Even worse, our satisfied customers weren't writing the reviews. The reviews were typically negative and reflected poorly on our operations.
We tried tracking these reviews and listings manually, but it was virtually impossible. There were so many misspellings and variations on community names that we couldn't find everything. Property managers tried to stay on top of the reviews, entering our ratings into a spreadsheet and sharing the overall review rating each quarter. But the process took time away from their other duties, and it wasn't sustainable.
We started looking at review aggregation tools and immediately realized vendors were selling more than we needed or could afford. We had to buy every feature, not just the ones we wanted. Even then, we had to purchase multiple products to manage different types of listings. For example, one supplier offered to claim and clean up all our Facebook pages, but only if we bought a content add-on.
Only one platform offered an à-la-carte solution that spanned multiple listing sites while letting us pick and choose specific modules, giving us exactly the features we wanted and allowing us to control costs: Reputation.
A Streamlined Process to Manage Reviews
Reputation offers a slew of features, including messaging, a help desk, and analytics tools. Still, we stuck to the basics at first, using the Business Listings and Reviews & Review Booster features to clean up our listings and manage customer reviews.
We started by using Reputation to claim our Google Business and Facebook pages. Next, we standardized our property names and addresses there and at dozens of other listing sites. These first steps got our house in order, allowing us to move on to the business of monitoring and replying to reviews. Reputation showed us how many reviews we were getting and centralized the process, allowing us to allocate a single person to monitor and respond to them.
There's also an option to pre-program responses to reviews, which we use to respond to people faster. The template includes opening and closing sentences, with the option to vary the body text either by cycling through various pre-written phrases or manually entering text. There's nothing more discouraging to customers than seeing the same canned response under multiple reviews. A soft template lets us add a human touch to our replies without spending too much time crafting personalized responses.
Sharing Good Work and Improving Ratings
Over time, we grew our listings to 90 verified pages, giving us complete visibility and control over our communities' reviews. Then we established a new goal of increasing individual communities' review scores year over year.
Sharing positive online reviews helps boost morale internally, allowing companies to highlight and celebrate individual and collective achievements.

Lawrence Williams, Senior Manager at USA Properties Fund
Customers express a lot of gratitude in the form of online comments and reviews, and we saw this when we scored a lot of positive reviews in the early days of the pandemic. Our community managers couldn't interface with customers directly due to public health measures, so our communities had lost a bit of that connection. Sharing those positive online comments helped boost morale internally, allowing us to highlight and celebrate individual and collective achievements.
Much of the online praise was—and continues to be—directed at our maintenance teams, who have a direct relationship with residents. We surface that praise by posting some positive reviews on our intranet to inspire our employees, and we also share select reviews at our monthly town halls. Reputation helps us better see the full impact of individual contributions and we can then highlight the positive impacts our teams have on our customers.
USA Properties Fund has been using Reputation for nearly five years. Our average star rating increased by 19% to 4.4 in that time, and we achieved a 91% review rate. We corrected 399 data points, including community locations, resulting in 99.4% accuracy.
Understanding Customers Using Surveys and Insights
In 2019, we rolled out Reputation Surveys, asking residents to fill out questionnaires about our services such as completed work orders at their residences. We collected 612 completed surveys in the first year and 4,600 work order surveys alone in 2022. This number represents a substantial percentage of our residents who provide us with valuable, actionable feedback. We can use this data to understand their needs and prioritize facilities upgrades and maintenance programs.
In addition to data from customers, we also added Reputation Insights to share business intelligence with our community managers and executive team. We generate monthly reports on each site for our community managers and organization-wide quarterly reports for our executive team. These reports help us understand how people live at our properties and guide our executives in:
helping them discern what residents see as our strengths and weaknesses
addressing specific staffing, customer service, and maintenance issues
making strategic decisions about our goals and directions as an organization
Insights also provides visibility into our social channels. We can monitor the performance of our Facebook and LinkedIn posts and adjust our corporate messaging accordingly. Using Insights business intelligence, we decided to launch a customer-facing Instagram account to reach out to existing and potential residents—which we never would've been able to manage without Reputation. Reputation automates postings and account management, allowing me to explore a possible growth area and reach more people without a lot of extra work.
Reputation is incredible, and the team behind the platform stands behind the product. I have regular check-ins with them, where they often recommend new features and talk us through the benefits (and drawbacks), and help us set them up, if required. They also understand our business, which can't be underestimated. They know that 95% of our business is affordable housing and tailor their suggestions to support our mission. When they propose a feature, it's not a generic suggestion. They'll point out something that other property managers and maintenance firms are using and offer pertinent advice that moves the needle for us.
Affordable Housing is Evolving, and So Are We
There's a real need for affordable housing—and tremendous competition to build it—but there are many preconceptions about our work. People still think of affordable housing as run-down, impersonal "projects" that destroy neighborhoods and don't meet anyone's needs. Housing activists have to fight these preconceptions, as do developers and property managers.
Public reviews show the world that the people living in affordable housing often share the same concerns and lifestyles as those in market housing. And Reputation helps us demonstrate that it's possible for affordable housing to be safe, comfortable, well-maintained, and meet residents' needs.
Reputation has given USA Properties Fund a window into lives in our communities. We no longer rely on guesswork and anecdotal evidence from our community managers. We can go online and read reviews or conduct surveys to see what amenities residents are using, what facilities and features they're requesting, and what needs fixing. We have all the data we need in a single place to improve the lives of our residents, attract new people to our communities, and build and acquire new properties to bring affordable housing to more people.