Reputation Matters: 5 Factors Influencing The UK Car Buyer Experience
2020 is a year of unprecedented disruption. How are automotive brands and dealerships holding up? Reputation.com recently released the 2020 Automotive Reputation Report Update, an essential resource to understanding how online reputation management is evolving in a digital-first world that has been changed by a cataclysmic global pandemic. We've ranked the world's top automotive brands, dealer groups, and dealerships based on a variety of factors, including the volume and sentiment of customer reviews. See all rankings here.
This blog post is a deeper dive into how the pandemic has influenced care shopper opinions, especially of dealerships, as automotive customers continue to share their opinions of dealerships and OEM brands through ratings and reviews. We analysed consumer sentiment data across hundreds of dealer groups and more than 4,500 locations in the UK to uncover how car buyers feel about going back to their local dealerships. By applying natural language processing and artificial intelligence to unstructured text, our Data Science team looked at actual consumer reviews on Google, Facebook, and other sources to uncover patterns in customer feedback. We came up with a surprising answer:
Our own research also reveals some important factors influencing the purchasing and service experience during and following the pandemic.
Buyers are increasingly satisfied by the way dealerships are managing COVID-19 measures
Indeed the average ratings for reviews mentioning COVID-19 have a positive trend for the last 3 months. Mentions regarding 'COVID' slowly appeared in March but had a peak in June and  July following the first national lockdown lift. The volume has stabilised in the following three months and overall sentiment has grown more positively.

Sample reviews:
"The building is very clean and set out for Covid and always nice to see people in the forecourt cleaning the cars."
"I was certainly impressed with the Covid precautions and handovers making me feel very safe around the dealership."
2. Negative sentiment about Personal Protective Equipment (PPE) is on the decline
The volume of negative reviews regarding PPE has gone down in recent months, while the volume of positive reviews has been ever-so-slightly on the rise.

Sample reviews:
"Whilst perspex screens were provided where customers would be face-to-face with staff, there appeared to be no Covid working protection in place amongst the staff with no social distancing or PPE apparent."
"Came in for a service and as usual given great service by the lovely staff, strange to see everyone in there PPE but it's great to see everyone still taking it seriously…"
Pro tip:
Monitoring COVID-19 related reviews and social comments is important for your dealership to ensure that all safety precautions are followed and make customers feel safe. The upward trend shows that dealerships who are listening to their customers and making the necessary adjustments are being awarded by positive feedback.
3. Buyers appreciate more and more door-to-door services
The average rating regarding Valet / Door-to-Door Service has increased 0.5 stars compared to pre-COVID levels. Customer Service, Valet and Cleanliness are the main drivers for positive ratings in the last 6 months (May-Oct.)

Sample reviews:
"Excellent customer service – collected my car from work for its service and MOT allowing me to continue caring for my patients, and when there was a small hitch, went that extra mile to make things right."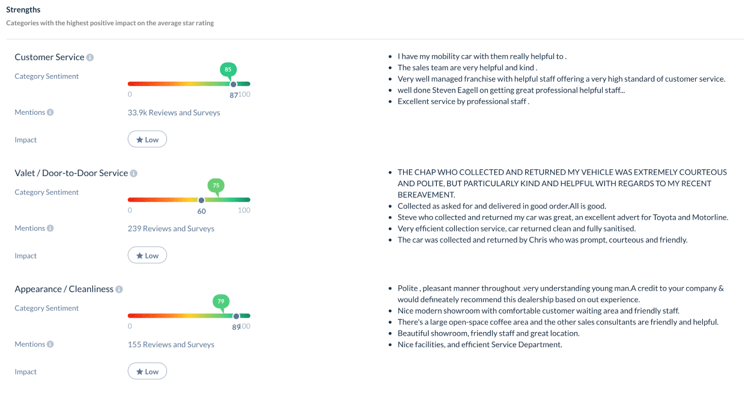 Pro tip:
The buyer journey is evolving rapidly and there is an appetite for socially distant services. Make sure your delivery services are as good as your showroom experience by asking customers feedback and taking action to rectify where needed. If you offer such services, make sure this is also prominent in our listings such as Google My Business and promotional campaigns.
4. Vehicle prices are hurting sentiment
Price-related complaints were a high factor driving negative sentiment during the pandemic. The average rating has slowly picked up again in recent months but along with Service and Sales categories they are dragging down the average rating by 0.11 stars for the industry.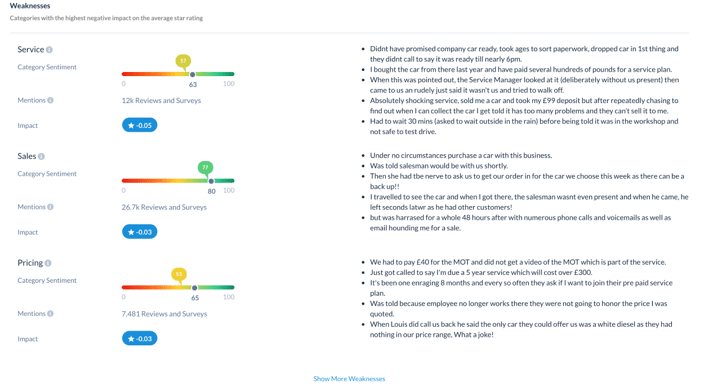 Pricing and Service are the two categories with the lowest sentiment and a high volume of mentions. COVID-19 is 8th most common topic mentioned in reviews.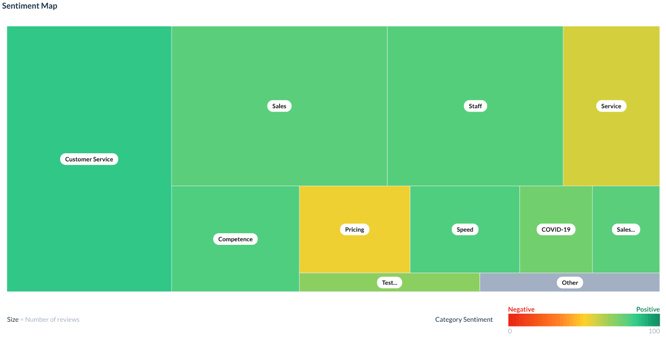 Pro tip:
Looking after COVID-19 sentiment is important to ensure the satisfaction of your customers but buyers still care greatly about the overall service quality and pricing of their vehicles when looking to make a purchase.
5. The Overall Experience satisfaction was slightly down during the pandemic but has returned in the recent months.

Looking Ahead
This year has presented unique challenges to automotive dealerships but it is clear the UK dealers have gotten to grips with the demands thrown up by the pandemic. Reflected in the data illustrated above is the growing competence of UK dealers in responding to the new needs of customers amidst the Covid-19 crisis. However, despite the positive trends, there remains a need for dealers to better manage prices to drive-up customer sentiment. In 2021, it seems the dealers providing the best value for their customers and delivering price satisfaction will be the ones at the forefront of the reputation race.
Click here to see who currently ranks in the top spot in the automotive reputation race.
Topic: Through Leadership
Want more insights on
how to grow your business

with the only platform that brings together online reputation management and gives you the tools to take command of your customer experience?