How to Get the Most Out of Your Survey Results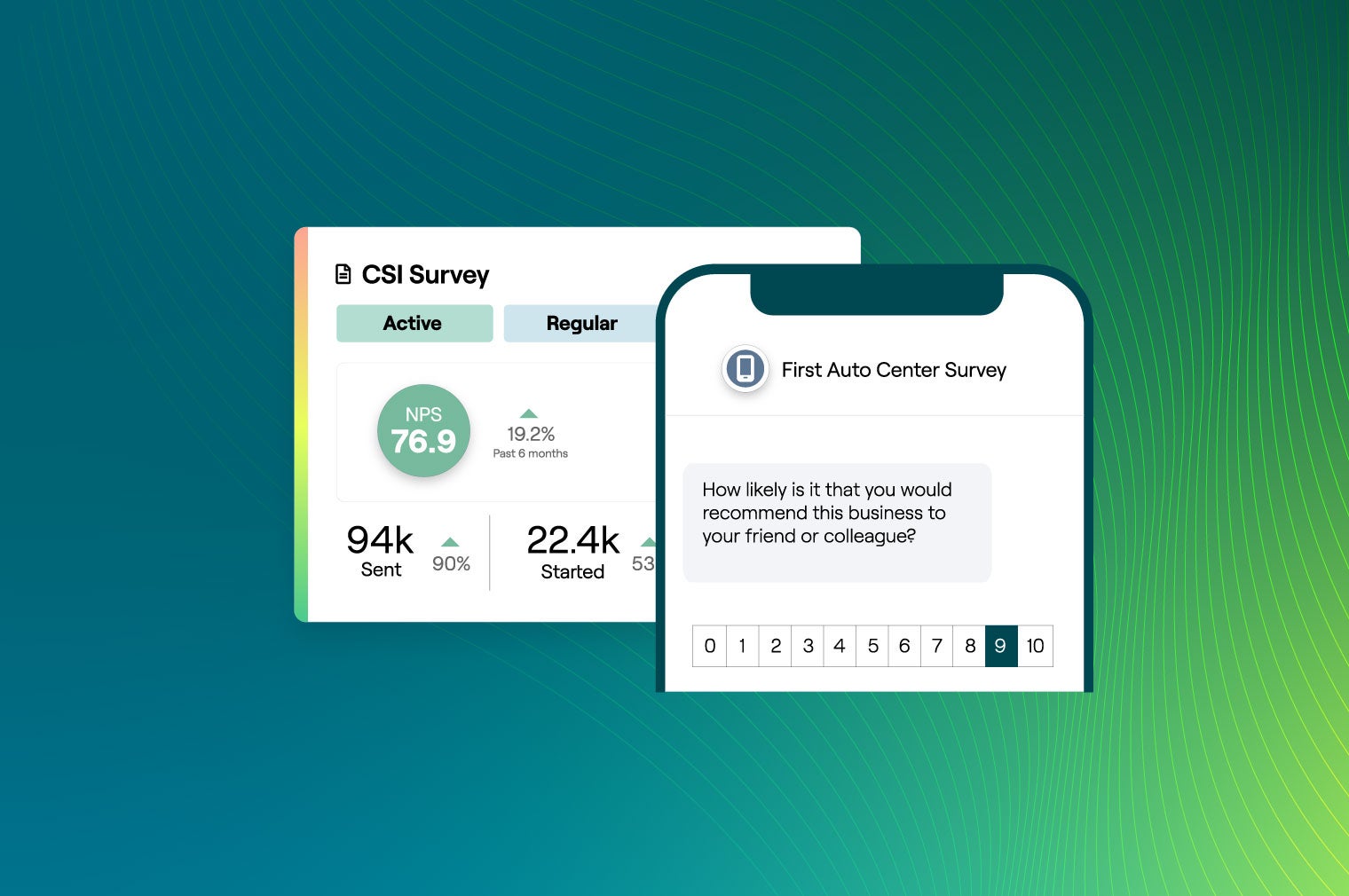 Creating and distributing a survey is the first step in gathering feedback from your customers. But what happens next once the responses have come in? Being prepared to take meaningful actions on your survey results is imperative in order to improve your customer experience (CX).
Beyond the basic breakdown of responses to each question, there are a number of other characteristics that your surveys tool should have to help you maximize each survey's value. Here are a few things to keep in mind.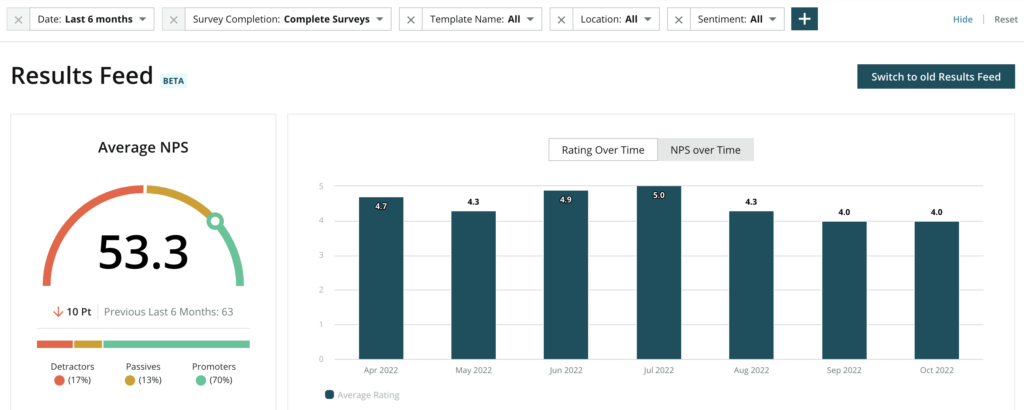 Customization & Ease of Use
Getting the most out of your survey results means you should be able to look at the data in the way that's most meaningful to you, such as filtering your survey data by date, location, sub-brand, or sentiment. Having clear, simple charts and visualizations will help to highlight important feedback themes more-so than text or tabular data. These visualizations should also dynamically update according to the filters you've set, as is the case in Reputation's new Survey Results Feed.
Maximizing Visibility & Impact of Feedback
Many businesses don't realize that surveys can also be a strong source of customer reviews. Why keep all of that great customer feedback locked away for your eyes only? Leading survey platforms provide a way for customers to also publish their survey ratings and comments as public-facing reviews on sites such as Google. This makes your surveys not only valuable internally for learning and improvement, but also externally for new customer acquisition.
Similarly, because customers sometimes mention questions or issues in their survey responses, there should be an easy way to turn a customer response into a support ticket for your Customer Service team to investigate further. This is a great way to introduce extra automation and efficiency into your CX process.
When reviewing your survey results, it can be extremely helpful to be able to see which responses have also been published externally as a public review — as Reputation does with our Associated Reviews feature — and which responses have been used to generate a support ticket. This information can create much-needed collaboration between Marketing, CX, and Support teams, and help prioritize customer outreach.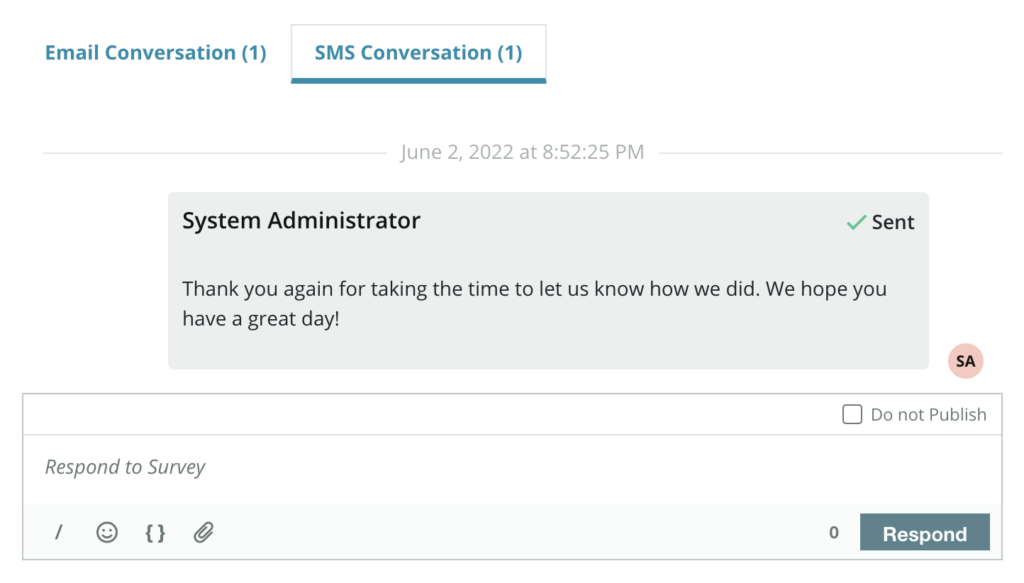 Customer Follow-Up & Issue Resolution
When a customer takes the time to complete your survey and leave you feedback, they then expect some type of response to that feedback — especially if they raise concerns about their experience with your brand. Therefore, being able to reply to a customer's submitted survey response is a crucial step in the post-survey process.
Many survey tools will require that this customer follow-up process be taken out of the survey platform and into an email thread, which makes the follow-up very difficult to track. However, leading tools allow for these customer conversations to take place right from the platform. In Reputation's platform, for example, they'll be displayed as threaded conversations tied to the original survey response. This keeps everything in one place and maintains a record of the post-survey interactions with each customer.
In addition to the above, Reputation's new Survey Results Feed also supports multiple response channels. This means the replies you send to customers from the platform can reach them via email or SMS, and their replies from either channel will in turn appear within the platform for you to read.
Conclusion
The most important part of a customer survey is what you do with the results to improve your business. The way in which your survey results are aggregated and presented to you can have a huge impact on your ability to understand which actions to take next.
Additionally, surveys should be viewed as conversation-starters with your customers. According to a recent McKinsey study, nearly two-thirds of businesses ranked the ability to act on CX issues in near real-time as among their top three priorities. To achieve this, having a quick and easy way to engage in a conversation with a survey respondent to improve loyalty and retention should be an essential part of the survey tool you use.
If you're an existing Reputation Surveys customer, connect with your Customer Success Manager to activate the new Survey Results Feed featuring the above-mentioned capabilities. If you're not yet a customer, click here to schedule a demo.