Quick Take: Reputation Experience Trends in UK Hospitality
Paul Modaley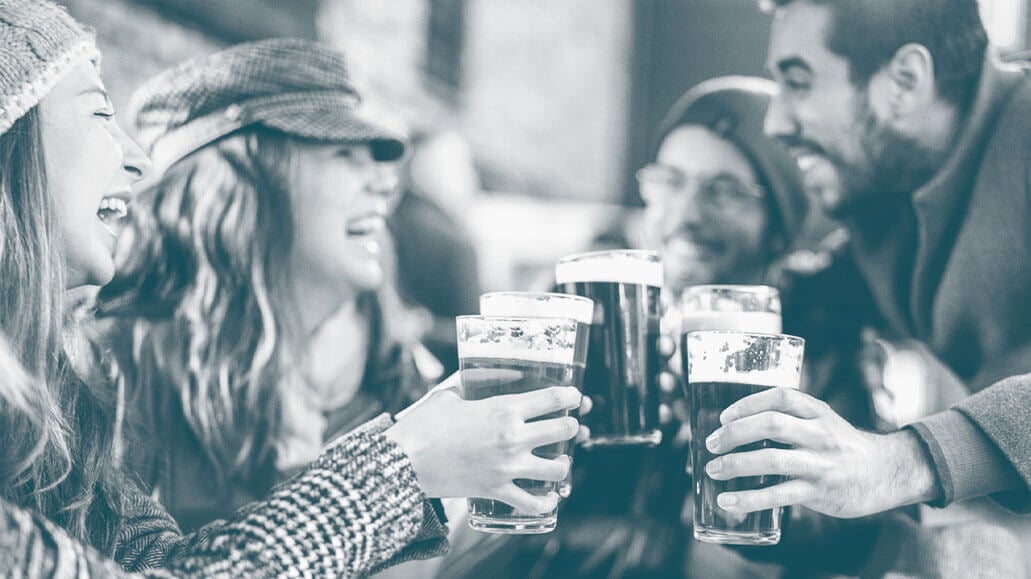 The Reputation Data Science team have analysed the guest experience trends from social and review sites of 6,000+ pubs and restaurants in the UK.
The key findings of our report – Quick Take: Reputation Experience Trends in UK Hospitality – are summarised below but you may click the button to download an abridged version of our report in a handy PDF format.
Alternatively, navigate to various sections of the page using the links below:
1. Summary of Findings
Conversion rates through Google My Business (GMB), such as click-to-call and click-to-website, are 2X higher than rates prior to the first lockdown.

Terms 'engagement' and 'atmosphere' are driving positive sentiment in guest reviews.

Review volumes have sky-rocketed and ratings remain high.

Hospitality customers are critical of businesses that lack quality in their communications; communication quality drives negative sentiment the most.
To win bookings and drive revenue amidst the hospitality sector's great reopening, and to advance their digital transformation, hospitality businesses must closely and proactively manage their online business listings and customer reviews.
As part of their online reputation management, pubs, restaurants, and bars must ensure first-rate standards of communication by responding to customer reviews and queries online.
2. Industry Trends in the Hospitality Sector
The UK's hospitality sector has been shaken to its core as a result of draconian government-imposed restrictions. Forced to close their doors for much of the previous 18 months, pubs, bars and restaurants the length and breadth of the British Isles have had their annual turnovers severely reduced; the Office for National Statistics reports a 90% decline in overall economic activity for the hospitality sector compared to the previous year.
3. Opportunities and Challenges Ahead
Hospitality companies have endured significant and unprecedented disruption to business operations since March 2020 but summer 2021 could potentially see the industry's fortunes start to recover.
Come Dine With Me
Despite the abysmal effects of national 'lockdowns' on the industry, the hospitality sector's long-awaited reopening gives reason for optimism. Between April and May 2021, hospitality output rose by 34% as restaurants, pubs and bars were once again able to welcome guests indoors.
Votes of Confidence
CGA's Business Confidence Survey for Q2 2021 illustrates the increasing confidence of leaders within the hospitality sector: 4 in 5 managed operators feel optimistic about the next year. Such levels of optimism have not been reported within the previous six years.
Furthermore, CGA reports that there are no business leaders expecting the closure of their business and that 53% of leaders surveyed rated business performance as 'ahead of expectations' following the reopening for outdoor visits.
Confidence in the sector was shared by hospitality customers too with 68% of them reporting they 'felt safe' during visits to venues. This signifies an increase from July 2020. Moreover, 45% of consumers surveyed about recent experiences during the reopening said their visit was 'better than expected'.
Staycation Nation
The continued rise of the 'staycation', further fuelled by international travel restrictions, also presents a lucrative opportunity for the hospitality sector in 2021. According to Big Hospitality in 'Eating and Drinking Out Trends for Pubs and Restaurants for 2021', "all things point to 2021 being a year of the Great British summer staycation, with restaurants in key holiday destinations hoping to have a much-needed bumper few months (weather permitting)."
4. What Does The Data Reveal?
To win in the post-lockdown landscape, hospitality companies must consider how guests research, choose and book tables in restaurants, pubs and bars. They must also listen carefully to what guests are saying online in unsolicited reviews to establish what guests expect and what drives them to choose one brand over another.
Reputation's Data Science team examined guest experience trends in social media and online reviews for over 6,000 UK pubs and restaurants. To analyse the data, we used our own proprietary data analysis methodology and natural language processing to detect patterns in comments.
Here's what we found:
Review Volumes
Unsurprisingly, review volumes plummeted during lockdowns when restaurants and pubs were forced to close their doors to patrons. However, the reopening of the hospitality sector has seen online reviews sky-rocket illustrating not only the enthusiasm of consumers during the reopening but also the digital transformation that continues to shape the customer journey and experience.
Leaders within the hospitality industry will be pleased to see that disruption has not hampered their efforts in delivering a positive guest experience and this is reflected in the ratings customers are leaving online.
Online Conversions
Compounding the importance of digital channels in the hospitality guest experience is the rising number of online conversions, particularly through GMB where customers are clicking to visit websites, to make calls or to get directions.
The increasing number of conversions through GMB highlights a paradigm shift in consumer behaviour when it comes to dining out and going for a pint or several. Now, visiting online business listings is amongst the most important steps in the guest journey and they are very engaged with online front doors such as GMB.
Online Customer Sentiment
Review volumes are rocketing upwards and ratings remain high despite disruptions. But what exactly are guests saying about their experiences online?
PPE & Covid-19 Related Reviews Are Less Frequent and Positive
As the nation begins to reclaim some freedoms, and the world comes to terms with Covid-19, mentions of PPE and Covid-19 safety measures are declining. That's not to say, however, that sentiment around these areas is declining; ratings remain around 4 or 5 stars when it comes to these issues.
Engagement and Atmosphere are the biggest drivers of positive sentiment
The reopening has seen positive sentiment around engagement and atmosphere increase substantially. Nowadays, it's clear that operators must provide a remarkable atmosphere at venues while engaging with customers online and offline.
Communication Quality (or lack thereof) is at the heart of much of the negative sentiment
Of all sentiment categories, 'communication quality' drives the most negative sentiment online. Guests, who are sometimes frustrated by the inability of operators to make clear their offerings and protocols, do not hesitate to air their irritations online via review sites such as Google or Trip Advisor.
5. What Hospitality Companies Must Do Now
Operators of pubs, restaurants and bars must accelerate their digital transformations if they are to succeed in today's competitive business environment.
As part of their digital transformation, operators must:
Manage their online reputation closely and proactively to increase bookings

Understand and respond to guest feedback
Moreover, they must equip themselves to handle the guest journey that almost invariably begins and ends with Google. Mastering Google involves ensuring GMB listings are accurate and up-to-date to maximise conversions and that Google reviews are requested and managed. After all, Google dominates review shares with over 66% of total review volume, while Trip Advisor (20%) and Facebook (10%) lag behind.
We're Here To Help
Clearly, being equipped to handle the new guest journey is imperative for all hospitality operators. Our platform turns listening into action and enables companies to take control of their brand's reputation in a time where it's no longer optional.
Contact us to discover what Reputation can do for your hospitality brand and its digital transformation. Alternatively, take a look at what Reputation offers for hospitality brands of various sizes.