Introducing the 2021 Healthcare Reputation Report
Adam Dorfman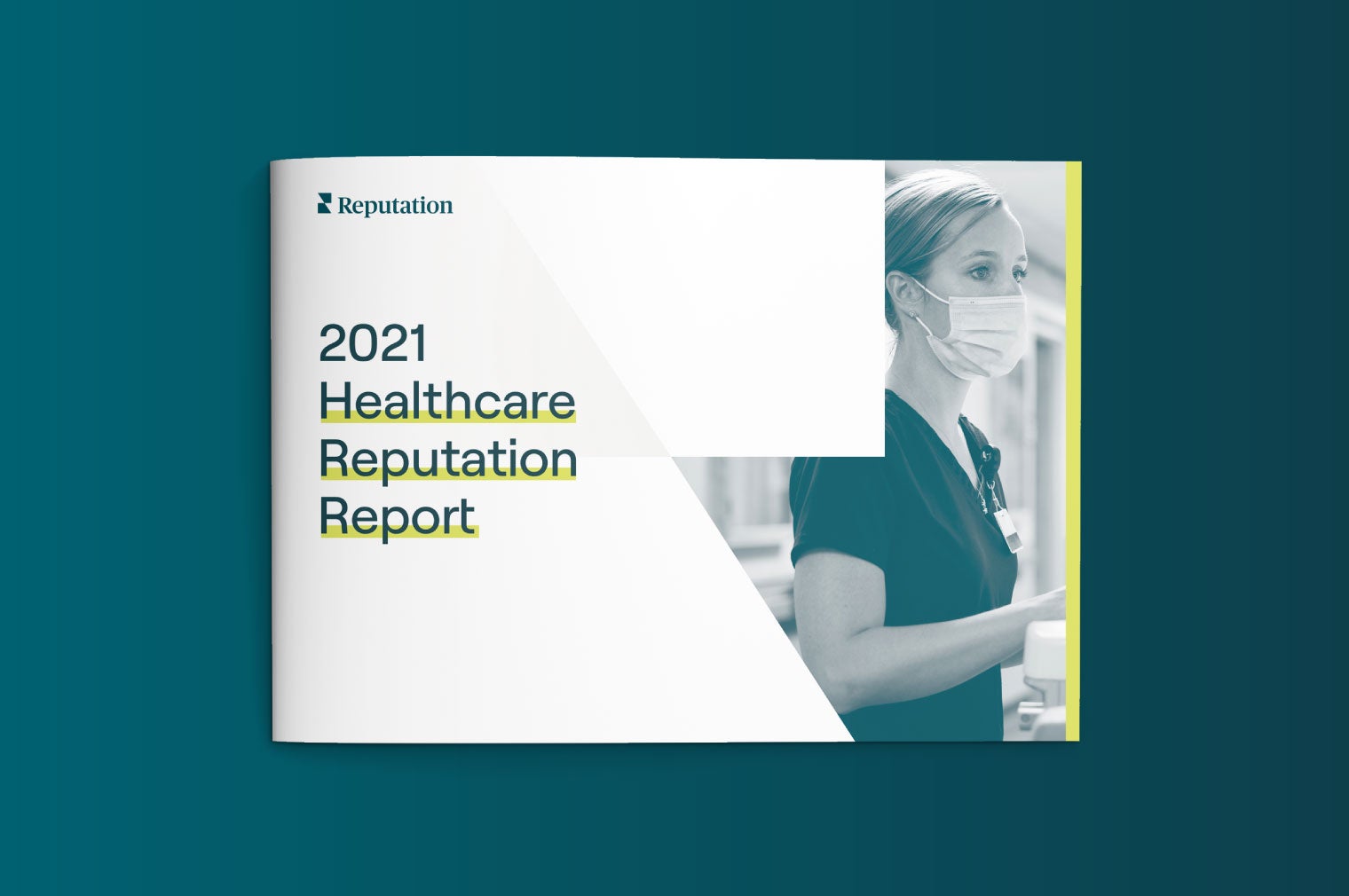 Introducing the 2021 Healthcare Reputation Report
How well has the healthcare industry managed its reputation during a time of tumult? Our 2021 Healthcare Reputation Report  provides an answer. Our research reveals that healthcare providers have been remarkably responsive and resilient during the Covid-19 pandemic.
About the 2021 Healthcare Reputation Report
The 2021 Healthcare Reputation Report  is the latest in our series that analyzes the state of reputation management in sectors ranging from automotive to retail. For the 2021 Healthcare Reputation Report, we analyzed the 25 largest U.S. health systems by revenue and ranked the top 15 using Reputation's proprietary Reputation Score. This metric assigns a numerical score to an organization's online reputation using factors such as the sentiment and volume of patient ratings/reviews. We focused on acute care facilities because they have been at the epicenter of the pandemic. They are also at the forefront of a number of important changes transforming healthcare, such as the rise of virtual care. 
Our Key Findings: A Strong Reputation Matters
After evaluating 348,000 customer reviews across 113,000 physicians and provider facilities, we uncovered a number of insights, including:
Providers and physicians have upheld their reputations during the pandemic. Overall, healthcare facilities increased their Reputation Scores by 4.9% in 2020, and physicians improved theirs by 3.5%. These findings are all the more remarkable because facilities and physicians alike needed to quickly adapt their care procedures for social distancing even as a surge in Covid-19 cases strained their capacity.
Improving Reputation Score delivers results. Healthcare facilities with strong Reputation Scores have 1,290% more conversions on their Google My Business (GMB) listings (click to call, find directions to locations, and visit their websites). Physicians with strong Reputation Scores have experienced 540% more conversions during the pandemic. These numbers are especially important because as people increasingly go online to search for care, a GMB listing is a popular jumping off point to make an appointment with a facility or physician.
Staff, bedside manner, and cleanliness are the biggest drivers of positive sentiment

. When we examined the reasons why Reputation Scores increased during the hardest days of the pandemic, we reached an inescapable conclusion: healthcare professionals who care for patients and their families make a huge difference, especially as patients experience the stress and uncertainty of the pandemic. Patient reviews often called out the little things such as tone and friendliness make for a positive experience, an example being one reviewer who said, " . . . front desk staff was very nice and [Healthcare Providers] were excellent with me and my daughter."

Wait times and emergency room care are the two biggest drivers of negative sentiment

. Our Reputation Score also points out where there is room for improvement. Our analysis revealed that wait times and emergency room care are driving down star averages. The data tells us that healthcare organizations should focus on improving processes to reduce wait times as much as possible. 
Our report provides clear imperatives for facilities and physicians. For example, physicians and facilities need to mind their Reputation Scores. One of the best ways to do that is to request reviews, respond to them, and use patient feedback to improve the patient experience. Doing so grows review volume, sentiment, and recency, all of which influence Reputation Score. 
Other Crucial Findings
Our report also takes a snapshot at how people look for care today and the factors that influence their search during the pandemic. To do so, we partnered with research firm YouGov to survey 1,000 U.S. adults aged 27-64 in order to understand how they make healthcare decisions. Among our findings:
+57%

of consumers say online appointment scheduling is important.

50.8%

of survey respondents said they've selected a doctor/facility over another based on reviews.

47.6%

of respondents aged 27-34 rely on Google to find ratings/reviews. 

Patient ratings/reviews are the single-most important factor influencing Millennials' choice of physicians and facilities next to insurance accepted and proximity —

but a surprising 50% of healthcare facilities and 65% of physicians had zero reviews in 2020. 
The disconnect with Millennials stands out as a huge area for improvement. Millennials (born between 1981 and 1996) are now the largest generation in the United States. They are also crucial to the healthcare industry. Younger Millennials, already established in the workforce, are paying for their own care. Older Millennials are also responsible for the care of both their children and their parents. Older Millennials are also entering the prime earning years of their careers, and younger Millennials are beginning to gain earning and spending power that the younger Gen Z generation still lacks. 
We believe that as facilities and physicians rebound from the pandemic, their biggest opportunity to improve is to become more relevant to the needs of Millennials. 
Download the Report
The 2021 Healthcare Reputation Report contains many other data-rich findings that will help any healthcare system understand how to become more relevant and responsive to digitally savvy consumers. Download our report and contact us to learn more.