Can Amazon Win with Local Advertising?
Adam Dorfman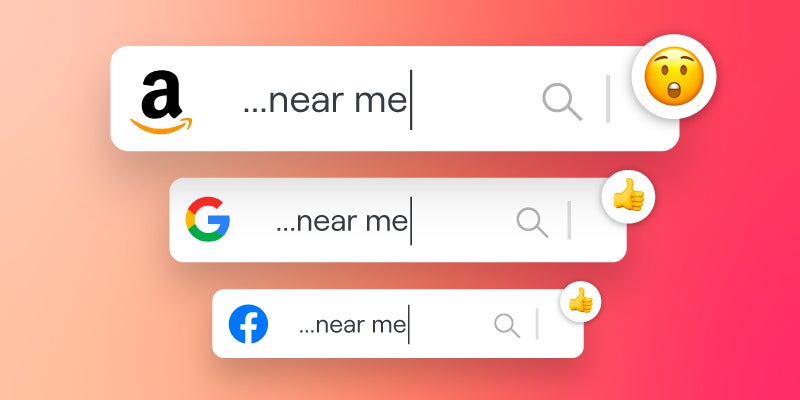 Local search is achieving double-digit growth, with searches for "shopping near me" realizing 200 percent annual growth. The majority of searches result in an offline store visit. While eCommerce continues to grow, it still accounts for less than 20 percent of total U.S. spending. 
These are the compelling reasons why Facebook and Google have built advertising businesses that cater to location-based, brick-and-mortar businesses. When people conduct local searches, businesses want their products and services to appear high in the results. Brands with brick-and-mortar locations are willing to pay companies such as Google, Facebook, and Nextdoor for placements that appear as local ads alongside organic search results. 
Google's and Facebook's local advertising businesses have helped both companies become the top two ad platforms, accounting for about half of the $200 billion annual ad spend in the United States. Google provides a range of local ad products. 
Facebook has aggressively positioned itself as the premier partner to small-to-medium-sized (SMB) businesses through its suite of products designed to make locations visible to people searching locally on its site. For both Facebook and Google, those ad units have appealed to SMBs and national brands such as retail chains that operate hundreds and thousands of locations. 
Now it looks like Google and Facebook will be joined by another local search advertising provider: Amazon. 
Related: What is a Localized Marketing Strategy?
Over the past few years, Amazon has steadily built a thriving online advertising business to the point where the company has become the third-largest online advertising company. In 2021, advertising generated more than $31 billion in revenue for Amazon – quite impressive for an ad business that has existed for only ten years. 
Amazon Advertising has succeeded mainly by selling ad units to businesses that want their products to appear as sponsored content when people search on Amazon. Since most product searches begin on Amazon, this strategy has served the company well. But apparently, Amazon has bigger aspirations to help location-based businesses whether their products appear on Amazon or not. According to Business Insider, Amazon is building a local ad business. Business Insider says that Amazon has been advertising a handful of roles in cities like New York, Chicago, and Washington, D.C., to form a newly formed Local Ads team to build relationships with local media companies and agencies. 
Indeed, this Amazon job listing for a local ads account executive says that the position "is a rare opportunity to join a start-up business within Amazon Ads and play a strategic role in building the future of Local Ads."
Business Insider went on to say that Local Ads would sell Amazon's ad tech products like streaming TV ads and a demand-side platform that sells ads off. Amazon makes most of its ad revenue from search ads but has invested more in ad tech to get bigger ad budgets from advertisers.
An Amazon location-based advertising business would be a clear challenge to Google and Facebook, but how much of a threat remains to be seen. For one thing, many local retailers also view Amazon as a threat. Conceivably, Amazon could use a local ad business to drive more foot traffic to Amazon-owned brick-and-mortar stores such as Amazon Fresh and Whole Foods. 
Related: Why Local Listings Matter for SEO
This would create an even bigger threat to brick-and-mortar businesses in the grocery industry. At the same time, SMBs have figured out how to get along with Amazon by opening up their own digital storefronts on the platform. They may simply respond by adding an Amazon local ads product suite to their arsenal. 
It will also be interesting to see how an Amazon local ad operation affects Walmart. The retail chain has built a thriving ad business that targets shoppers online via Walmart.com and drives traffic to Walmart brick-and-mortar stores. It's worth noting that Amazon and Walmart can fulfill that last part of this local shopping experience – getting the product to the consumers. Google does not have any fulfillment services and will have to partner with a third-party app, to do this. That could make local product ads less efficient and effective on Google, compared to Walmart and Amazon.
To strategize on how to make your brand found and chosen with local search,
contact Reputation
.