Under The Microscope: Patient Experience in Private Healthcare
The Reputation Data Science team analysed thousands of patient reviews across 170 private hospitals in the U.K. on Google, NHS and review sites like 'I want great care'. We ranked the biggest private hospitals using our proprietary Reputation Score during a year rocked by a global pandemic. We found that:
Review volume has tripled over the last 5 years. The trend continues with as many reviews in 2020 as 2019 despite the pandemics causing hospitals to shut down most of their operations.
Cleanliness and bedside manners are what drive the most positive sentiment in patient reviews.

Whereas billing and surprisingly waiting time are driving the most negative reviews showing where the sector needs to improve their reputation.

The response rate to review from private hospitals has been historically lower than in other industries. However, we've seen a huge improvement, with an average response rate reaching up to 68% in 2021.
Reviews make a huge difference in building a strong reputation overall. The healthcare groups with the highest Reputation Scores accumulate twice more reviews than laggards and respond 5 times more to their reviews.
These are indicators of the digital transformation healthcare is experiencing as an industry. Engaging with patients online through online reviews is one of the many ways healthcare providers can improve their reputation and ultimately increase patient acquisition and market share.
Find out how the largest private healthcare groups rank according to their Reputation Score encompassing their hospitals' online visibility and experience here.
The State of the Private Healthcare Industry
In 2019, 10.5% of the United Kingdom's population – almost 4 million people – opted for Private Medical Insurance (PMI), despite the availability of 'free at the point of access' healthcare through the National Health Service (NHS).
With the up-take of PMI growing by 9% from 2015 to 2020, the future for private health care in the UK looked positive. However, the 2020 pandemic and successive 'lockdowns' have drastically slowed growth in the UK's PMI market. The PMI market has seen a decline of approximately 18% since 2020, with most private procedures being postponed or cancelled.
However, it's not all doom and gloom for the UK's private healthcare industry. Amidst the rapid roll-out of vaccines for Covid-19, the industry looks set to bounce back with swift recovery projected in 2021.
Challenges and Opportunities Ahead
The road back to normalcy will generate new opportunities for the private healthcare industry, which was on an upward trajectory before the 2020 lockdowns.
Patient Backlog
Fuelling opportunity in the private healthcare sector is the NHS's ever-growing waiting list, exacerbated by the shut-down of swathes of the economy. As the nation looks to the future and prepares to emerge from lockdown, the private healthcare sector may resume its growth pre-2020 growth in 2021.
According to Lewis Cone, Senior B2B Analyst, "2021 will see a rebound in the private healthcare market as the backlog of treatments and surgeries not carried out in light of the pandemic will be rescheduled and spill over into future months."
Arguably, enabling patients to avoid long NHS waiting times and providing treatments not available through the NHS is the private healthcare sector's most appealing selling proposition.
In contrast to the opportunities on the PMI market's horizon, there are several significant challenges and barriers to the sector's recovery and growth.
Public Sector Competition
In terms of winning patients, the private healthcare sector faces stiff competition from the public sector in the form of the NHS, and the industry has some way to go to convince the British public to take advantage of its offerings. Industry's NHS partnership through the pandemic could, however, open up further collaboration in the future.
Data shows that 58% of Britons are yet to use any private healthcare service, and with the public continuing to hold the NHS in high-regard, healthcare companies have their work cut out in 2021.
Specialist fees record the strongest growth for the private sector, and 'self-pay' is now the most common singular payment method, but combined PMI still dominates. These are signs of where the sector is winning patients.
Safety
Convincing patients of its safety is another hurdle on the private healthcare sector's path to growth.
According to the Care Quality Commission (CQC), 40% of private hospitals failed patient safety standards in 2018. Thus, consumer confidence is perhaps low, and this may be aggravated by Covid-19 anxiety.
However, healthcare companies that can demonstrate excellence in all aspects of patient care and safety standards are standing out from the crowd, as Reputation's analysis highlights and these groups are poised to win the lion's share of the market.
The Story Across the Pond
Reputation commissioned research to understand how American adults aged 27-64 make healthcare decisions. The key findings are summarised below:
Patient ratings/reviews are the single-most-important factors influencing Millennials' choice of physicians and facilities next to insurance accepted and proximity — but a shocking 50% of healthcare facilities and 65% of physicians had zero reviews in 2020.
Half of 'millennials' search Google to find reviews of health providers.
Healthcare facilities with strong Reputation Scores have 1,290% more conversions on their Google My Business (GMB) listings (clicks to call, find directions to locations, and visit their websites).
Read the full report to discover more insights into how people search for care and what matters most to them during the pandemic.
In a nation where the vast majority of healthcare systems are self-pay and PMI oriented, the United States' research findings have monumental implications for the private healthcare sector in the United Kingdom.
Moreover, research in the United States shows that virtual care is growing in importance – 58% of survey respondents said it is either 'very important' or 'somewhat important' that their primary care doctor offers virtual care options.
What Does The Data Reveal?
We know the pandemic has affected industry growth. But how has it influenced what patients say about acute care providers in their ratings and reviews? And how has it influenced their perception of providers based on ratings and reviews? To find out, the Reputation Data Science team examined 8,500 patient ratings/reviews across providers' websites and social media pages. We used our own proprietary data analysis methodology that uses natural language processing to detect patterns in patient comments. Here's what we found:
Review Volumes Are Constantly Growing
Across most industries in the UK, review volume boomed in 2016 as large web players like Google and Facebook focussed on third party unstructured data to fuel their algorithms. Google is a trust engine, and genuine consumer reviews are increasingly important as a factor of Google's local search ranking. 
Consumers followed suit with reading reviews before making purchase decisions with over 80% of consumers now trusting reviews as much as recommendations from friends and family.
Healthcare, and private healthcare especially, are not immune to this consumer behaviour, which is not going to change based on the recent study aforementioned about millennials' purchase behaviour.
Across the 170 analysed locations, we found the same trend of a steady increase in review volume. Since 2016, volumes have tripled for the private sector on Google.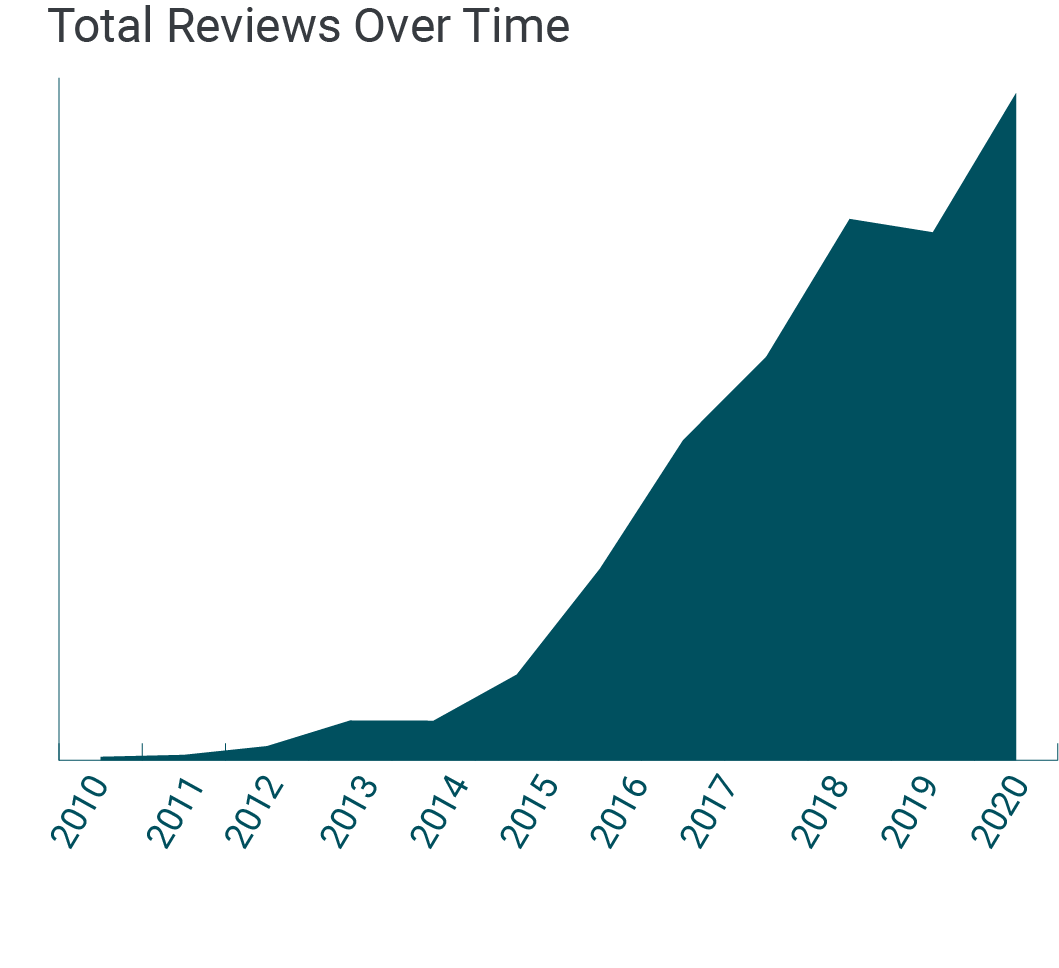 In 2020, Google actually paused reviews for healthcare providers in an attempt to provide further support and control at the beginning of the pandemics. With national lockdown restrictions, we experienced a drop in reviews for several weeks. But reviews were back bigger than before as patients are sharing online their appreciation towards healthcare providers – a trend we still see in the first months of 2021.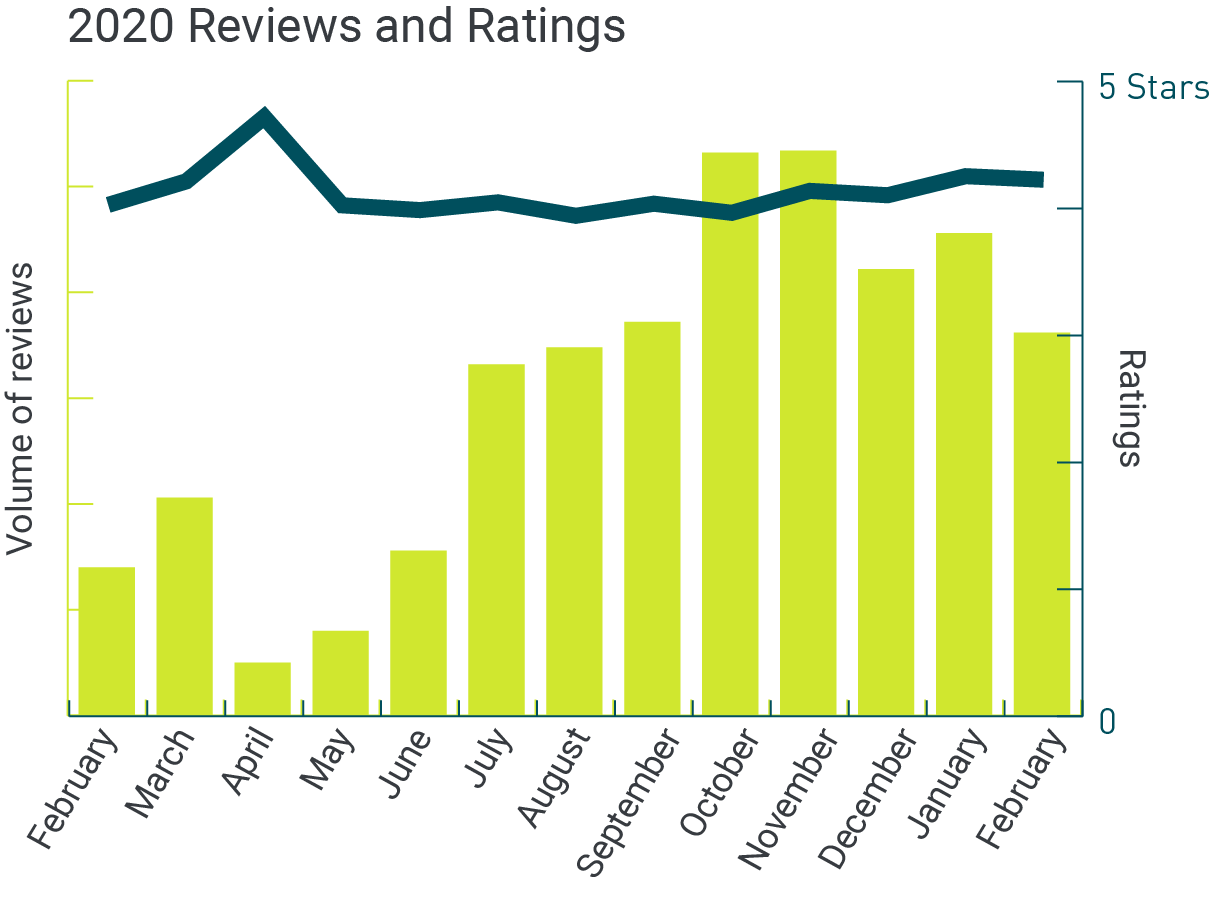 This represents a massive opportunity for healthcare providers as patients turn online for validation, and private hospitals need to build a reputation of trust with new patients. Reviews are social proof consumers are trusting, and hospitals have an opportunity to open a dialogue in this online forum, engaging with existing patients while driving new patient acquisition.
Find out more about how reviews are directly correlating to local search ranking here.
Response Rate Are Catching Up with Volumes Growth
The response rate to reviews from private hospitals has been historically lower than other industries, with 2/3 of all locations having a response rate lower than 50%. With review volumes increasing year-on-year, hospitals are starting to pay attention, and this was especially evident during the heights of the pandemics. We've seen a huge improvement with an average response rate above 50%. 2021 started even better, with up to 68% of all reviews receiving a response. However, there remains inconsistency between providers, with only 2.30% of all hospitals responding to all their reviews but 9.30% responding to none at all! With an industry average of 58%, 3 out of the big 5 groups show a response rate of over 70%.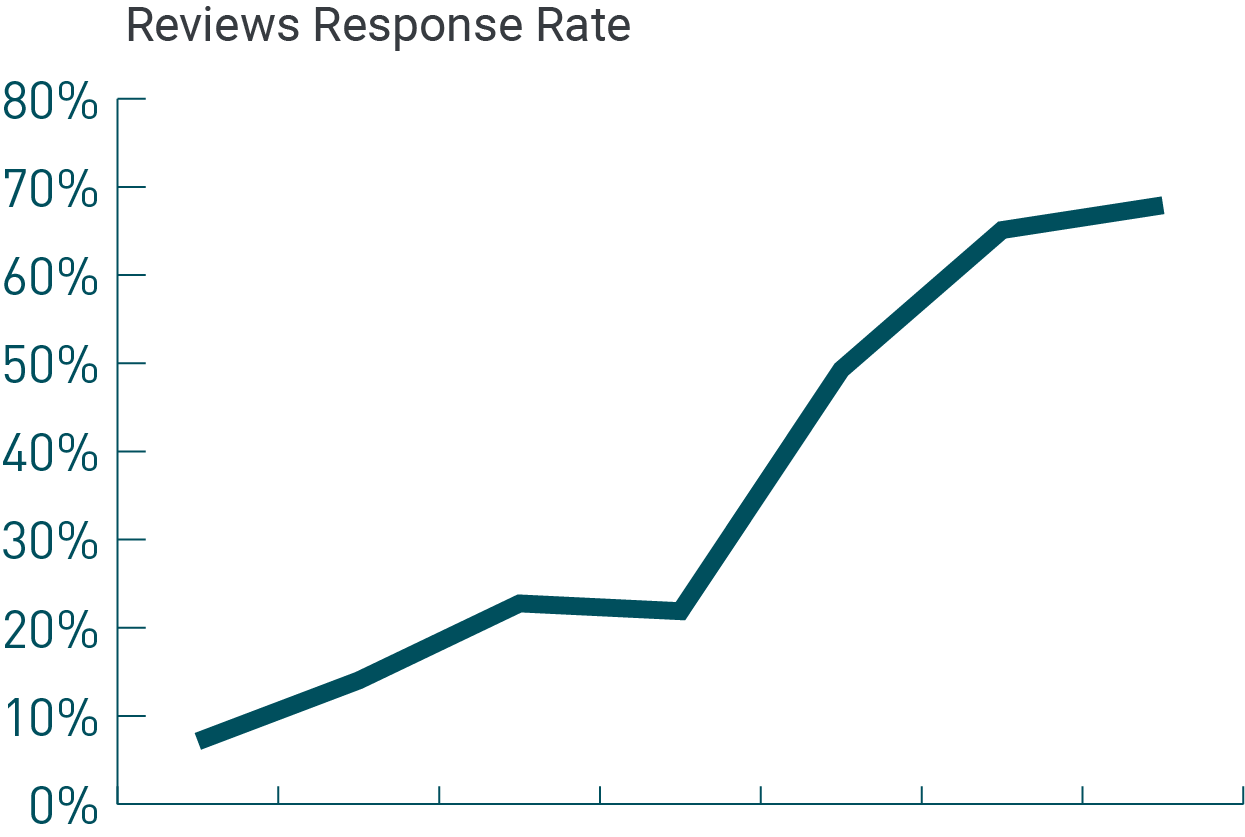 This is a sign of the digital transformation of the healthcare industry. Engaging with patients online through online reviews is one of the many ways healthcare providers can improve their reputation and ultimately increase patient acquisition and market share.
Covid-19 Related Reviews Are More Frequent and Positive
As a new sentiment category, Reputation started to monitor the mentions of Safety and PPE in inpatient online reviews – all related to the COVID-19 outbreak. From July, the volume of such reviews started to increase steadily as patients were sharing their onsite experience online. The frequency of this topic in reviews keeps growing even in 2021 and hospitals have shown great adoption of Safety and PPE measures as ratings remain widely positive over the same period. This is a direct application of online engagement and trust consumers are looking for. Reviews about how well prepared private hospitals will reassure new patients looking to book treatments in the coming weeks.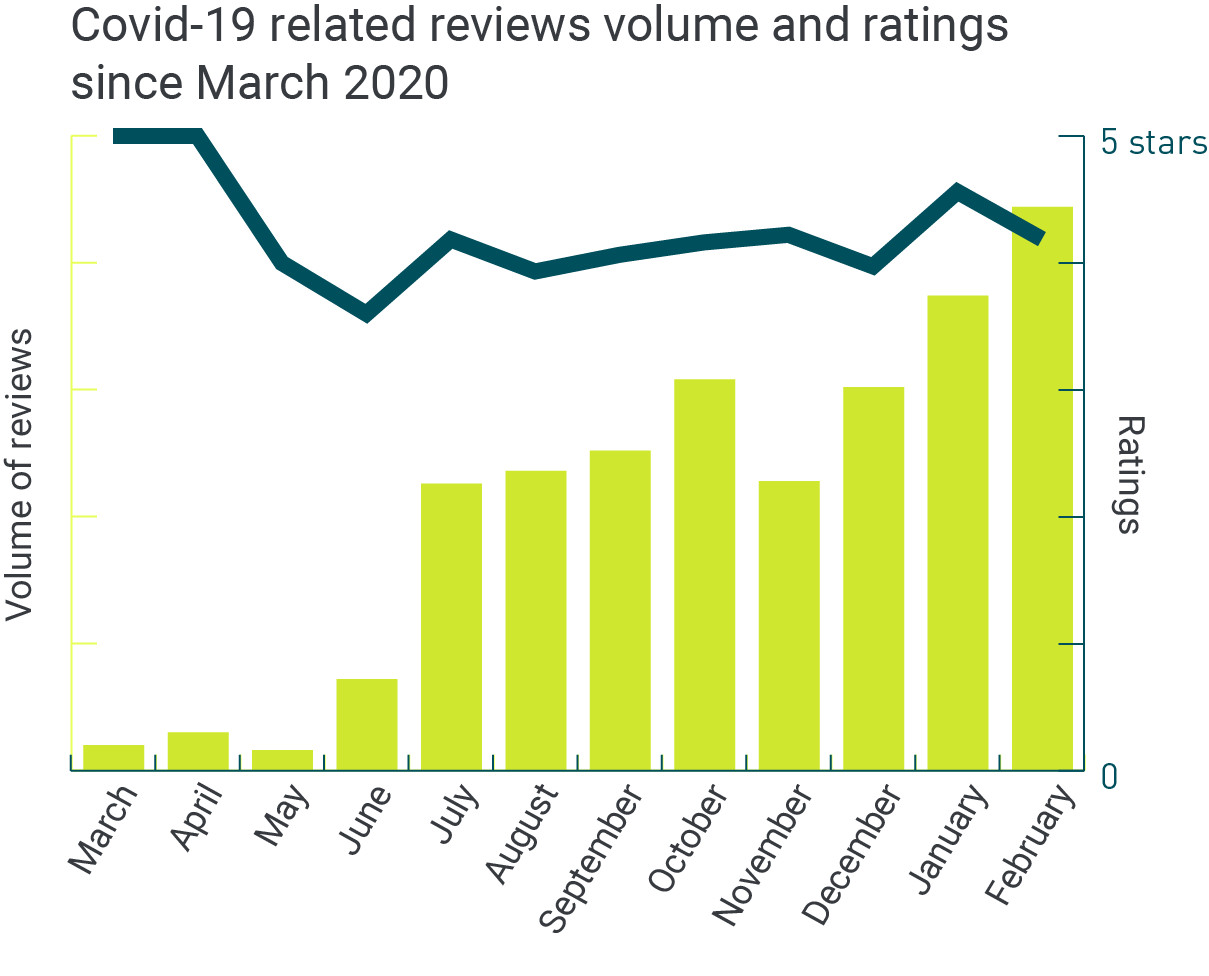 "The hospital staff were well prepared regarding the COVID requirements and were friendly and approachable. My experience in this hospital was good and I felt very satisfied with the visit. 

I was also very impressed with all the hygiene measures in regard to COVID 19 and I felt very safe. Overall experience EXCELLENT A big thank you to everyone involved in my procedure."
Cleanliness and Bedside Manner are the biggest drivers of positive sentiment
Patient feedback relating to the interpersonal interactions between a doctor and patient (treatment with respect, explaining clearly) and the overall cleanliness of a location are among the most positive categories we analysed from all online reviews. These are important factors especially for self-pay patients when choosing a private healthcare provider.
"His questions were very thorough though not invasive which was quite the relief for me, I can't say his name, but he is good at what he does and a job he was made for. I had several follow up catch-ups with my consultant, who was always available to answer any questions or concerns."
Although less common in reviews but highly positive in sentiment, are mentions of Food Quality in reviews. Another differentiator private hospitals invest in to make the patient experience the most comfortable possible.
"They kept me informed every step of the way. Everyone treated me with respect and nothing was too much trouble in these difficult times. The private room was perfect with TV and en suite facilities. The food was very good I enjoyed the full English breakfast!."
Waiting Time and Affordability are the biggest drivers of negative sentiment
Waiting time is one of the primary reasons why patients choose private healthcare over NHS, but this is a source of negative sentiment online. This should be addressed urgently by hospitals to capitalise on the patient backlog this year.
"Waited 3 weeks for a private appointment, turned up only to be advised a scan would be needed (which should have been obvious) and that a new appointment was required…

Whilst I am paying for services and treatment I am having to wait a month."
Price is a well-known deciding factor when dealing with private providers and providing value-for-money should be a focus for hospitals to improve upon. Offering a great patient experience generally justifies the price range but we also found out that billing is often the underlying cause behind the negative sentiment around affordability. 
"This was overall a poor experience, and a very expensive mistake.
After having visited Dr TXX, been charged 2x the price of ultrasound scan despite no one ever telling us there'd be two scans.
No clear pricing on packages and the extra charges.
So be warn if you are self-pay patients, asking for itemised price lists from both of them before making decision."
Virtual Care is Lagging
Virtual Care is a new category providers are tracking as a new opportunity to engage with patients in a safe manner, however, the industry still needs to adapt to these new ways to care for patients, whilst maintaining a good patient experience throughout. Although still low in the volume of reviews, virtual care experiences are being rated poorly by patients.
"On the evening of my telephone follow-up consultation, I received a call 5 mins before informing me that the receptionist had booked me on the list with the wrong neurologist.

Very very poor service Even used the online chat who gave me 2 email addresses to try but they came back undelivered.

Longest waiting times just for a telephone appt to find out my results."
Feedback related to the staff and employees remains strong and positive
Online reviews related to staff are by far in the largest number and are mostly positive. Along with providing high standard facilities, well-trained and caring employees is a huge differentiating factor for private hospitals to continue to nurture and highlight as they are navigating an unprecedented year with lockdown restrictions lifted and self-pay patient backlogs searching for their next healthcare provider.
"Great service and the staffs are very accommodating.

I had a brilliant male doctor and his assistant and reception were lovely too.

Everyone seamed to be a team player…………brilliant !!!

The nurses were fabulous and the whole experience was of the highest standard."
Top Private Hospitals Ranking
We ranked the top 5 largest private healthcare groups using our proprietary Reputation Score¹. To arrive at a healthcare group's Reputation Score, we evaluated acute care hospitals within each healthcare group and aggregated their scores.
| | | | | | |
| --- | --- | --- | --- | --- | --- |
| | | Reputation Score | Sentiment | Visibility | Engagement |
| 1 | BMI | 588 | 66.00% | 59.33% | 89.00% |
| 2 | Ramsay | 506 | 65.00% | 48.67% | 70.00% |
| 3 |  Spire | 464 | 57.00% | 50.00% | 40.00% |
| 4 | HCA | 442 | 58.00% | 56.00% | 16.00% |
| 5 | Nuffield | 422 | 60.00% | 39.33% | 74.00% |
¹Based on publicly reported revenues as of 1st March 2021
What does it take to be a top healthcare brand?
When we examined Reputation Scores for patterns in performance, we found that:
Leaders (the top performers) outperformed laggards (the bottom performers) in sentiment, visibility, and engagement.
Sentiment is especially important because of all the elements of Reputation Score, sentiment has the biggest impact. Top-ranked BMI had the highest star average score, 66%.
The biggest difference between leaders and laggards: engagement. Leaders engage more with their customers and respond to reviews much better than laggards do.
The pandemic has underscored two fundamental needs for healthcare organisations:
Manage online reputation closely and proactively to increase conversion rates
Understand and respond to patient behaviour
Get Started
Undertaking digital transformation in your company can seem overwhelming but don't fret – our Reputation Experience Management (RXM) Guide is here to help professionals in the healthcare industry.
Access the guide to gain insight into the actions you can take today to enhance your brand's online reputation and patient experience to boost business performance overall.
Topic: Through Leadership
Want more insights on
how to grow your business

with the only platform that brings together online reputation management and gives you the tools to take command of your customer experience?