Background
From traditional care and inpatient rehabilitation hospitals to home services and hospice, Kindred Healthcare supports a range of medical conditions. The organization has more than a hundred locations that all strive to deliver exceptional care to patients with critical or complex needs.
As more and more healthcare consumers began using online resources to research and select providers, Kindred realized something had to be done to engage more effectively with patients and their families. They implemented Reputation to facilitate more effective engagement and communication between patients, their families and hospital leadership and, ultimately, to optimize patient experience.
Customer
Kindred Healthcare
Reputation User
Since: 2012
Goals
Focus on a patient's emotional needs and hearing their voice as a person, not a chart.
Deliver quality care and exceed expectations, so business results will follow.
Engage more effectively with patients and the community by monitoring and responding to all customer communications online.
Challenge
The Need to Improve Patient Engagement Led to Action
Kindred's search for an online reputation management solution began with the communications team presenting the company's president a stack of online reviews. "For the most part, we were unaware what people were saying about us outside of our specific social media channels," said Amanda Henson, Director of Online Reputation Management at Kindred. "We were missing opportunities to communicate and engage with patients and potential customers, and we had to do something."
With a mandate from the provider's president to quickly find a solution, Henson's team set out to evaluate reputation management platforms.
We wanted to not just facilitate conversations between current patients and leadership teams in our hospitals, we wanted to help them navigate their healthcare journeys.
Amanda Henson
Director of Online Reputation
Management, Kindred Healthcare
Solution
Integrated Dashboard Streamlines Reviews and Business Listings Management
Kindred chose Reputation as its online reputation management (ORM) platform because of its ease of use and robustness. "We want to serve as a liaison between patients and loved ones, and Kindred's leadership teams," said Henson. "Reputation enables us to aggregate reviews in a dashboard for easier management, so we can have a more complete story about the patient experience, ensure that communication remains open and address concerns as quickly as possible."
Henson added that the platform would help them achieve another key goal: Creating a process for capturing more positive reviews. Her team uses the Reviews module, as well as Review Requesting, Insights and Business Listings.
"I love the ability to respond directly to our reviewers from within the platform," said Henson. "We rely heavily on Reputation Insights, and we're leveraging the platform's Business Listings module to manage all of our location listings and ensure all the data is correct and up to date."
Reputation is a onestop shop for us — we can run our entire reputation management program right from within that dashboard.
Amanda Henson
Director of Online Reputation
Management, Kindred Healthcare
A Focus on Increasing Review Volume Boosts Reputation Score
Another benefit of partnering with Reputation is the ability to monitor and analyze Reputation Scores across all Kindred locations. Reputation Score is a single index of customer sentiment derived from applying Reputation's patented algorithms to data from all relevant feedback sources, such as reviews, social media, surveys and more.
In the beginning, Kindred's Reputation Score was in the low one-hundreds. With the goal of improving it, Henson's team worked closely with their internal Compliance and Legal team to create the Reputation iPad™ Program, which puts an iPad in the hands of patients to leave reviews in real time. Each hospital's Reputation iPad comes loaded with the icons of all popular review sites — Google, Facebook and healthcarespecific sites — and it's completely HIPAA compliant.
To leave reviews, patients navigate straight to that hospital's social media review platform. Reviews are captured in real time in the Reputation platform, and the team at Kindred can respond directly and track it all within the platform.
"Our Reputation program is so important, because it allows us to have that direct one-on-one communication, not just with potential patients but with patients and their family members," said Henson.
Henson added that her team encourages friendly competition among locations to help get staff and providers involved, and stay mindful of their Reputation Scores and the service they deliver. "Locations and divisions compete against one another for the better score," she said. "It's all friendly, but it drives them to be better in many areas, and deliver the best possible care to patients."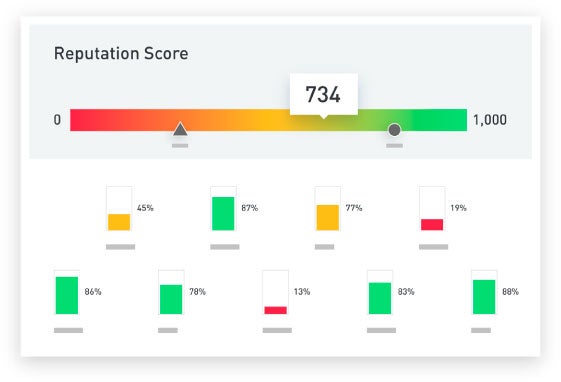 Reputation Score is the most accurate representation that we've been able to find in terms of how our story is being told and received online.
Amanda Henson
Director of Online Reputation
Management, Kindred Healthcare
Results
Reputation Score and Review Volume Increased 5-fold
Since launching Reputation and implementing its innovative program for capturing patient reviews, the company's average Reputation Score has soared to 689 and continues growing steadily every month.
"We look at Reputation Score as a direct correlation to our digital footprint," said Henson. "It lets us keep our finger on the pulse of our digital reputation. We rely on it to show us places where we can make improvements, and where we excel." Additionally, review volume for Kindred's locations has increased 500% — and the majority of those reviews are favorable. "We've been happy to find that negative sentiment isn't growing along with our review capture — but positive sentiment is," Henson said.
Henson also finds the Insights module incredibly valuable. "Reputation Insights enables us to provide our leadership team with actionable information," she said. "They use it in yearly, quarterly and monthly reporting to evaluate how each location performs in terms of online sentiment and patient experience."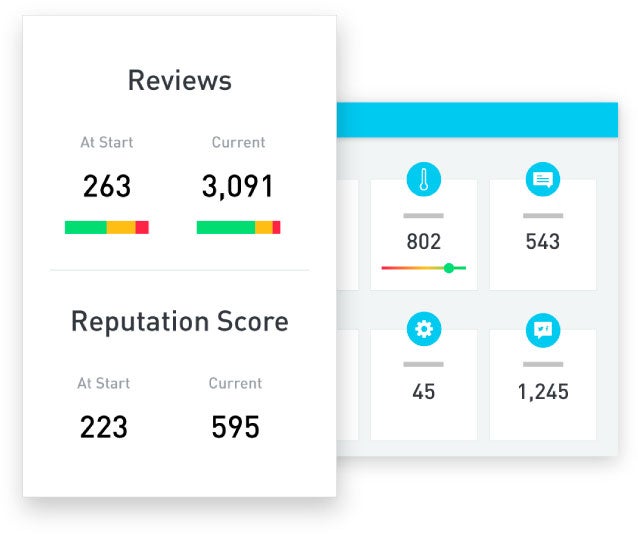 A Dedicated Success Manager Delivers Valuable Support
As part of the engagement with Kindred, Reputation has assigned a dedicated customer success manager to the account, who, according to Henson, is a valuable asset.
"My customer success manager has been absolutely integral to our success," she said. "She consistently goes above and beyond to provide all the resources and support we need to be successful, and help our providers improve their online reputation to drive new business and patient satisfaction."