Tiger King 2: Breaking Down Carole Baskin's Reputation
Brynne Ramella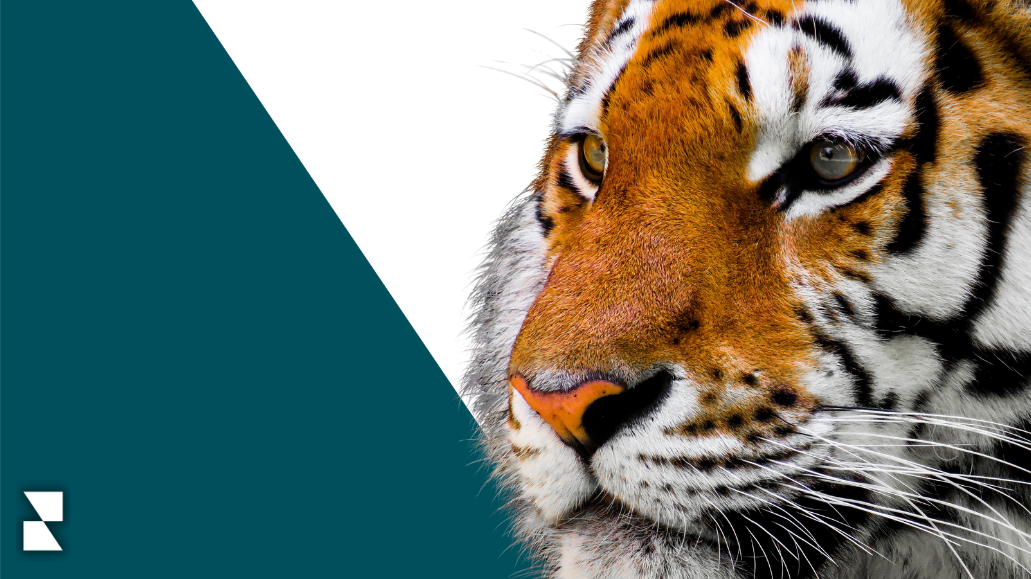 Just as COVID-19 lockdowns were sweeping across the globe in March 2020, Netflix docuseries "Tiger King" hit the platform. The series focused on the deep rivalries and feuds within a group of big cat conservationists and collectors in the US. The volatile relationship between former zookeeper Joe Exotic and owner of Big Cat Rescue Carole Baskin was the focus of the first season of the show. 
"Tiger King" Season 1 chronicled the pair lobbing insults and serious threats at each other, like the rumor that Baskin killed her missing husband or the alleged hits Exotic attempted to place on Baskin. Simply put, neither Baskin or Exotic was painted in a positive light. The first season of the docuseries concluded with Exotic's arrest and Baskin walking free. 
A curious thing happened in the aftermath of its release — Baskin became something of a villain in the confines of the show. Despite the things he was arrested for, some fans fully embraced Exotic, even if it was in an ironic sense. But fans took to social media to express negative thoughts on Baskin. 
A year ago we were all obsessing over Tiger King. I hope Joe Exotic is doing well #CaroleBaskinDidIt

— Juord (@Jduraj1) March 31, 2021
Rewatching Tiger King on the 1 year quarantine anniversary it's only right #CaroleBaskinDidIt pic.twitter.com/AA5GAnw1kL

— (@santana__4) March 28, 2021
Fans likely thought that the story was done with the first season, so Netflix breaking the news of season 2 coming in November 2021 was undoubtedly a bit of a shock. But with Exotic in jail and Baskin becoming something of a villain in the cultural zeitgeist, it was no surprise that she would become the focus of the second season. Netflix would not hold back when it came to portraying her rapidly declining reputation.  
How "Tiger King's" Audience Altered Carole Baskin's Persona
While Baskin had a negative reputation with some in the big cat community, she was largely unknown to the general public before the release of "Tiger King" Season One. That means her reputation was largely neutral going into this Netflix series. In fact, right before the release of the docuseries' second season, Baskin claimed that the streaming platform misled her with the focus of the show. She said she believed she was agreeing to a documentary that was like "Blackfish" for big cats. She's adamantly spoken out about it ahead of the release of "Tiger King" Season 2.
Carole Baskin says 'Tiger King' got 'everything wrong' about herhttps://t.co/47DtE61Chj

— TODAY with Hoda & Jenna (@HodaAndJenna) November 12, 2021
The first season of the show did a fair job objectively portraying the positive and negative aspects of each of its subjects. "Tiger King" may have discussed the rumor that Baskin killed her husband and the fact that many of her peers consider her to be manipulative, but it also covered the good and bad about everyone else. But for some reason, audience members latched onto the idea of hating Baskin in particular. 
Related: How to Improve Your Online Reputation (& Examples from Transform)
In order to give the people what they want, Netflix made Baskin more of the primary focus for season 2. The show even went so far as to chronicle phone interviews with Exotic in jail to get his take on Baskin. Fans of the show ate it up, continuing to tweet comments and jokes at her expense.
Thoughts? #TigerKing2 pic.twitter.com/VfWd8mVnrC

— Fetch Rewards = (@FetchRewards) November 18, 2021
Don't wanna hear it… Carole Baskin fed that man to those tigers

— Guallpa (@AlexG439) November 18, 2021
Some fans pointed out that the way Baskin has been portrayed morphed into something that wasn't necessarily fair.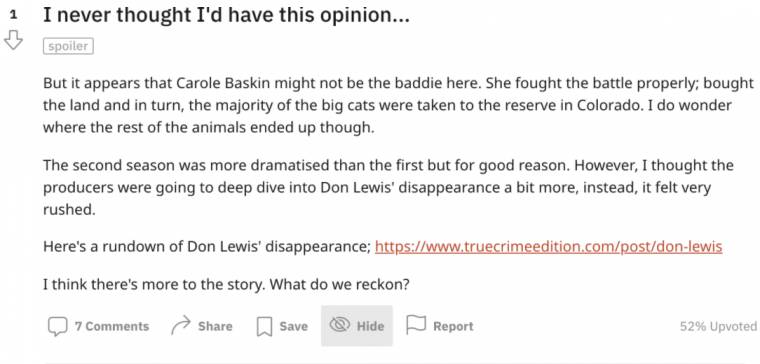 At this point, it doesn't even matter if the way Baskin was portrayed is considered to be objective or not. Her reputation has swiftly been altered beyond repair. It proves that, when you're in the public eye, your reputation doesn't belong to you. This is a lesson that's especially applicable for businesses in any industry. As CEO of Big Cat Rescue, Baskin is a businesswoman herself. That means there's a chance that the narrative surrounding her appearance on "Tiger King" may have impacted her business's reputation, in addition to her personal one. 
Customers are in Charge of Your Brand
There's a business lesson hidden within the rapid downfall of Carole Baskin's online reputation. When she joined "Tiger King," she essentially gave her reputation over to Netflix's viewers. The same could be said for businesses with a healthy amount of customers. No matter how good your intentions may be, the way you are perceived is ultimately decided by those who consume your product or service. 
Thanks to social media, customers can easily discuss everything about your product with each other constantly. Those comments are visible to anyone. As consumers tend to conduct online research before making a purchasing decision, seeing these negative comments can push them toward doing business with your competitors. 
But your business doesn't have to see its reputation slide as rapidly as Carole Baskin's did. Implementing a strong online reputation management program can help you to win back some of the narrative around your brand. Whether you like it or not, your customers are going to be talking about you online. So why not harness the voice of your customers to become advocates for you? As we previously wrote, monitoring and requesting customer reviews and enlisting those consumers to share positive experiences can pay off immensely. Take advantage of that before it's too late.
Keep Reading: How to Raise Your Online Reputation Score