The Feedback Economy and What it Means for Healthcare
Celine Patterson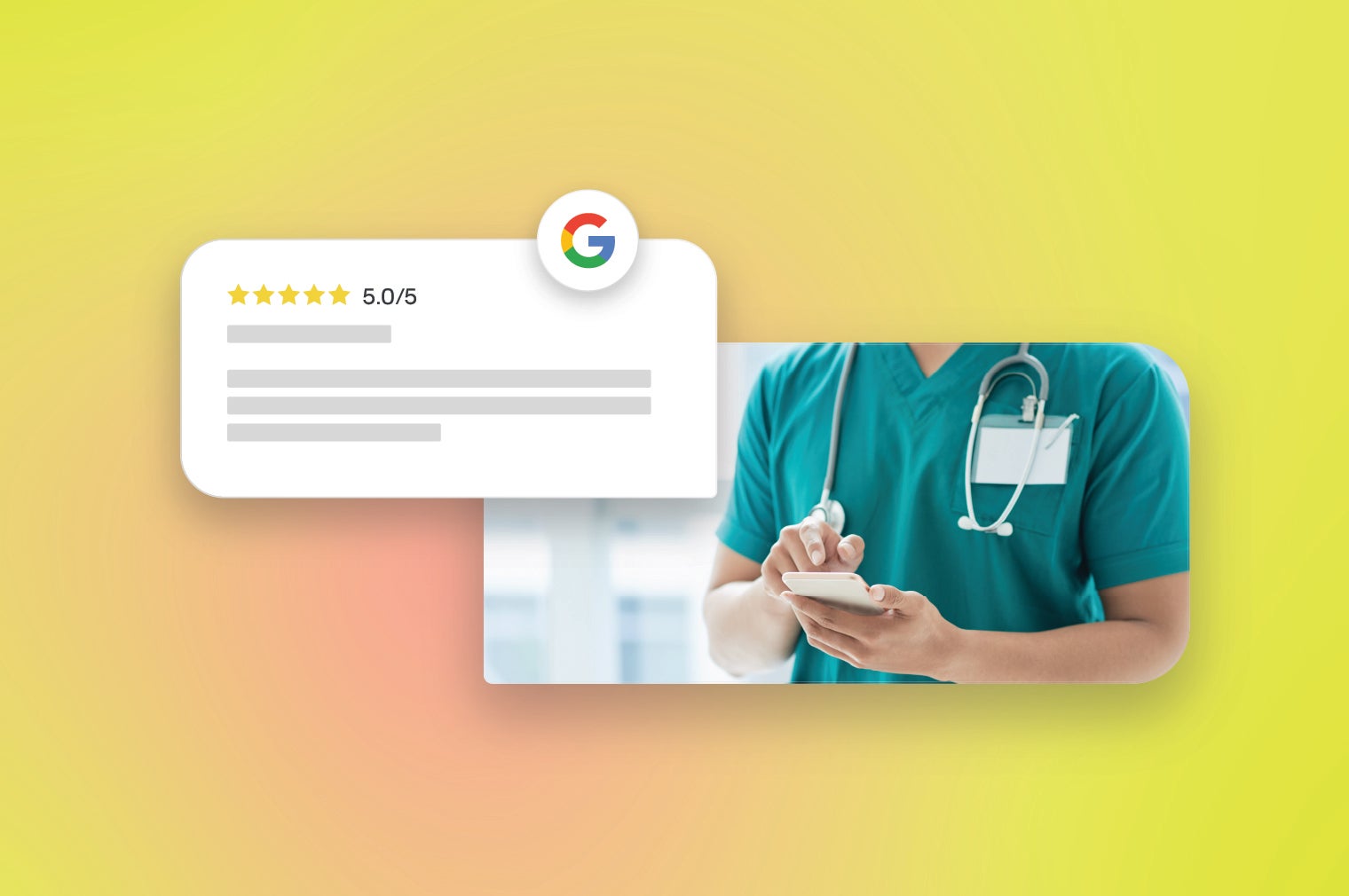 The feedback economy drives purchasing behaviors, from reading reviews about a new pair of sneakers to finding the best local pizza. Now, this same behavior is driving healthcare selection, one of the most important life decisions a person can make.
Ratings and reviews are the currency of today's feedback economy. According to the 2022 Healthcare Reputation Report, three out of four U.S. adults read online ratings and reviews when deciding on a healthcare facility and/or physician. They also want the facility and/or provider they choose to be rated 4 out of 5 stars or higher.
With this consumerization of healthcare, brands are becoming increasingly focused on a consumer-first approach. Providers are learning how to use this online feedback as real-time signals to improve every aspect of the patient experience. But listening to patient feedback is no small task. That's because feedback can come from anywhere, such as provider/physician websites, healthcare-specific sites, social media, and Google. In fact, Reputation research shows that Google is the most popular source for searching for care – and the number one review site.
The Importance of an Omnichannel Feedback Anywhere Approach
The most progressive healthcare brands consider multiple feedback sources – both private and public. Private being internal first-party feedback sent to a specific population, such as CAHPS surveys. What your patients and employees are willing to say to you. And public being external third-party feedback, such as online reviews, provided by a larger population. What your patients, caregivers, loved ones, and employees are willing to say about you. 
The beauty comes when brands bring both sources of feedback data into a single feedback hub, enabling them to holistically understand the "voice of the customer." 
What exactly is happening across the continuum of care? Within the clinical setting? When a patient is trying to schedule an appointment or verify insurance? What about paying a bill? This gives brands the most complete picture of the "macro" trends impacting their consumer preferences, as well as the "micro" view of the experiences they are receiving at every touchpoint.
Le Quiche Singletary, Customer Service Manager at Pediatric Associates, does just that. Her team could easily look at just the top negative themes presented in their patient surveys and make assumptions on what trends are impacting the consumer experience; however, when they couple this with other sources of feedback, such as Google reviews, certain themes increased, some themes stayed the same, a few fell back, and a few new themes emerged. " You need both – it gives you a rounded overview of how things are really going. You are introduced to new elements that you may not have thought about or potentially miss out on a lot if you just kept to one source," she explains. Had Pediatric Associates looked at their data in silos, they would not have been analyzing the true "voice of the customer" and would have misidentified areas of friction within their consumer journey.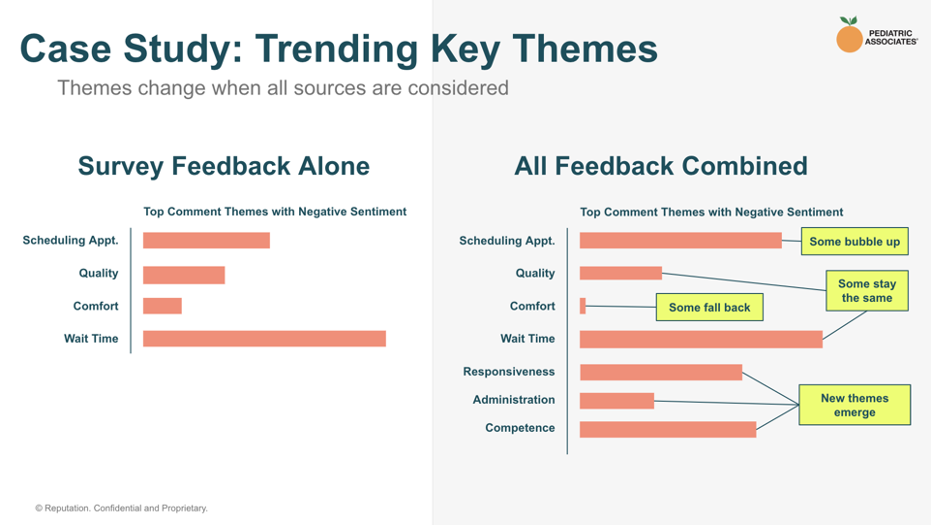 How Reputation Can Help
At Reputation, we know from experience that feedback fuels growth. One of the reasons why our clients come to us is that we provide the only software platform that manages and drives feedback that generates both acquisition and loyalty. 
On the acquisition side, we help you to drive awareness, such as generating more leads and increasing the visibility of your physicians and service lines. We also help with conversions, such as driving more revenue, increasing patient volumes, and enhancing access to care. 
On the loyalty side, we help you focus on driving retention by keeping patients in-network within your system of care, as well as advocacy, which is increasing referrals and getting patients to share their experiences with others.  
Above all, experience improvements are at the heart of what the healthcare industry focuses on. With the insights that Reputation provides using artificial intelligence and natural language processing, our partners can break down data into a granular level across all sources of feedback. A solution that provides transparency and action where and when it matters.
To create a great patient experience through a unified platform,
contact us
. Learn more about our healthcare expertise
here
.