Q&A With Joe Sinkwitz: Networking Influencers to Take Digital Marketing Into the Future
Reputation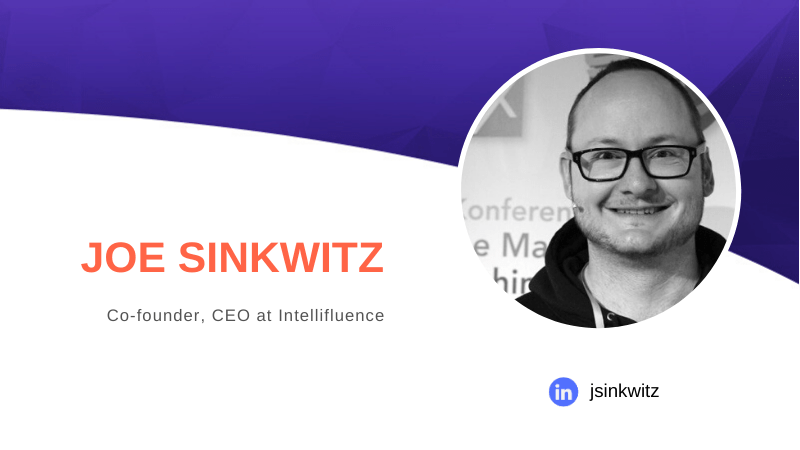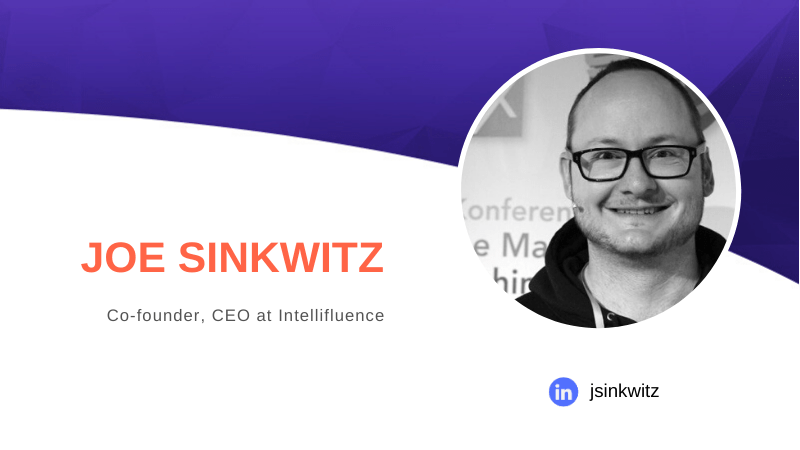 Joe Sinkwitz has been in the digital marketing industry since its earliest days. He discovered influencer marketing a few years ago while working with a client and has built a platform, Intellifluence, to match influencers with brands. You can follow Joe on LinkedIn or visit the Intellifluence site here. 
How would you define influencer marketing?
Influencer marketing is having someone else who is influential tell your story for you. It's like word of mouth, but online on social media or blogs instead of on TV or radio. We've formed an influencer network with 76,000 members that are interested in advocating for brands and agencies. We essentially play the role of an elaborate matchmaker for them through the platform.
How did you become a top influencer marketing expert?
About four years ago, I was working with a client who, because of the industry, was prohibited from advertising on Adwords or using Facebook ads. The only real way to get decent traffic was to use influencers who would share things about the client on social media.
This method proved  very effective, and when I looked at others who were offering influencer marketing as one of their services, I noticed they were all very expensive compared to what they were actually offering. So we decided to start offering the service ourselves and working on the software to create the network as a more affordable alternative.
What has your experience with online reputation taught you about how to prevent problems in that area?
Prior to 2010, there seemed to be an assumption by Google that all websites were basically positive unless they proved themselves not to be. After 2010, that assumption shifted to assuming websites might not be good, which put more of an onus on site administrators to prove that they are good, positive and authoritative.
Reputation management as an industry grew out of this need to strategically solve problems that brands were having, which followed the same basic pattern of promoting positive press.
What do you advise companies to do to improve or protect their online reputations?
The first thing you can do is to own all of your namespace, including social profiles, Google business pages, domains that you own, and of course, websites. Next, you can update these pages regularly and provide a moderate amount of information on them. Some larger companies with multiple locations and sites aren't even aware of all the domains and sites they own, which makes it difficult to keep up with the information being put out there about them.
How important is content to digital marketing?
Having positive content on authoritative sites is vital for reputation management. You need great content on your own sites, as well. Linkage is great, but it's not enough on its own and can also be unpredictable at times.
What kind of content do online customers seem to crave in order to build trust with a company?
The best advice for content is to throw a wide net first and then focus more closely on what you can most effectively catch. There is no one right answer to what kind of content customers will look at as trustworthy.
Brands should use as many different mediums as possible, because you're never sure which medium a particular customer is going to choose. It might be creating short-form content on LinkedIn or detailed content on YouTube that you then embed within a blog post. There are lots of options, and I'm a believer in working your narrative and the story you want to tell into each medium. The data you gather will then direct your efforts to what's most worthwhile.
Has your business seen any impacts from the current coronavirus outbreak, and how can marketers respond effectively to the current threat and the shutdowns it has caused?
The coronavirus outbreak has resulted in substantial disruption to the digital marketing budgets of small businesses. On a typical week, we are able to convert 75% of all demo calls into a paid subscription, but within the small to medium business (SMB) segment that dropped to zero as 1-in-2 SMBs we were speaking with didn't know if they'd be able to re-open once the crisis is over.
What we can do as marketers is help; Intellifluence as a whole has continued to grow within our enterprise market, so we have been attempting to give back to the small business community by offering SMBs a break during this difficult time. To do so, we launched our charitable initiative to give all those impacted SMBs a no-strings-attached free account. More info on that here: https://intellifluence.com/blog/charity-initiative
Further, the Digital Marketers Organization (DMO) will be launching a similar initiative to provide free marketing services to coronavirus-impacted businesses by DMO member vendors. The DMO was specifically designed to be a low-cost solution for digital marketers to connect, grow, and learn from one another. It seems now more than ever that this type of service is critical, so we've decided to make the DMO free to all members until 2021. We felt it was the right thing to do, given the situation. Our goal now is to do a massive outreach campaign and partner up with entities that can help us grow and further the cause.
This interview has been edited and condensed.
Want to learn more about how to manage your brand reputation during the COVID-19 crisis and beyond? Visit Reputation.com and access our COVID-19 Resource Page today.