Property Management Reputation Report
Adam Dorfman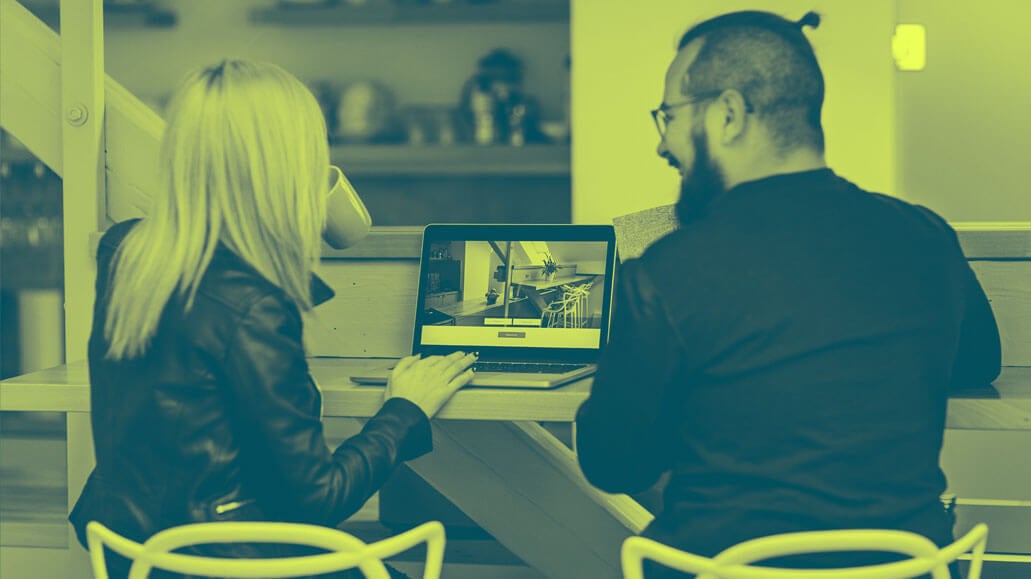 Executive Summary
Why This Matters
Online review and social media sites have quickly become an integral research tool for renters seeking a new place to live. Entrata found 94% of residents looking for an apartment read online reviews during their search.
Given this trend, top property management companies are proactively managing their online reputations and leveraging technologies that help them stay on top of thousands of tenant reviews across hundreds of review sites.
Systemic insights into what tenants value
Reputation.com's Property Management Reputation Report provides property managers with deep insights into what aspects of the rental experience tenants value most, and where to focus efforts to improve tenant experience, deliver better reviews, and attract and retain more tenants.
Insights Gleaned from Over Two Years of Review Data
Methodology
For this report we analyzed data on tenants' rental and living experiences at over 9,000 apartment-style residential locations across the U.S.
We applied artificial intelligence, machine learning and sentiment analysis to unstructured text in over 400,000 tenant reviews on popular review sites in the U.S., including ApartmentGuide.com, ApartmentRatings.com, Apartments.com, Facebook, Google and Rent.com.
Our technology parsed tenant sentiment into 25 distinct categories of experience, as shown in the table on the next page.
WE ANALYZED DATA ON TENANTS' RENTAL
AND LIVING EXPERIENCES AT OVER 9,000 APARTMENT-STYLE RESIDENTIAL LOCATIONS ACROSS THE U.S.
TENANT REVIEWS ANALYZED, USING
ARTIFICIAL INTELLIGENCE
Categories of Tenant Experience Analyzed
| | |
| --- | --- |
| Category | Description |
| Administration | Administrative process (setup, paperwork, efficiency, clarity, etc.). |
| Affordable Housing | Housing deemed affordable to those with a median household income, as rated by the national government or a local government by a recognized housing-affordability index. |
| Appearance | The appearance of the facility, entryway, and social spaces, such as a waiting area, coffee bar or play area. |
| Building Amenities | Communal amenities, such as availability of a pool, gym, trash collection. |
| Customer Service | How staff treat renters/tenants. |
| Customer Support | Support provided by phone or online. |
| Front Desk / Lobby | Front desk, lobby and staff. |
| Location | Convenience of the location and proximity to highways, public transportation, schools, hospitals, grocery stores and public services. |
| Maintenance | Construction or maintenance staff. |
| Move In / Move Out | The process of moving in or moving out. |
| Neighbors | Experience dealing with or overall assessment of neighboring tenants. |
| People | Specific people. |
| Pest Control | Pests or pest control. |
| Pets | Pets or policies regarding pets. |
| Policies / Procedures | The property policies or legal procedures. |
| Privacy | Privacy of the personal space and of the complex. |
| Property Owner / Landlord | Property owners, landlords or lessors. |
| Quality | Ability to resolve issues and provide quality workmanship in repairs. |
| Quietness | Ambient and/or inter-apartment noise. |
| Rent | Pricing and fairness of rental properties. |
| Rental Office | The rental or leasing office and associated staff. |
| Safety | Building and unit safety and security design and services. |
| Speed | Efficiency at addressing issues. |
| Surcharges | Additional charges for utilities, added privileges and other maintenance charges. |
| Unit Amenities | Availability and quality of in-unit amenities, such as a washer/dryer, stove, microwave, fridge, electricity, etc. |
Key Findings
Our analysis yielded the following key findings:
It's Better than We Thought. The state of property management is surprisingly positive — 86% of all reviews rated properties 4 or 5 stars.
Ratings Are Up! The average star rating on Google has risen from 2.9 in 2014 to 3.7 in June 2018. Collectively, the reviews we analyzed had an average rating of 3.9. More than 250,000 of the reviews had comments and, of those with comments, the average rating was 3.8.
Google is Overtaking Specialty Sites. Google is on its way to becoming the dominant source of reviews. The volume of Google reviews for the locations analyzed has grown by 60-100+ percent for each of the last five years, and by the end of 2018, Google will have more reviews for these properties than any other review site. However, reviews on Google are slightly more critical than on specialty sites.

Service Reigns Supreme.

People commented most on servicerelated categories, such as staff, maintenance, pest control, and responsiveness.
Comments left about the top-rated properties centered around service and community, not the facilities.
What Do Tenants Talk About Most Often?
Service, Please
Property Management is about real assets — but what tenants are commenting about online is overwhelmingly about the service they receive at the properties — during move in/move out, or while they're living there.
Over 150,000 — or 60% — of reviews with comments mentioned Customer Service.
In fact, three of the top five review categories were related to service levels: customer service, rental office and maintenance.
Distribution of Comments by Category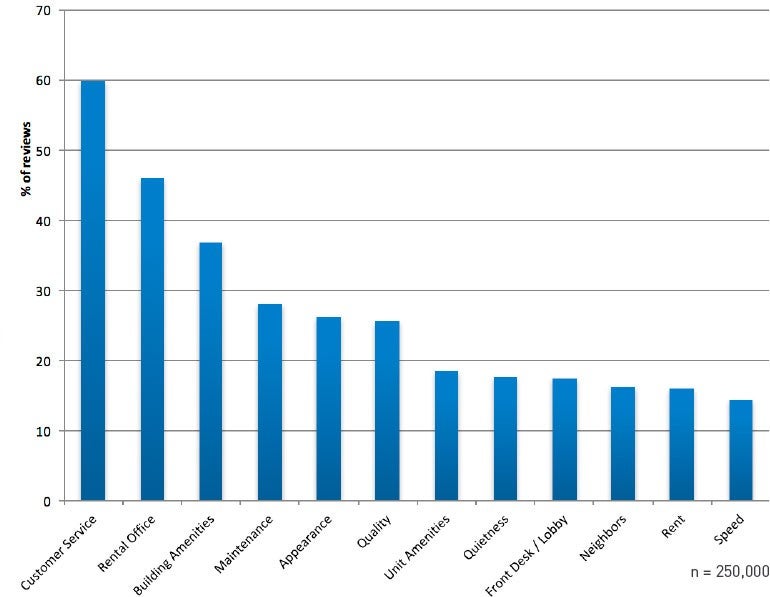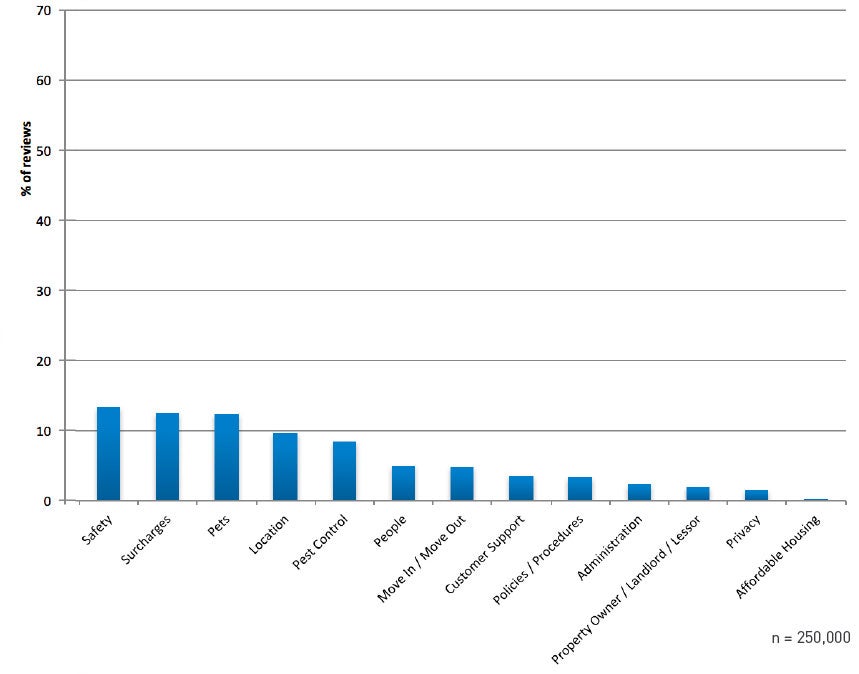 Good Dwarfs Bad
The biggest surprise on the service front? Positive reviews about Customer Service dwarf the negative ones, by a ratio of 2:1. 35% of all reviews analyzed included a positive comment on Customer Service, while less than 17% included a negative comment.
Positive and Negative Distribution of Comments by Category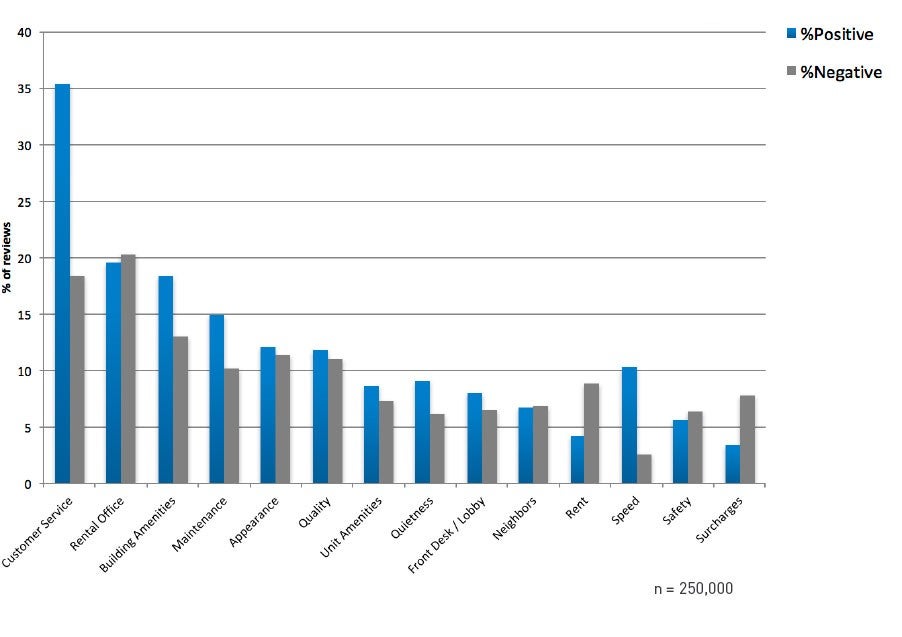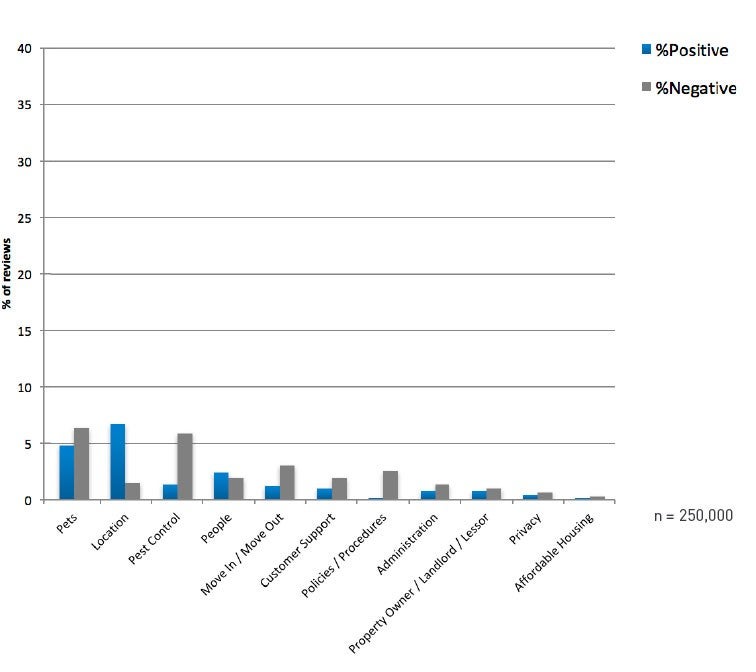 What's the Word?
A fast way to assess what tenants find important about properties is to look at a visual representation in the form of a word cloud.
Below is a word cloud showing the words that appear most commonly in comments for 1-star and 5-star property reviews. The larger the word, the more frequently it appeared in reviews.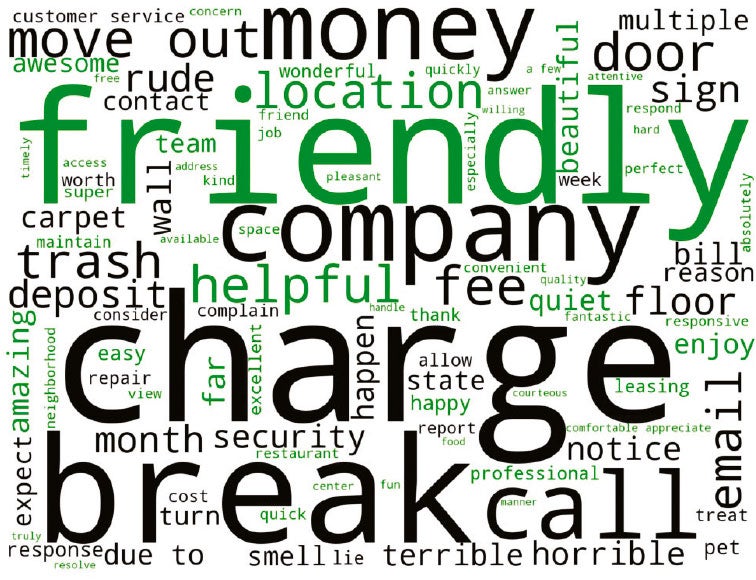 Green is positive, black is negative
The words in black are the most common keywords found in negative reviews, while the words in green are the most common keywords found in positive reviews.
The Good…
The following words are much more likely to appear in reviews about toprated locations than locations with poor reviews:
Event, activity, community, market, shop, helpful, amenity, pet-friendly, walking distance, grocery store, maintain, neighborhood, team, staff, gym, luxury, environment, pool, feel/feeling.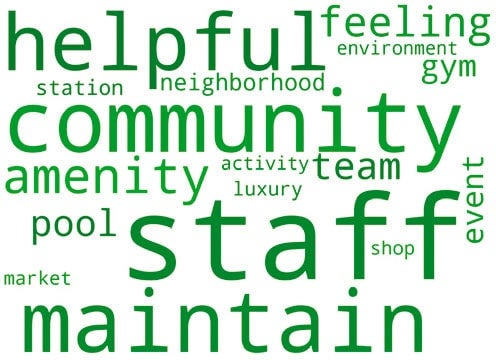 The Bigger, the Better
In this word cloud the size of the word indicates the relative likelihood of that word appearing in reviews of the most highly-rated locations (top 10%), compared to poorly-rated locations (bottom 10%).
A sampling of sentiment from happy tenants:
I love it here
Nino was really helpful and accommodating
Maintenance is exceptionally courteous and quick
Pet-friendly, with doggy park and wash station
Just so friendly and helpful
LOVE LOVE LOVE this place
Good place, with good staff!!!
The categories where negative perception was notably more prominent include: Rent, Surcharges, Pest Control and Move In / Move Out.
The Not So Good…
The following words are much more likely to appear in reviews about the worst-rated locations: Hole, roach, mold, lie, refuse, bed bug, deposit, charge, damage, smell, fee, leak, break, money, pay, fix, day notice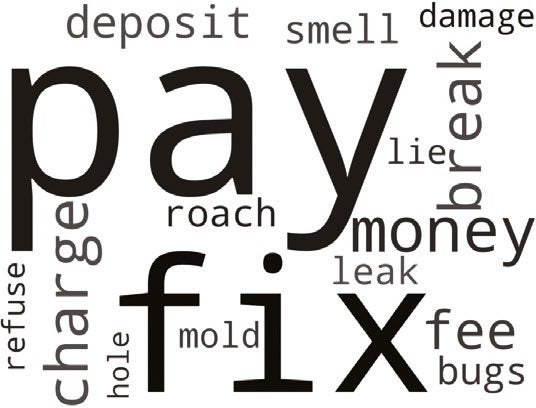 Big Problems
In this word cloud the size of the word indicates the relative likelihood of that word appearing in reviews of the most poorly-rated locations (bottom 10%), compared to highly-rated locations (top 10%).
A sampling of reviews from less-than-happy tenants:
They try to intentionally annoy their residents
I've had electrical outlets explode
The ladies in the office are mean
MOLD MOLD MOLD
I was scammed by someone who is dating the maintenance manager
The maintenance team did more damage to our unit than we had in the 8 months we had been living there
I will not live with scorpions
Findings from our analysis indicate the importance of service, community, environment and location.
Recommendations
Provide Fast, Friendly Service
Words related to good service — helpful, community event, friendly — appeared most in positive reviews, whereas words related to poor service — mean, annoying, scam, money — appear frequently in negative reviews.
The implication is clear: A focus on good, fast, courteous service will lead to more positive reviews; neglecting service levels will result in negative reviews.
Understand Community Matters
Our analysis of reviews for the top-rated locations revealed that tenants' desire for community trumps their affection for amenities. While it doesn't hurt to have a gym, pool, clubhouse, free shuttle, dog park, or even a 5-star restaurant on-site, people want community-building activities and events, such as fitness events, live music, arts and crafts, movie nights, potluck dinners, family pool parties and so on.
This is good news for property owners challenged with small lots, low operating budgets or strict building codes. Property managers can foster community and plan events for tenants, regardless of such limitations.
Get Rid of Pests
Many of the negative comments centered around pest problems, which, for the most part, are easy to control. Eliminating this issue by enlisting the help of a good pest control provider can help improve tenant sentiment and eliminate negative comments about roaches, ants, rats and so on. It's an easy step to take — with potentially dramatic impact on ratings, rankings and customer retention.
Conclusion
Analyzing comments from online reviews reveals actionable insights that property managers can use to increase tenant satisfaction, offer a better living experience, attract prospects and, ultimately, increase occupancy rates and net operating income.
Next Steps
Effective online reputation management can help you command higher rents, increase occupancy rates and reduce turnover. Contact us to learn more.