How To Manage Unhappy Employees
Brynne Ramella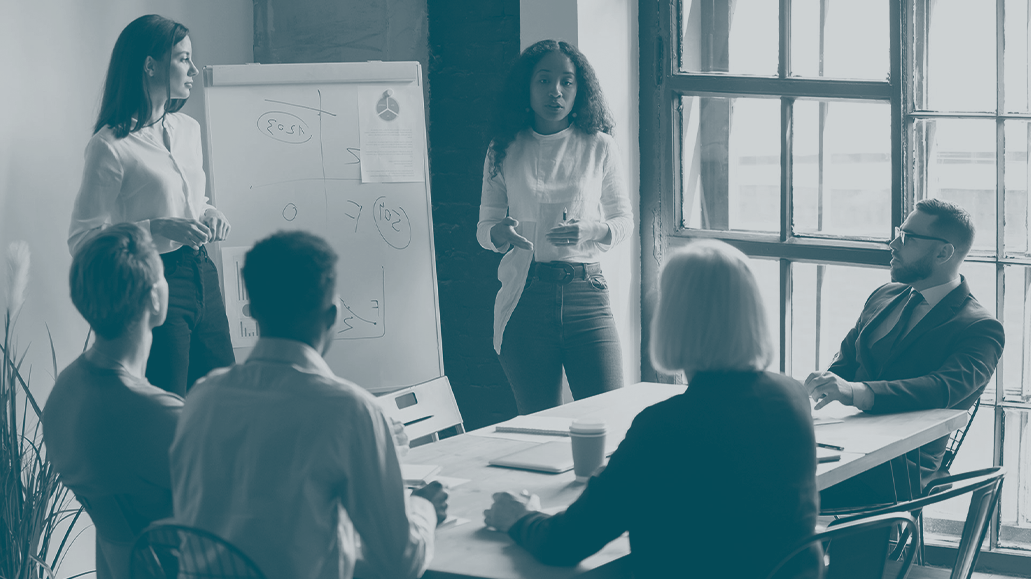 Learning how to manage unhappy employees is a necessary component of running a successful workplace. More and more people are becoming unhappy with their work.
According to an October 2020 Gallup report, 51% of employees are disengaged in the workplace. The coronavirus pandemic has only elevated that. As NPR reported, April 2021 saw a record-breaking four million people quit their jobs.
But understandably, lifting miserable employees' spirits can be a bit of a challenge. But with the right strategies in place, you can easily boost workplace morale. In this article, we'll cover the following sections to help you learn how to improve the employee experience:
What are Signs of Unhappy Employees?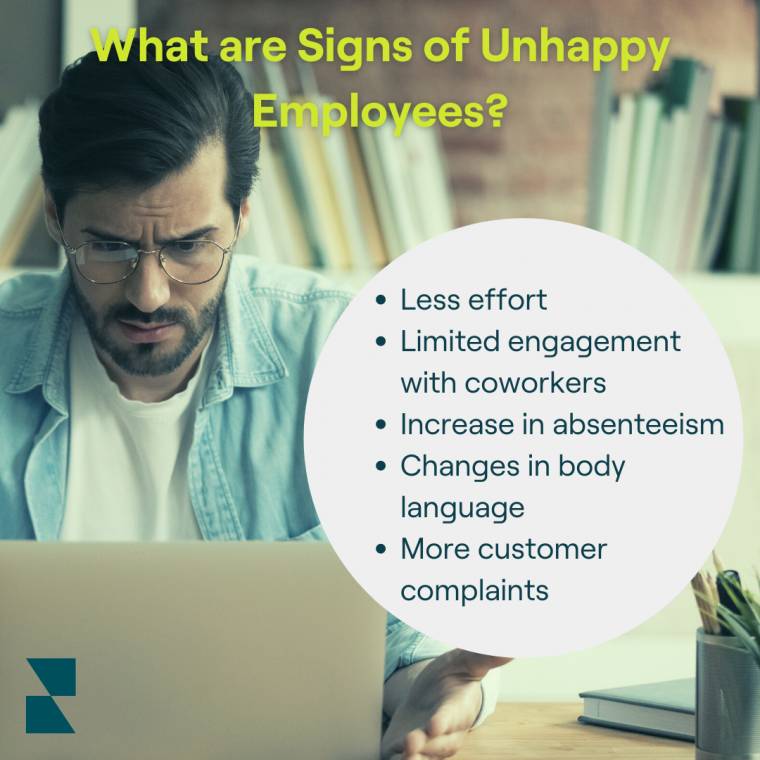 If you're worried about the employee experience within your organization, your HR team needs to keep an eye out for the following signs:
Less effort
Limited engagement with coworkers
Increase in absenteeism
Changes in body language
More customer complaints
Less effort — An employee who truly loves his or her job puts in the effort — a sad employee does not. Team members that are interested in advancing in your organization will likely go above and beyond their job responsibilities. But if you have an unhappy team member, you'll likely notice that person do the bare minimum. This is a clear sign that the worker in question has lost interest in the work.
Limited engagement with coworkers — Part of what makes office life great is engaging with colleagues. Naturally, people tend to make friends in the workplace. However, you'll likely notice that unhappy employees in the workplace will begin to pull back. If an employee who once regularly took part in conversations on Slack or after-work activities no longer does so, it's a clear sign of someone who is no longer satisfied with their job.
Increase in absenteeism — Employees should regularly take PTO for their mental health. But if workers on your team begin to request time off frequently, that's a sign of a problem. That likely means that the employee in question has a hard time being in the office or focusing on work, which could lead to their resignation.
Related: Why Your Business Needs an Employee Social Advocacy Program
Changes in body language — Sometimes an employee doesn't have to say anything at all to prove how unhappy they are. If you notice that an employee's body language or visual signals have drastically changed, it may be a clear sign that they are not happy in their role. Cues such as frowning faces, a depressing tone of voice, or even falling asleep at their desk will prove you have unsatisfied employees on your team.
More customer complaints — If an employee is unhappy enough, it's going to start impacting their job performance – that's where you'll get into trouble. If your customer satisfaction team begins to receive an influx of customer complaints about an employee, particularly when they had never received them before, it is a clear sign that the employee has mentally checked out of their role. Your business
What are Questions to ask an Unhappy Employee?
Once you've recognized that you have an unhappy employee, it's time to take action and ask the right questions, such as:
Is everything okay?
Are you feeling challenged in your role?
What are you enjoying about your work?
What can I do to continue to support you?
Set some time to sit down with that worker so you can dig into how they're feeling about the employee experience at your organization. Consider asking the following questions so you can get an accurate read on the question.
Is everything okay? Without pressing too much into the worker's personal life, there's no harm in a human resources representative asking how he or she is doing at the moment.
There might be something happening outside of work that's impacting the way they present themselves in the office. With this knowledge, you can accommodate if needed.
Related: Corporate Identity and Branding: Techniques for Businesses
Are you feeling challenged in your role? Consider the fact that your employee may not be unhappy — he or she might simply be bored. If someone doesn't feel any challenge to work toward, they'll likely become disengaged with their work. Have another conversation with that worker to see where there are more opportunities for advancement and employee engagement for that person.
What are you enjoying about your work? Identify what makes your employee happy. See if there is a way to strike a balance of the work they enjoy against the work they find a bit more tedious. Employees will perform better if they enjoy the tasks they're doing.
What can I do to continue to support you? Let your employee know that you are there to support them, no matter the situation. It could be a difficult process or a conflict with another employee that is making them upset. Asking where you can help can easily mediate the issue and turn workplace morale around.
How Do You Motivate Unhappy Employees?
If simply asking the right questions doesn't change your disgruntled employee's mindset, use positive actions to motivate them to perform better.
Offer recognition where you can. HR leaders should give workers a shout-out when they go above and beyond the call of duty. Giving a team member praise, particularly in front of the whole team, will make individuals feel valued and appreciated.
That recognition can be anything from an award to verbal praise. If an unhappy employee begins to feel more like a valued member of the team, you'll likely see an improvement in their work.
Ensure your workplace is employee-friendly. Take extra measures to ensure you don't have a toxic company culture. As employees begin to re-enter physical offices, a flexible schedule is one of the most highly sought-after traits in an office, as it gives people the freedom to adjust their commute and handle personal appointments when needed.
Perks like a casual dress code, programs to support being an ally in the workplace, and opportunities for continued education can also demonstrate that you value a long-term, positive employee experience and respect their time and aspirations.
Create a feedback loop. Establish a policy of honesty and openness focusing on the employee journey and performance management. That way, engaged employees will feel comfortable sharing their opinions. Sometimes this calls for a non-biased third-party facilitator. Consider leveraging a referral to find the facilitator who is best aligned with your business objects and has the same relevant experience.
Related: Q&A with Berrak Sarikaya: Helping Brands Find a Unique Voice
How Reputation Can Help You Improve the Employee Experience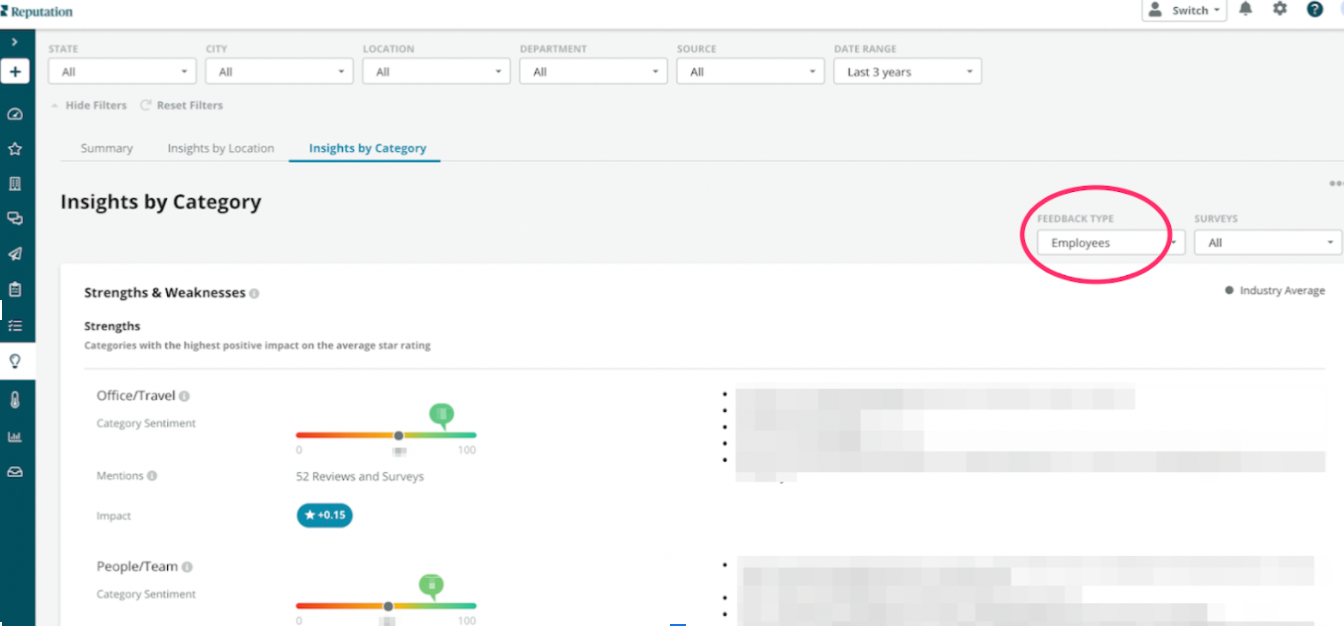 Both satisfied and unhappy employees leave feedback everywhere — Glassdoor, Twitter, Facebook, and more. Reputation raises the voice of the employee (VOE) by helping you to take a look at that feedback. We do so by embracing the current paradigm change for traditional voice of the employee methodologies. In the same way that our platform offers you insight into customer feedback, we can do so with employee feedback.
Historically, companies have relied on long and thorough employee satisfaction surveys, such as a pulse survey, to solicit feedback from employees. Those surveys take time to administer, more time to comb through results, and even more time to act on that data. By the time that happens, the data is essentially obsolete. Reputation is embracing real-time, always-on tactics similar to those used in the customer experience field to avoid that bottleneck.
We can leverage employee feedback the same way we help you gather customer feedback. Reputation can help your organization look at what employees are saying on review websites, such as Glassdoor. With our acquisition of Nuvi, we can also help you to leverage the power of social listening so you can see what employees are saying about your brand on social media. The best part is that you can access all this data in one place — the Reputation platform.
You can take this data and act on it in whichever ways allow you to both perform online reputation management and manage unhappy employees. Implementing VOE programs not only benefits unhappy employees, but happy ones as well. If you attract and retain the best, you'll have happy customers.