Weathering the Storm: How the Hospitality Industry Can Handle COVID-19
Reputation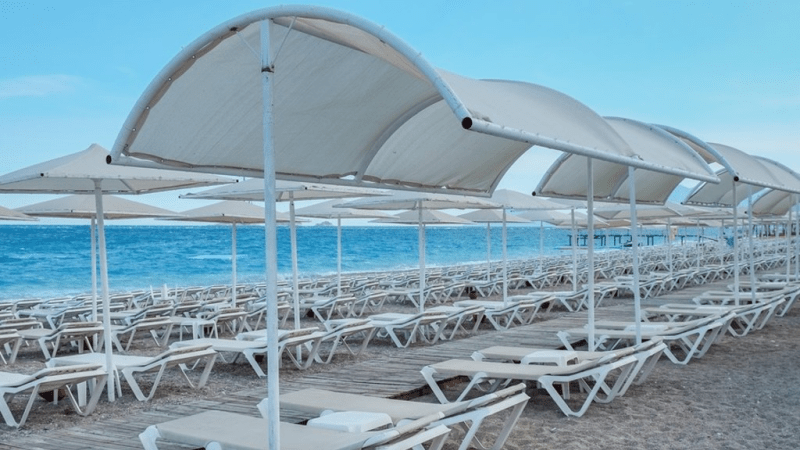 The COVID-19 pandemic has significantly impacted the hospitality industry. As travel and tourism have drastically declined, the need to innovate in a constantly changing landscape has increased.
Many factors affect the market. Lockdowns, hotel vacancies and event cancellations all prevent industry growth. For example, a recent market report revealed Mariott International experienced a decline in occupancy of around 25% in March 2020. This is 45% less than during that same month in 2019.
The hotel industry has been particularly impacted, as seen in this graphic from the American Hotel & Lodging Association.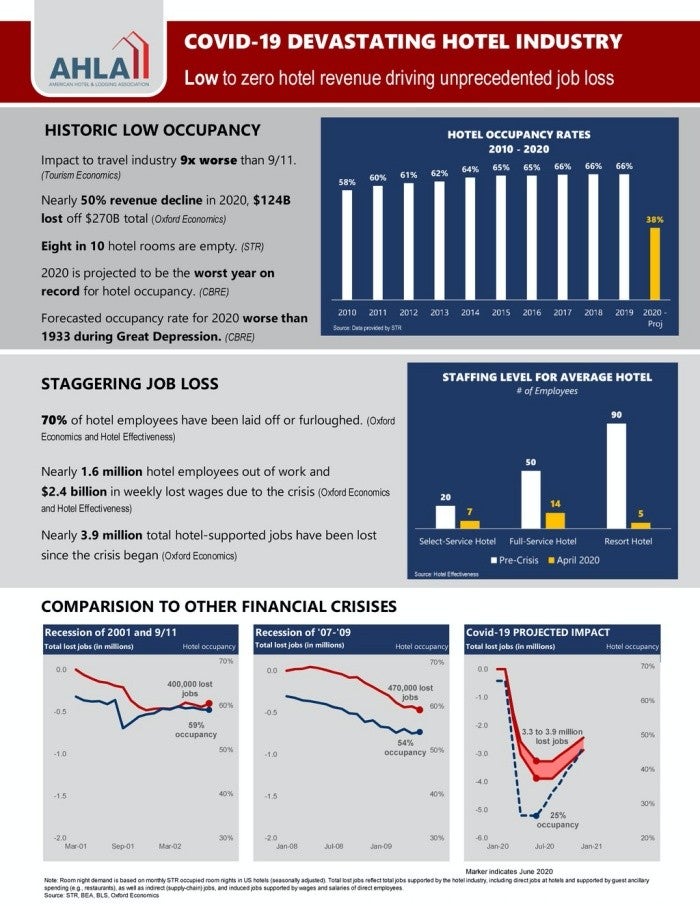 Those who work in the hospitality industry face two major dilemmas: The possibility of a customer or employee contracting the coronavirus and the loss of profits. Fortunately, there are steps businesses can take to provide COVID-19 communication and weather this storm.
Check with your insurance provider to determine how a major disaster or business interruption is defined in your policy. This will differ from one provider to another, but it is an inquiry many insurance companies may be facing during this global pandemic.
Companies who handle travel insurance may not consider COVID-19 a coverable event. Since news of the pandemic is everywhere, insurance providers may assume travelers are aware of potential implications and disturbances. Hotels and other lodging businesses should advise patrons to check their own insurance policies so there are no misunderstandings.
Conserve cash to plan for sporadic reductions in revenue. Consider a short-term line of credit if needed, and prioritize expenses.
Temporarily remove nonessential costs such as entertainment until the COVID-19 threat has lifted.
Meet with stakeholders to plan new COVID-19 communication strategies. This will help you determine how the COVID-19 pandemic might impact your business.
Keep up the morale of your employees. Your team may need assurance along the way. Effective leadership will result in a positive experience for your customers.
How Restaurants Are Overcoming Challenges
Restaurants are also experiencing unique challenges during the COVID-19 pandemic. A recent Reputation.com report revealed how foodservice has been affected now that more people are ordering meals via carry-out or delivery. The process was unclear at first, prompting some customers to call in orders. Because of this, phone clicks from business listings spiked mid-March but began to decline near the end of the month.
This decline most likely occurred because customers became acclimated to ordering online. Many may have also received answers to preliminary questions through social media or other digital channels.
Business listing impressions also declined, even bottoming out before the first of April. These refer to views resulting from click-throughs from the Google 3-pack or Knowledge Panel.
Customers are finding business listings to be reliable during this time of frequent change. Special operation hours and no-contact delivery availability are prompting questions that can be answered easily by checking these listings. This means that it is especially important for restaurants to perform regular social media management to engage with customers and keep business listing current.
Check out our Managed Services for Google offering to see how Reputation.com can help with that.

The need for increased vigilance in customer communication will likely continue well beyond the end of stay-at-home orders in multiple states. For instance, a Technomic survey found that 56% of consumers feel that they delay returning to their standard practice of dining out for more than a month after restrictions are officially lifted.

This reluctance is likely due to concerns about the safety and cleanliness of eating establishments in the post-COVID-19 world. Restaurants that emphasize the efforts they are making to maintain safe, sanitary conditions will likely see consumers come back more quickly than those restaurants that fail to communicate their sanitation plans.
Improve Communications Across the Board
The hospitality industry can improve customer COVID-19 communications by using valuable tools such as GMB listings, social media and company websites. Include all relevant information pertaining to business operations so customers know when your business will be reopen and how they can access products.
Read customer reviews and be available to answer questions. By responding to inquiries and complaints, business owners can increase customer engagement and help build brand loyalty.
Want to know more about how to effectively communicate with customers during COVID-19? Check out our Business Continuity bundle and access our COVID-19 Resource Page today.