How Google is Fighting TikTok
Adam Dorfman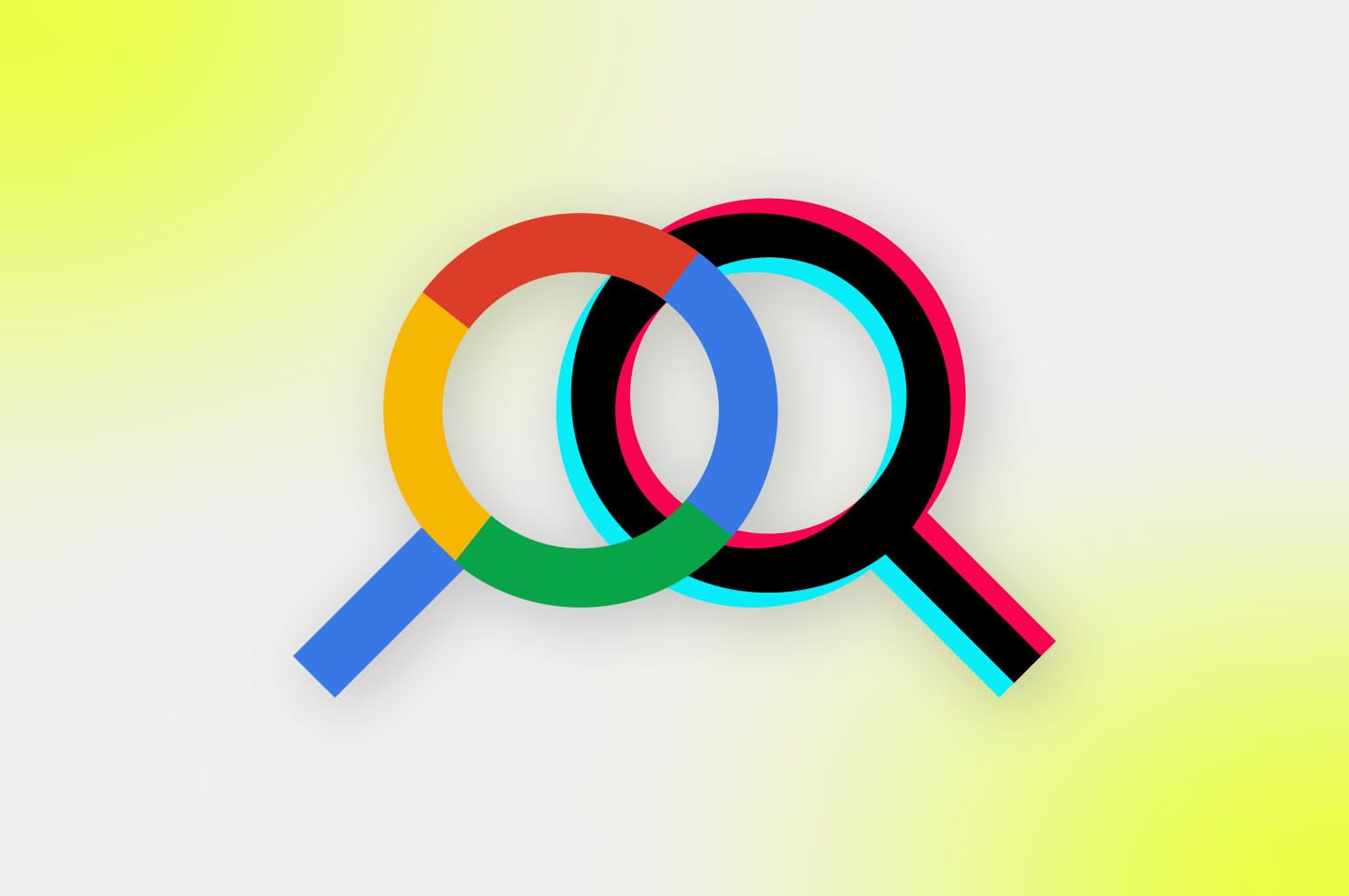 Google has a TikTok problem.
Google's leadership of the search market remains incredibly strong. Google Search and YouTube (owned by Google) rank Number One and Two as the most commonly used search engines. Google Chrome is the most popular browser in the world. Google Maps is the most popular wayfinding app. Google also commands the largest share of online advertising.
But this doesn't mean Google is invincible. The rise of TikTok is a case in point.
Since launching globally in 2018, TikTok has become a powerful advertising machine. The app has more than 1 billion users. Two-thirds of American teens use the app, and one in six say they watch it "almost constantly," according to a Pew Research Center survey. TikTok is on course to earn more than $5 billion in ad revenue globally in 2022.
Meanwhile, Google has seen its share of the online advertising market decline, as reported recently in Axios. TikTok, although not the primary reason for Google's declining market share (Amazon is a bigger threat from an online advertising standpoint), is a reason. TikTok has also exposed some weaknesses for Google in terms of how people search and engage with content – especially when it comes to Gen Z.
How We Search Today
At a recent conference, a Google executive went on record as saying, "In our studies, something like almost 40% of young people, when they're looking for a place for lunch, they don't go to Google Maps or Search. They go to TikTok or Instagram."
This was an intriguing admission from a company whose YouTube app has been battling TikTok, especially for leadership in the video space. Insider Intelligence predicts TikTok's advertising revenue will overtake YouTube's by 2024.
TikTok isn't the only threat to Google; so is Instagram. But Instagram's momentum has slowed as the company also tries to respond to the rise of TikTok. The problem with TikTok is that it appeals to the surging Gen Z population, which looks primarily to the platform for purchase recommendations. According to The New York Times, two-thirds of TikTok users have been inspired to shop, even if that wasn't their original intent when accessing the app in the first place. The phenomenon has gained enough attention that it even has a hashtag: #TikTokMadeMeBuyIt has garnered more than 26.8 billion views on the app (as of this writing).
Even more worrisome for Google, TikTok continues to launch social shopping tools. For instance, the recently launched TikTokShop has made it easier for people to buy things right in the app. This is in addition to partnering with TalkShop Live for livestream shopping.
All of this adds up to a problem for Google in the arena of intent-based search, or searches made with an intent to purchase. Google already has its hands full combatting Amazon, which beats Google as a source of product-based searches. Now TikTok has joined the fray.
How We Engage with Video Content
TikTok has achieved its current level of success by becoming the preferred app for short-form videos. Although users can post videos that are as lengthy as 10 minutes, the ideal TikTok video is about 30 seconds long. Some of the most popular TikTok videos of all time, racking up billions of views, are blink-and-you'll-miss-them short.  

These videos cover any topic one might think of, from farming (#farmtok) to role-playing (#medievaltiktok). Some videos address domestic bliss (#cleantok); others focus on chaos (#cluttercore). It might be a cliché, but in TikTok, there probably really is something for everyone.

As a result of TikTok's popularity, brands are spending more money advertising on the app, which poses a threat to more established platforms such as YouTube and Instagram. Moreover, TikTok is wooing brands with a series of enticements. Case in point: TikTok shares the behavioral tracking and algorithmic suggestion model with its advertisers that has served the app so well. As a result, brands can identify which ads people are drawn to most—without the brand having to ask. It's a winning strategy: eMarketer estimates that TikTok's ad revenue will have spiked in 2022 to reach $11.64 billion, making up 1.9% of worldwide digital ad spend.
How Google is Responding to the Rise of TikTok
But Google isn't taking this challenge lying down. The company is working to become a stronger source of intent-based searches, and it's come up with its own platform for short-form video: Shorts on YouTube.
Is Shorts a copycat? Absolutely. But the model is simple and appealing: people can easily make short videos using the YouTube app. The videos, meant to be viewed in portrait orientation on mobile devices, are created on mobile devices. And for users, opening one short is like opening Pandora's box: a bonanza of content ensues, with videos playing one after the other. To get to the next one? Just swipe vertically.
As in TikTok, editing tools allow users to string clips together, adjust playback speed, and add music and text. Creators can also play off of existing content: reacting to jokes, say, or trying another creator's recipe, in essence reinterpreting existing material to reach a new audience (if a creator doesn't want their material remixed in this way, they can opt-out).
Why Brands Should Leverage YouTube Shorts
Google's efforts with Shorts have paid off. In June of this year, YouTube announced that Shorts was being watched by more than 1.5 billion logged-in users every month, a number that trumped the 1 billion monthly users TikTok claimed in September 2021. 
The burgeoning numbers and the fact that YouTube makes it possible for advertisers to create their own Shorts has drawn brands like Food52 (which offers sneak peeks at longer-form content on the traditional version of YouTube) and Glossier (which has sold products through Shorts by creating a user challenge). 
Google enjoys two benefits over TikTok in this regard:
Integration with YouTube. Shorts taps into YouTube's built-in base of 2.6 billion active users. That's why Shorts has quickly logged so many views. And user views attract brands.

A

creator monetization program

that

 

is more favorable than TikTok's

. YouTube 

recently announced

 that creators will keep 45 percent of the revenue generated from viewership. This will attract creators/advertisers as well as more brands.
Up next for Shorts: advertising. Technically, YouTube launched advertising on Shorts in 2022, but the program is nascent. But stay tuned.
TikTok also continues to face criticism for privacy violations that have become a national security concern – a problem that, if left unchecked, could be a boon to Google and a disaster for TikTok.
How Reputation Can Help
Google understands the importance of video and is prepared to change and grow to accommodate this burgeoning arena — even as it addresses the challenges competitors like TikTok pose. Brands can learn a lot from Google's potent mix of tenacity and flexibility. The world of digital advertising may be a crowded one, but knowledge, moxie, and creativity can go a long way toward making it a comfortable home for your brand.
Contact Reputation
to learn more about how to maximize your brand's presence on digital platforms.